Pointe-a-Pitre Tourist Attractions
Visitors to Pointe-à-Pitre, the capital of Grand-Terre, will find a busy market town founded in 1654 which is still small enough to cross on foot in 15 minutes. Sightseers and photographers will appreciate the 19th C buildings, which line the older streets such as Rue Achille René-Boisneuf. There are many shopping opportunities and colorfully clad inhabitants.
Markets and shopping streets
The colorful and bustling markets of Pointe-à-Pitre are interesting to see and photograph. The harborside market selling spices, flowers, handicrafts and clothing runs along La Darse, the inner harbor road. Fishing boats tie up here to sell their catch. Other markets around the town include Saint-Antoine, Saint-Jules and the Flower market.Shopping spots include the Center Saint-John Perse, and the boutiques and jewelry shops of Frébault, Nozières and Schoelcher Streets. Smaller shops and stalls can be found on the various noisy, animated side streets.
Museum Saint John Perse
The Musée Municipal Saint-John Perse dedicated to the islands' poet laureate Alexis Saint-Léger is housed in a carefully restored two-story 19th C colonial house. The ground floor provides the visitor with a view of an authentic 19th C residence, while the top floor contains exhibits, a library and videotheque. The poet's house of birth is nearby at 54 Rue de Nozières.
Fête des Cuisinières
Fête des Cuisinières or Festival of the Women Cooks in Pointe-à-Pitre is an annual event held in August. During this time women can be seen in colorful costume and celebrations take place throughout the day and into the evening with entertainment and dancing and food.
Museum Schoelcher
The Museum Schoelcher in Pointe-à-Pitre is dedicated to the life and works of Victor Schoelcher, who was the chief organizer against slavery in Guadeloupe. The visitor will find exhibits and artifacts of the slave trade housed in a pink and white colonial period building.
Place de la Victoire
A large park dotted with mango trees and royal palms, Place de la Victoireis the focal point of Pointe-à-Pitre. Visitors can sit at the pavement cafes, which line the Rue Bébion on the west side of the park, and stroll past the charming old homes along the Rue de Comdt Mortenal on the east side.
Iron Cathedral
The curious Cathédrale de St Pierre et St Paul in Pointe-à-Pitre features arches constructed of riveted iron girders, reflecting the influence of past hurricanes and earthquakes.


Map of Pointe-a-Pitre Attractions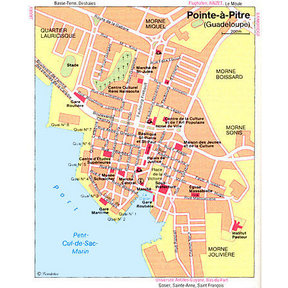 Map - Pointe-à-Pitre