Yuyuan Garden, Shanghai
The Yuyuan Garden situated to the north east of the old town, covers an area of over 20,000sq.m/21,880sq.yd and consists of an outer and an inner garden. The garden was laid out in 1559 by a high state official in the style of Suzhou.Outside the garden can be found the very popular Huxin Ting Tea-House the center of the Lake, reached from the bank by a zig-zag bridge.
Entrance fee in CNY:
Adult
¥25.00
Related Attractions
Outer Garden
The Outer Garden of the Yuyuan Garden, dating from 1559, was extended in 1577. In 1760 the overgrown gardens were bought and partially redesigned by a group of merchants. The popular taste of the time is reflected especially in the main hall Sansui Tang with its roof ornaments, figurative representations in bas-reliefs and window openings, and in the walls adorned by dragons. The best known building is the Hall of Spring (Dianchun Tang), where the Company of the Little Swords (Xiaodao Hui) had its headquarters between 1853 and 1855, when it ruled Shanghai. Of great historical importance are the artificial rocks in this part of the garden, the only work of the master garden designer Zhang Nanyang that has been preserved. It was created not from the commonly used Taihu stones but from yellow rocks from Wukang. Also of great interest is the large, beautiful garden stone (Yulinglong) with its 72 holes and tunnels as well as a long wall the upper part of which represents a dragon.
Inner Garden
The Inner Garden (Neiyuan), dating from 1709, once belonged not to the Yuyuan gardens but to the nearby Temple of the City God (Chenghuang Miao) where Shanghai's patron was worshipped. Although the garden is only slightly more than 0.1ha/0.2acres it includes all the typical features of a classical Chinese writer's garden: attractive little pavilions, decorative stones and miniature mountain ranges, dividing walls and small ponds. At the southern end of the Inner Garden is a richly decorated theatrical stage.
Map of Shanghai Attractions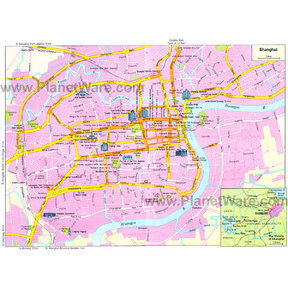 Shanghai Map
More Shanghai Attractions
Popular Destinations Nearby