Reims Cathedral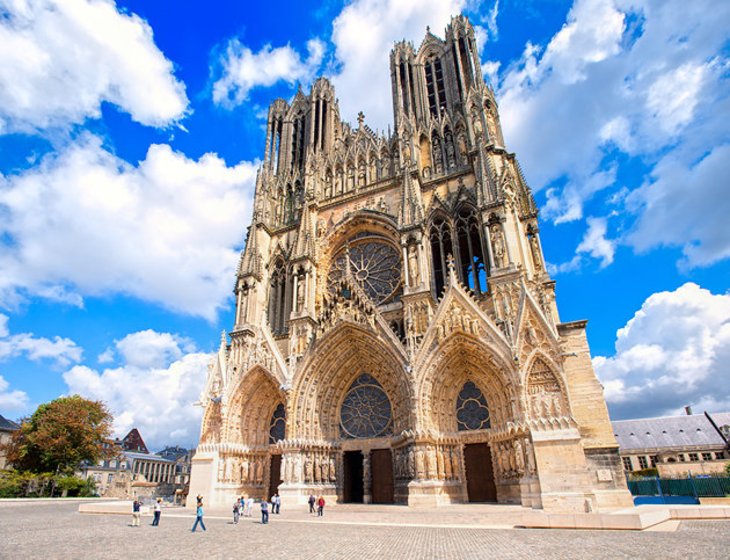 Reims Cathedral
The Cathedral of Notre-Dame stands in Place du Cardinal-Luçon, in the center of the city of Reims. On the north side of the square is the Palais de Justice (Law Courts), with a small bronze equestrian statue of Joan of Arc (by P. Dubois, 1896) in front of it. With its unity of form, harmonious proportions and rich sculptural decoration, the Cathedral is a master work of High Gothic architecture, one of the great cathedrals of Europe. The damage it suffered during the 1914-1918 war has been repaired, but much of the sculpture is badly weathered, and restoration work is constantly in progress.Built on the site of the fifth century church in which the Frankish king Clovis was baptized by Bishop Rémi (Remigius) and used for more than eight centuries for the coronation of French kings, Reims Cathedral enjoys a very special position in French history. The present building was begun by Jean d'Orbais in 1211, following the destruction of an earlier church by fire, and was practically complete by 1294 (the upper parts of the towers being completed only in 1428). The tower over the crossing which was added in 1485 was destroyed by fire in 1914 and was not rebuilt.
Address: Place du Cardinal Luçon, F-51100 Reims, France
Reims Cathedral Highlights
Facade
The richly patterned west front of the cathedral in Reims has three magnificent doorways, with a beautiful rose window over the central doorway. Above this is the Gallery of Kings, a long row of statues set in niches, and above this again are the two squat towers. The large statues and reliefs with which the whole building is covered, almost to excess, are among the greatest achievements of medieval sculpture. The sculpture on the central doorway depicts the life of the Virgin (right, the Visitation and Annunciation; left, Joachim and Anne, Mary and a magnificent figure of Solomon). On the left-hand doorway (left side, next to door) is the smiling angel known as the "Sourire de Reims" (restored).The facade of the north transept is also very fine. On the central doorway are statues of bishops and other figures; on the left-hand doorway is a large figure of Christ in the attitude of benediction, and below this a Last Judgment, the finest achievement of the stone- masons of Reims (13th C).
Interior
The interior of the Reims Cathedral is freer from later additions than most other cathedrals, giving it an atmosphere of solemnity, almost of severity. Unfortunately most of the old stained glass has been lost; a few windows have been restored, and there are six new ones by Marc Chagall (1974). On the west wall, in architectural niches, are 120 figures which illustrate the development of French relief sculpture in the 13th century; particularly fine is the communion scene in the lowest row, to the right of the doorway. In the sacristy is the valuable cathedral treasury.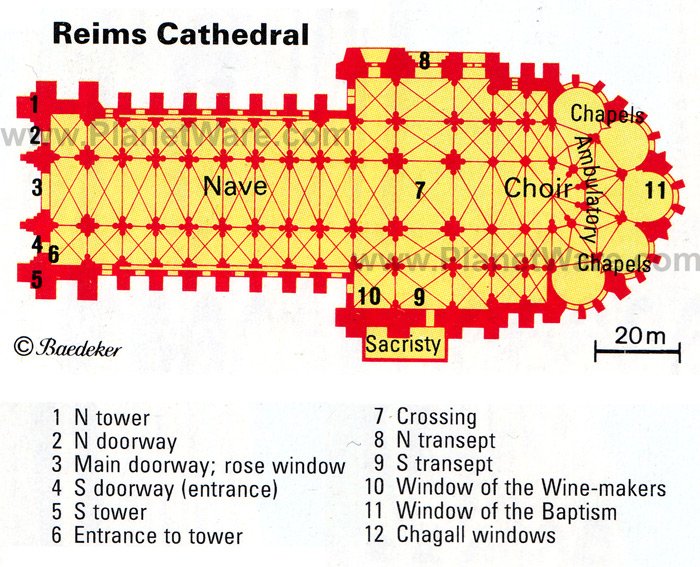 Reims Cathedral Map
Popular Pages