Hartbeespoort Dam
The Hartbeespoort Dam (area 1,883 ha/4,651ac), with the help of a 544km/338mi network of water channels, irrigates an extensive agricultural area in which tobacco, grain, fruit and flowers are grown.This is now a popular recreation area with accommodation for visitors, camping sites and amusement parks. There are numerous hiking trails in the Hartbeespoort Nature Reserve (on the southeast side of the reservoir) on which visitors can observe the large numbers of birds and antelopes which live in the reserve.There is also a small zoo with many mammals, reptiles and birds. A notable feature is a very large aquarium.Cruises on the lake in small steamers are enjoyed.
Related Attractions
Lesedi Cultural Village
The Lesedi Cultural Village offers insight into the traditional way of life of the Ndebele, Sotho, Zulu, Pedi and Xhosa peoples. Called " The greatest dance show in Africa", various dances are performed, African food is served and accommodation in bathroom-equipped traditional huts can be experienced.
Hartbeespoort Dam Snake & Animal Park
The Hartbeespoort Dam Snake and Animal Park features one of the finest reptile collections in Southern Africa.A zoo with lions, tigers, leopards and chimpanzees also belongs to the park which is renowned for its breeding of threatened and endangered species, such as the black-footed wild cat, African hunting dog, and the cape vulture.
Hartbeespoort Dam Aquarium
The Hartbeespoort Dam Aquarium displays tropical fish, crocodiles, penguins and seals. On weekends they offer live animal shows.
Map of Pretoria Attractions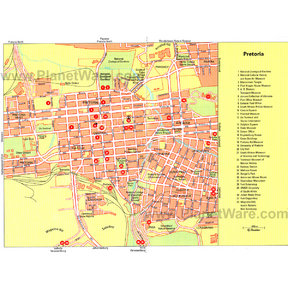 Pretoria Map
More Pretoria Attractions
Popular Destinations Nearby