Durban Tourist Attractions
Durban is the third largest city in South Africa, of importance as an industrial center and above all as a port. Thanks to its subtropical climate, its long beaches, the warm water of the Indian Ocean and an excellent infrastructure it can also claim to be South Africa's pleasure capital; and with more than 2 million visitors every year it is the country's leading holiday resort.
Indian Quarter
Durban's Indian Quarter is found on the eastern side of the city center running along Grey Street north from West Street. The Jumah Mosque, largest in the Southern Hemisphere, is found here as are two notable markets.
Victoria Market
The Victoria Market is the new Indian market built in 1973 after a fire. Although the modern building lacks the charm of the old market stalls, it is still a fascinating mix of Africa and the Orient. There are around 180 stalls selling exotic spices, basketwork and brassware, wood articles and woodcarving, as well as meat, fish, fruit and vegetables. The souvenir stalls display, of course, a great deal of rubbish, but it is possible, with a bit of luck, to find some very attractive items.
Grey Street
The main shopping area of the Indian quarter is Grey Street, which runs north from West Street.
Jumah Mosque
The Jumah Mosque is claimed by South Africans to be the largest and finest mosque in the southern hemisphere. A fifth of the Indians living in Durban are Muslims.
Oriental Bazaar
Concealed behind a Baroque façade, is a small Oriental bazaar with a variety of colorful shops.
Botanic Gardens
Durban's Botanic Gardens are a must for every visitor. They lie on the slopes of Berea Hill, on the northwest of the city center In 20ha/50ac of gardens grow a great variety of plants and trees, including some very rare species. Some specimens are very old, the Botanic Gardens having been established as long ago as 1849. Particularly notable features are the majestic avenue of palms and the orchid house with its glory of tropical color. Other attractions are the herb garden and a special garden where blind visitors may touch the plants. Everywhere the twittering of birds is heard: at least fifty different species are permanent residents of the gardens.
Address: Botanic Gardens Road, Berea, KwaZulu-Natal 4007, South Africa
Umengi River Bird Park
In the Riverside district, on the north bank of the Umgeni River, is the Umgeni River Bird Park On a network of paths running through the park visitors can observe a variety of indigenous and exotic (from Southeast Asia and Australia) species of birds, including lories, cockatoos and aras.
Address: 490 Riverside Road, Box 35205, Northway, Durban, KwaZulu-Natal 4065, South Africa
Port of Durban
The port of Durban is the most important in South Africa and one of the largest on the continent. It brings in supplies for the mining and industrial areas on the Witwatersrand and exports mainly sugar, fruit and maize. It has over 15km/9mi of quays and a storage capacity of 317,265cu.m/414,967cu.yd. Thanks to its port Durban has developed into an important industrial center (sugar, textiles, dyestuffs, chemicals, foodstuffs).
Killie Campbell Africana Museum
The Killie Campbell Africana Museum, housed in Dr Killie Campbell's old home on Berea Hill northwest of the city center, contains his important library of works on the history of Zululand and Natal, the Mashu Ethnology Collection of Zulu arts and crafts, and fine furniture.
Address: 220 Gladys Mazibuko Road, Berea Hill, Durban, KwaZulu-Natal 4001, South Africa
Durban Transport Management Board (DTMB)
Durban's bus services are run by the Durban Transport Management Board (DTMB). The central bus station is between Commercial and Pine Streets.The DTMB's Mynah shuttle service runs between the North and South Beaches and Albert Park by way of Smith Street (returning on West Street) and also to the Botanical Gardens. There is a bus every 5 minutes on weekdays between 6.30am and 5.25pm; less frequently at other times.DTMB also runs city tours, harbor tours and a variety of excursions (reservations and starting-point at pavilion on Marine Parade).
Mitchell Park (Robert Jameson Park)
Mitchell Park, in the Windermere district, is one of Durban's oldest parks, with old trees, beautiful flowerbeds and a mini zoo. There is a bird house containing large numbers of indigenous, exotic and rare birds.Adjoining Mitchell Park is Robert Jameson Park, which in September has a glorious display of more than 200 different roses.
Bridgevale Japanese Gardens
In Durban's northern district of Virginia are the Japanese Gardens, with curving wooden bridges, ponds, waterfalls and Japanese lanterns.
Pigeon Valley Park
The Pigeon Valley Park, west of Durban's center, is a pleasant area for walkers and bird-watchers.
Temple of Understanding
The ornate Temple Of Understanding with its gold-tipped steeples and silver roof is one of Durban's most unique buildings.Lying in southwestern Durban this Hare Krishna temple has conducted tours. A vegetarian restaurant is also open to public.
Address: Florence Nightingale Drive, Chatsworth, South Africa
Durban International Airport
Durban International Airport lies 15km/9mi south of central Durban. There is a shuttle bus service from the air terminal in the city center (corner of Smith and Aliwal Streets) to the airport.
UShaka Marine World
uShaka is Africa's largest marine theme park. uShaka features fresh and sea water, lush vegetation, natural materials and a recreated 1920's cargo ship wreck into a world of sea and marine life.
Address: Box 38416, Point, KwaZulu-Natal 4069, South Africa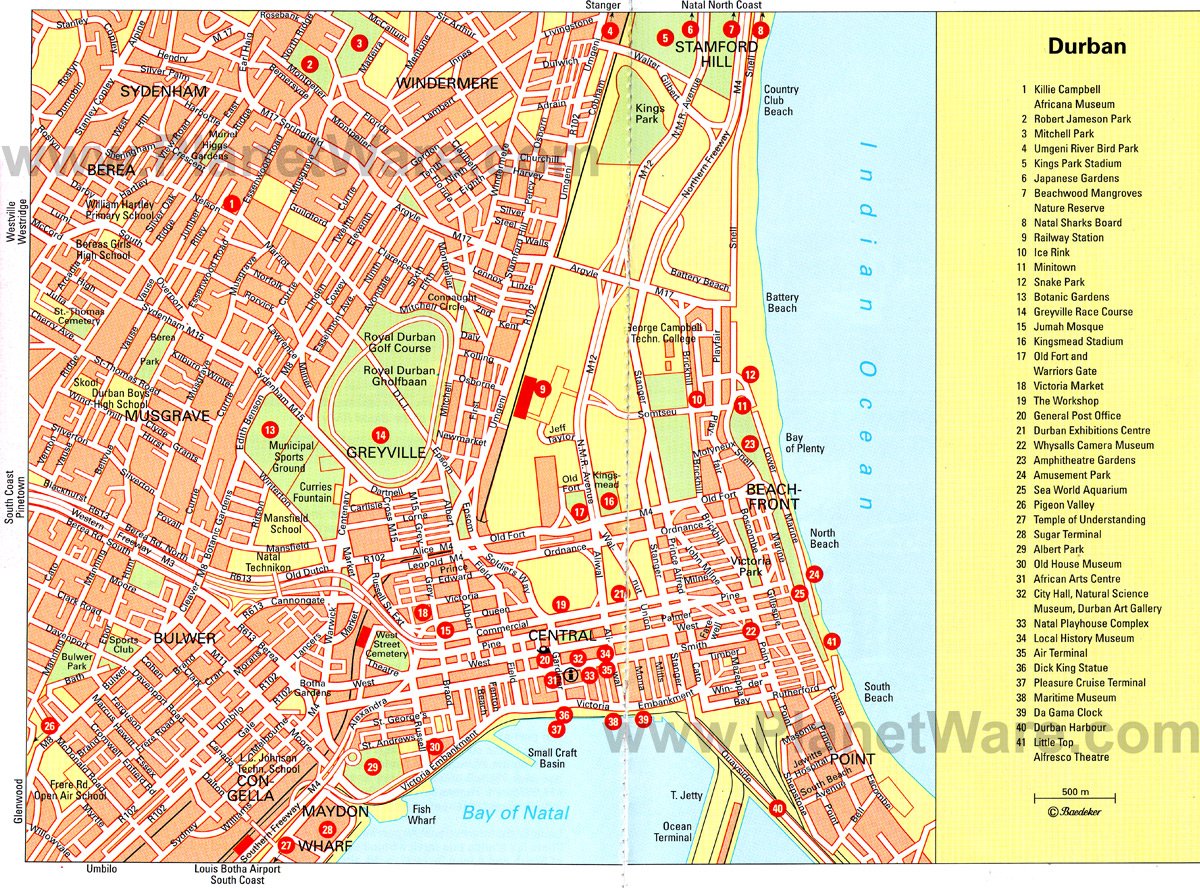 Durban Map - Attractions
Want to use this map on your web site?
Copy and Paste the code below:
Popular Pages
Destinations
popular right now