Sacré-Coeur
The Basilique du Sacré-Coeur (Basilica of the Sacred Heart) is one of the great Paris landmarks, its domes gleaming high above the city on the Butte Montmartre.After France's defeat in the Franco-Prussian War and the repression of the Commune (1871) the Catholics of France vowed to erect a church on the hill of Montmartre as a symbol of contrition and hope.
Important Information:
Address:
35 rue de Chevalier de la Barre, F-75018 Paris, France
Opening hours:
6:45am-11pm
Entrance fee:
FREE, Group discounts FREE
Useful tips:
The crypt closes before the church. Photography prohibited. Entrance to the Basilica is free. Admission charge for Dome and crypt.
Disability Access:
Full facilities for persons with disabilities.
Guides:
Guided tour included with admission.
Transit:
Metro: Anvers, Abbesses; Bus: 30, 54, 80, 85, Montmartrobus (55)
The National Assembly approved the proposal in 1873 and work began under the direction of the architect Paul Abadie in 1876. Because of the porous sandstone on which it was built, however, construction was difficult and protracted, and the church was completed only in 1911 and dedicated in 1919.The Romanesque/Byzantine style of the church, often dismissed as "wedding-cake" architecture, was modeled on the church of Saint-Front in Périgueux. The interior, which seems heavy and over-ornate, is notable for its size (100m/330ft long, 50m/165ft wide). In the choir is a large mosaic of Christ with a flaming heart, flanked by the Archangel Michael and Joan of Arc on the right and Louis XVI and his family on the left.From the top of the tower (to the left of the main entrance; admission charge) there are superb panoramic views of Paris. From the broad flight of steps in front of the church, thronged in summer with young people and street entertainers, there is one of the finest prospects in Paris, with views, in clear weather, of Notre-Dame straight ahead, with the Centre Pompidou in front of it, to the right the Opéra-Garnier and beyond this the Dôme des Invalides.
Related Attractions
Place du Tertre
The Place du Tertre, the old village square in Montmartre, surrounded by cafes and restaurants, is, after the Sacré Coeur, one of Paris's most popular sights. Painters, portraitists and caricaturists of all nationalities display their wares and offer their services - though their work has usually less to do with art than with the souvenir trade.The low 18th century houses round the square, including the old mairie of 1790 at No. 3, form a picturesque backdrop to the hustle and bustle of tourists which carries on throughout the year.
More Sacre-Coeur Pictures
Map of Paris Attractions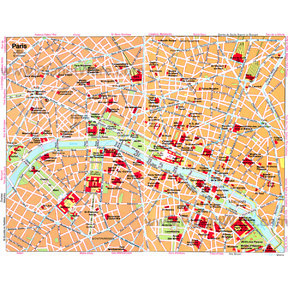 Paris Map