Queen Sofia Art Centre, Madrid
Museo Nacional Centro de Arte Reina Sofia
Opened by Queen Sofía in 1986, the Centro de Arte de Reina Sofía, in the former San Carlos Hospital on the Plaza Atocha, is Madrid's newest center for contemporary art.The complex of buildings, which from the outside seems of massive proportions, was designed as a hospital in the 18th C. by the architect of the royal palace, the Italian Francesco Sabatini, and the Spaniard José de Hermosilla.
Queen Sofia Art Centre Map
Important Information:
Address:
Santa Isabel 52, E-28012 Madrid, Spain
Opening hours:
10am-9pm; Sun: 10am-2:30pm; Closed: Tue
Always closed on:
New Year's Day (Jan 1), Madrid Day - Spain (May 2), New Year's Eve (Dec 31), Christmas - Christian (Dec 25), Christmas Eve - Christian (Dec 24)
Entrance fee:
Adult Admission Cost, Concession or reduced rate Discount
Useful tips:
Photographs and video are not permitted in the museum. Free admission on Sunday.
Discount:
Sunday, Saturday
Disability Access:
Partial facilities for persons with disabilities.
Guides:
Guided tour included with admission.
Facilities:
Gift shop, Restaurant or food service
Transit:
Metro: Atocha; Bus: 6, 10, 14, 18,19, 26, 27, 32, 34, 36, 37, 41, 45, 46, 55, 57, 59, 68, 86, 119
The building was used as a hospital until 1965, after which it stood empty until 1977. It was in danger of being pulled down until someone had the idea of using the vast premises for the display of contemporary art. Renovation of the six-storied center was begun in 1980. Under the direction of the architect Antonio Fernández Alba an artistic center was created which can stand comparison with its international counterparts, such as the Pompidou Center in Paris. The most striking feature has been the addition of three glass towers on the outside of the building to house lifts, two of them flanking the main entrance.As well as containing about 39,000sq.m/46,650sq.yd of exhibition space in its various rooms, the center houses a bookshop, cafeteria, restaurant, library, press office and administrative offices.
Queen Sofia Art Centre Highlights
Museo Espanol de Arte Contemporaneo
The nucleus of the Centro de Arte Reina Sofía is the collection of the Museo Español de Arte Contemporáneo (MEAC), which hitherto had been housed in the north of the city and included works by 20th C. Spanish artists including Andrés Alfaro, Hermengildo Anglada y Camarasa, Eduardo Arroyo, Ramón Casas, Eduardo Chillida, Martin Chirino, Andrés Cillero, Equipo Crónica, Salvador Dalí, Alvaro Delgado, Juan de Echevarría, Pablo Gargallo, Julio González, Juan Gris, José Gutiérrez Solana, Juan Miró, Pablo Picasso, Antonio Saura and Antoni Tàpies. Numerous other foreign artists are represented, including Francis Bacon, Alberto Giacometti, Renato Guttuso, Henri Laurens, Fernand Leger, Pierre Kandinsky, Markus Lüpertz, Henry Moore, Barnet Newman, Richard Serra, Sutherland.
Centro de Arte Reina Sofia Gardens
A surprising feature of the Centro de Arte is the rustic garden in the inner courtyard of the rectangular building.
Spanish Museum of Contemporary Art
The Spanish Museum of Contemporary Art, which was formerly housed in the University City, has been transferred to the Centro de Arte Reina Sofía.
Map of Madrid Attractions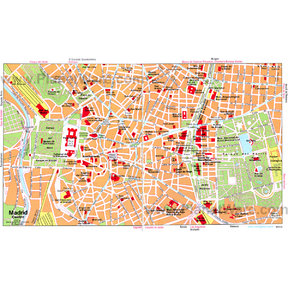 Madrid Map