Cathedral of the Virgin Mary, Gyor
Opposite the Bishop's Castle, stands the town's most important historical building. The Cathedral dates back to an 11th C triple-aisled Romanesque building, which was rebuilt after having been destroyed by the Mongols (13th-15th C; north side-apse, St Ladislaus Chapel). The Early Baroque interior was added after the Turkish period; this includes the barrel vaulting with engraved coping 1639-45 by the Italian master Giovanni Battista Rava.
Related Attractions
Chapel of St Ladislaus (Héderváry Chapel)
From the south side-aisle the visitor enters the early 15th C Gothic Chapel of St Ladislaus (also known as the Héderváry Chapel, in honor of its founder); on its altar stands a masterpiece of Gothic art, a reliquary bust of St Ladislaus, King of Hungary from 1077 to 1095, who was canonized in 1192. It dates from 1405, stands 65cm (26in) high, and is made of gilded silver with cloisonné decoration (enamel patterns separated by strips of wire). On the breast can be seen the Hungarian coat-of-arms. The crown is a later addition, made in Prague c 1600.On the south side of the Cathedral stands a Rococo statue of St Michael (1764), based on that of the Archangel Michael above the porch of St Michael's Church in Vienna.
Map of Gyor Attractions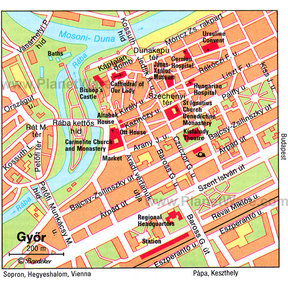 Gyor Map
More Gyor Attractions
Popular Destinations Nearby