Rhodes Attractions
Ródos
Area of island: 1,398 sq. km/540 sq. miChief town: RhodesRhodes, the "Island of Roses" (actually of hibiscus), the largest of the Dodecanese and the fourth largest Greek island (after Crete, Euboea and Lésbos), is one element in the island bridge which extends from the Peloponnese by way of Crete and Kárpathos to Asia Minor, from which it is only 18km/11mi distant.
Rhodes via Kameiros to Lindos (111km,69 miles or 131 km,81 miles)
Valley of Butterflies
Sixteen km/10mi beyond the Rhodes airport, a side road (7km/4.5mi) branches off on the left and leads via Kalamónas to the Valley of Butterflies (Petaloúdes), which in the height of summer is the haunt of thousands of brownish-red butterflies.
Kameiros
Ancient Kameiros on Rhodes (sixth century B.C. - A.D. sixth century) is partly excavated. The remains include the temple precinct, the agora, cisterns, baths and houses.
Monólithos
On a beautiful panoramic road above the coast to Monólithos (32km/20mi; alt. 280m/920ft), there is an imposing castle of the Knights of St John southwest of the village.
Rhodes via Arkhángelos to Lindos (62km,39 miles or 131 km,81 miles)
Kallithéa
The seaside resort and former spa of Kallithéa is beautifully situated amid magnificent gardens. The thermal springs, known and frequented since ancient times, have quite recently dried up. The handsome bath-houses and spa establishments, now abandoned and dilapidated, were built by the Italians in the 1930s.
Arkhangelos & Malona
Arkhángelos, a picturesque place with a ruined castle on a hill to the south is near Malóna, a modest little village surrounded by beautiful orange and lemon groves.
Koskinou
Two km/1.25mi from Kallithéa is Koskinoú, picturesquely situated on a hill, with color-washed houses which are regularly repainted at Christmas or Easter.
Faliraki, Afandou & Kolymbia
Near Koskinoú is Faliráki (beautiful sandy beach; ceramic factory), Afándou (sandy beach; large carpet factory) and Kolymbia (bathing beach in beautiful cove).
Líndos is striking city with its castle and acropolis standing above traditional white washed houses. Sand beaches and dramatic rugged shorelines complete the setting.







Map of Rhodes Attractions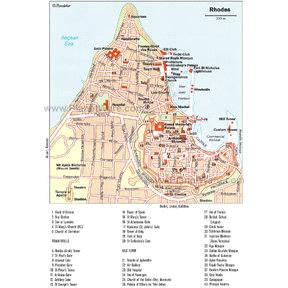 Map - Rhodes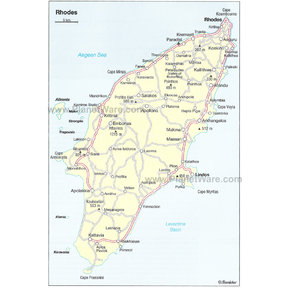 Map - Rhodes Location