Rethymnon Tourist Attractions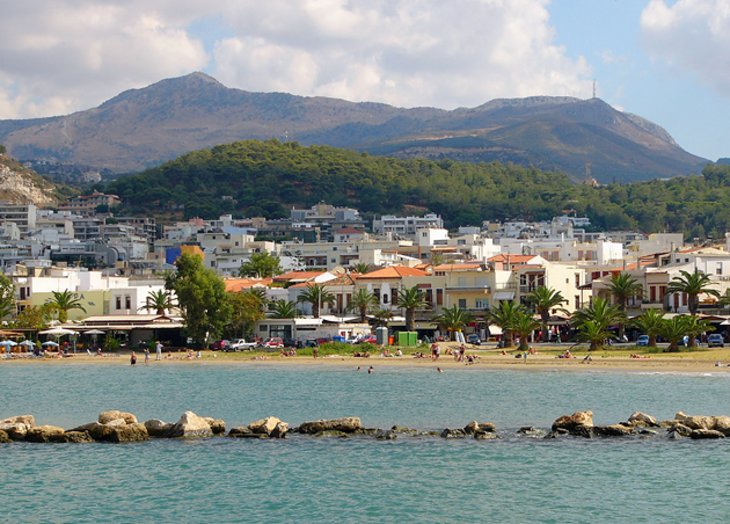 Rethymnon Robert Young
Réthymnon, the third largest town on Crete, lies half way along the north coast, at the foot of the Psilorítis range. The periods of Venetian and Turkish occupation have left their mark on the town, which shows a charming mingling of cultures.The old town has many Venetian mansions, Turkish houses with enclosed timber balconies, several small mosques (18th century) and the Fortezza (14th century, extended in 16th century), within which is a mosque with a massive dome. The Archeological Museum, opened in 1990 next to the Fortezza, is famous for the superb presentation of its exhibits.
Historical and Folk Art Museum
The Rethymnon Historical and Folk Art Museum seeks to preserve the history of Cretan tradition. On display are historical and folklore material from Rethymnon and other parts of Crete. The collection includes documents, photographs, maps, weapons, banners, coins, and instruments.
Address: 30 M. Vernardou Street, 74100 Rethymnon, Greece
Great Gate
The Great Gate in Réthymnon, an old Venetian fortification, dates to the mid 16th Century
Loggia
The 16th Century Loggia of Réthymnon was a social club for the most prominent people of the town. It now houses the archeological museum.
Réthymnon Museum
The Venetian loggia in Réthymnon is a museum containing interesting archeological finds from the region as well as a fine coin collection.
Address: Cheimáras, Greece
Réthymnon Renaissance Festival
The Réthymnon Renaissance Festival is held annually in July. Concert performances are held throughout the festival at various locations.
Rimondi Fountain
The Rimondi Fountain, north of Petikhaki Square, is a 17th century work.
Surroundings
Arkádi
23km/14mi from Réthymnon are the fortress-like monastery buildings of Arkádi, in which, during a rising against the Turks in 1866, the Cretans who had taken refuge here blew themselves up rather than surrender.
Arkádi Monastery
The 16th Century Monastery of Arkádi lies southeast of Réthymnon. The setting here is quite impressive and there is a tourist centre at the monastery.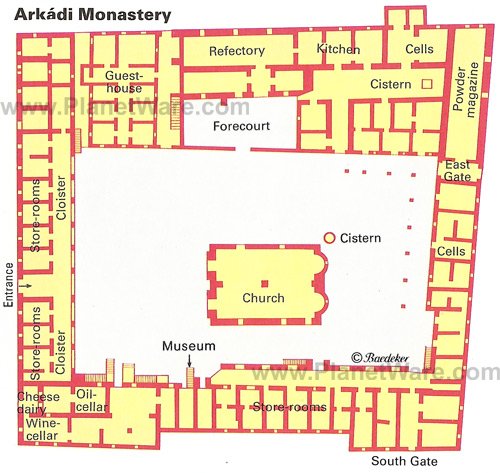 Arkadi Monastery Map
Want to use this map on your web site?
Copy and Paste the code below:
Amari and Surroundings, Greece
Between 30 and 40km (20 and 24mi) southeast of Réthymnon, around the little town of Amári, are a number of typical Cretan villages (Apóstoli, Méronas, Yerakárion, Vryàses, Áno Méros, Fourfourás, etc.); some of them have interesting old churches. Also in this area is the 17th century monastery of the Asomáton, near which a Mycenaean country house has been excavated.
Argiroupolis, Greece
Argiroupolis lies 27km southwest of Réthymnon. The village is nestled among greenery, built on a knoll near springs that feed some enormous cisterns. Lower down the springs push watermills that make small cataracts in which the fluffy Greek Flokates (rugs) are washed.
Eleftherna (Eleutherna)
Recent excavations held at Eleftherna brought to light important monuments from a Greek-Roman city. The ancient town is also known for some of its former famous residents including Linos the poet, Diogenes the philosopher, and Timochares the sculptor.
Address: Communities of Eleutherna and Ancient Eleutherna, Greece
Ayia Galini, Greece
Southeast (62km/39mi from Réthymnon) is the charming little fishing village of Ayía Galíni, with a beautiful beach. 36km/22mi south of Réthymnon is Préveli monastery (17th C.), near which is another attractive beach.
Gerani Cave
The Gerani Cave lies six km from Réthymnon. This is a cave of prehistoric, paleontological and archeological interest. Finds from this cave can be seen in the Réthymnon Archeological Museum.
Sentoni Zoniana Cave
The cave of Sentoni Zoniana is Crete's richest cave in terms of natural decoration. It lies in the district of Réthymnon, 13km west of Anogia and one km from the village of Zoniana at an altitude of 800 m.
Fortezza
The Fortezza, north of Réthymnon, on Paleokastro hill, was built in 1574. It offers a marvelous view of the city and the sea.
Address: Katecháki, Greece
Melidoni Cave, Greece
The Melidoni Cave near the town of the same name is thought to have traditionally been used for cult workshop during ancient times.
Piyi, Greece
10km/6 mi east of Réthymnon, at Piyí, is the largest olive plantation in the Mediterranean area, with one and a half million trees.
Preveli Monastery
The Monastery of Preveli lies 36km south of Réthymnon. It is a historic monastery with a small museum and a beautiful view of the Libyan Sea (Liviko Pelagos).
Spyli, Greece
Southeast of Réthymnon is the town of Spyli, with old stone houses and cobbled streets. The town has an interesting main square with lion head shaped water spouts.
Zominthos, Greece
A Minoan settlement has been discovered at Zóminthos at the Nida plateau, 20km from Anogia.
Axos, Greece
Finds from a big Greek-Roman city have been uncovered at Axos.
Minoan Cemetery
At Armeni a Minoan cemetery and tombs have been discovered.

Minoan Crete Map
Want to use this map on your web site?
Copy and Paste the code below: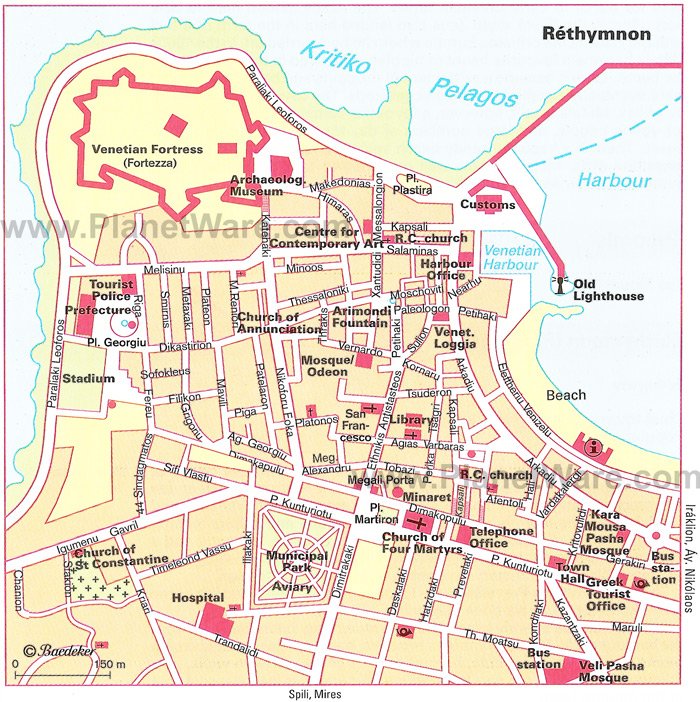 Rethymnon Map - Attractions
Want to use this map on your web site?
Copy and Paste the code below:
Popular Pages
Destinations
popular right now