Kos (Island)
Area of island: 295 sq. km/114 sq. miChief town: KosKos (Italian Coo, Turkish Istanköy) lies at the mouth of the Gulf of Kos, which cuts deep into the coast of Asia Minor. It was separated from the Bodrum (Halikarnassos) peninsula, five km/3mi northeast, by the collapse of a rift valley in the Pliocene period.
Related Attractions
Hippokrateia Festival
The island of Kos celebrates the Hippokrateia Festival every August. The festival includes ancient drama performances, musical evenings, a flower show, a display of popular art, and a re-enactment of the Hippocratic Oath.
From Kos Town to the Western Tip of the Island
Zipari
Zipári has the early Christian basilica of Áyios Pávlos, which has a fine baptistery and mosaics.
Asfendiou
4km/2.5mi south of Zipári is the charming mountain village of Asfendíou, located in a fertile vegetable-growing area. From here Mt Díkaios can be climbed (beautiful panoramic views).
Palaia Pyli
At Palaiá Palaiá Pylí (4 km / 2.5 mi south of Kos town) there is the castle of the Knights of St John. In the deserted village at the foot of the castle hill is a church with Byzantine frescoes.
Pyli - Feast of St George
Pyli celebrates the Feast of St George with sports and cultural performances.
Antimakhia
At Antimákhia is another castle of the Knights, prominently situated on a hill at Palaiá Antimákhia. It was rebuilt after an earthquake in 1493 (coats of arms of knights) and within its walls is another deserted village.
Kardamena
Six km/3mi from Kos airport is the fishing village of Kardámena (fruit growing, particularly melons; pottery).
Kefalos
Kéfalos is a mountain village perched high above the sea, with an ancient theater. It is the principal place in the western part of the island of Kos. Important prehistoric remains were found in the caves at the entrance to the village. Nearby is the ruined Early Christian basilica of Áyios Stéfanos. In the bay are the striking St Nicholas's Rock, with a small chapel, and St Stephen's Rock.
Map - Kos (Island)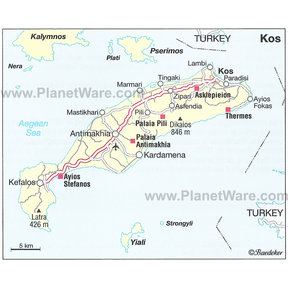 Map - Kos
Popular Destinations Nearby