Niagara Falls Attractions
The Niagara Falls are in the extreme south of the province of Ontario where the waters of Lake Erie plummet down almost 60 m (197 ft) into Lake Ontario below.
Niagara-on-the-Lake is a quaint town, full of aarly 19th C architecture. Located on the shores of Lake Ontario, not far from Niagara Falls, this is an extremely popular tourist town with boutiques and restaurants.
Dufferin Island
The southern Niagara Parkway leads to Dufferin Island which has a superb park where the Niagara becomes a broad gently flowing stream. There is a fine view here of the American shore and Grand Island. At Fort Erie the Peace Bridge crosses to the huge U.S. city of Buffalo.From November to January the park features a fabulous display of Christmas lights.
Niagara - Table Rock Scenic Tunnels (Journey Behind the Falls)
A walk along the river front from Rainbow Bridge, through Queen Victoria Park, gives a good view of the American Falls, while it is even possible to take a trip under the falls, through the Table Rock Scenic Tunnels, starting beneath Table Rock House, near the lip of the Horseshoe Falls.
Niagara Parkway
The Niagara Parkway from the falls to Niagara-on-the-Lake, where the river enters Lake Ontario, is administered by the Niagara Park Commission, who are responsible for the gardens and viewing points along the way. From the waterfalls the path leads under the Rainbow Bridge through an attractive residential area.
Niagara - Niagara Parks Botanical Gardens and School of Horticulture
Students of the Niagara Parks Botanical Gardens and School of Horticulture raise flowers, bushes and trees. In June the rose garden is particularly attractive. About 1.5 km / 1 mi further on the Canadian side of the river is the Robert Moses and Sir Adam Becket Generator Stations and nearby can be seen a large floral clock.
Queenston, Canada
This cluster of lovely homes and gardens at the foot of the escarpment contains the Laura Secord homesteads. Laura Secord was responsible for the British winning the Battle of Beaver Dam, since she warned them of the Americans' planned attack.
Laura Secord Homestead
Laura Secord was recognized as a heroine for warning the British of an impending US attack during the War of 1812. The frame cottage of the Laura Secord Homestead has been restored and furnished in period.
Mackenzie Heritage Printery Museum
The restored home of William Lyon Mackenzie in Queenston is now devoted to the Mackenzie Heritage Printery Museum. Mackenzie's life and times are highlighted along with the history of printing.
Niagara - Gorge Trail
A lift down to the bottom of the Niagara Gorge gives access to a breathtaking walk past the foaming rapids along the Gorge Trail.
Niagara - Helicopter Flights
Helicopters fly continuously from Niagara Falls station, taking passengers down to the Whirlpool, up the Gorge and then over the lip of the Falls.










Map of Niagara Falls Attractions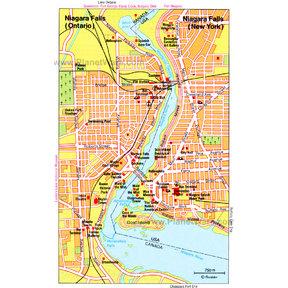 Map - Niagara Falls