Steinernes Meer Attractions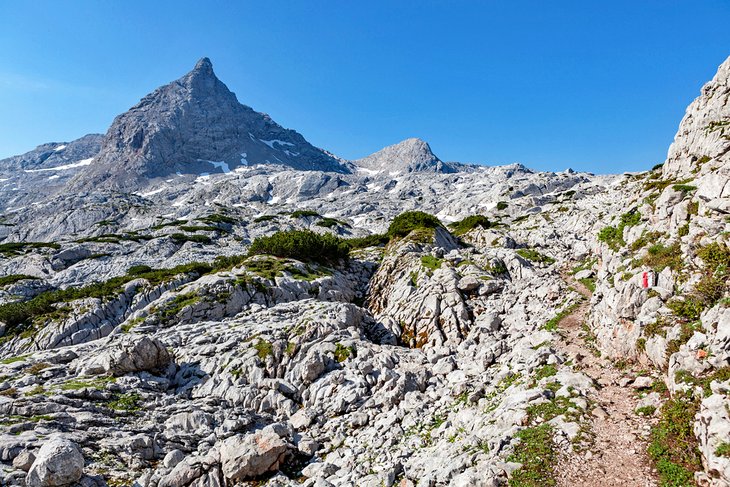 Steinernes Meer
The Steinernes Meer ("Sea of Stone") to the northeast of Saalfelden, a mighty high karstone plateau and nature reserve, out of which rear a series of strikingly formed peaks, skirts the frontier between Salzburg province and the German Land of Bavaria. Together with the Reiter Alps to the north, the Hochkönig group to the south and the Hagengebirge to the east it envelopes the wedge of German territory around Berchtesgaden which projects far into Austria.
Steinernes Meer Peaks
The hills on the southern side of the Steinernes Meer fall steeply down to the Saalbach and Urschlaub valleys. Most of the peaks can be climbed without great difficulty, including the Selbhorn (2,643m/8,674ft), the pyramid-shaped Schönfeldspitze (2,653m/8,707ft), the gently scarped Breithorn (2,504m/8,218ft) and the Hundstod (2,594m/8,511ft).
At the western edge of the plateau, on the Ramsheider Scharte, stands the Riemannhaus (2177m/7143ft; inn, accommodation), which can be reached from either Saalfelden or Maria Alm in four hours. This hut is a good base for the ascent of the Sommerstein (2306m/7566ft) and the Selbhorn (2643m/8672ft). All these climbs should be undertaken only by experienced climbers or with a guide.
Walking and Skiing Areas
There are arduous but rewarding walks over the Steinernes Meer plateau, from the Reimannhaus (2,177m/7,145ft) near Saalfelden to the Ingolstädter Haus (2,132m/6,995ft) or to the Torscharte and on to the Hochkönig. In late winter and spring, when deep snow covers the swallowholes and boulders, the plateau is ideal for skiing.
Reiter Alpe
From the northwestern end of the Steinernes Meer plateau a narrow ridge extends northeastward to the Hochkalter group and the Reiter Alpe, another small plateau. Here accommodation can be had in the Traunsteiner Hütte (1,560m/5,118ft) near Reit. The highest point in the Reiter Alpe, the Grosses Häuselhorn (2,295m/7,530ft), is not difficult to climb, but some of the other peaks are for experienced rock climbers only.
Hagengebirge
In the northeast the Steinernes Meer links up with the Hagengebirge, a vast and lonely high plateau on which chamois can still be encountered. Its highest peak, the Raucheck (2,391m/7,845ft), overlooks the Bühnbachtal, one of the most beautiful valleys in Salzburg province.
Hoher Göll
To the north of the Hagengebirge rises the Hoher Göll (2,522m/8,275ft; extensive views from the top), with the Stahl-Haus (1,728m/5,670ft) near Golling, close to the German frontier.
Popular Pages