Gastown, Vancouver
The old part of Vancouver known as "Gastown" begins just beyond the Harbour Center, at the eastern end of the city's main shopping and banking quarter. It occupies the area bounded by Richard St., Columbia St., Hastings St. and Water St. Carefully restored Victorian buildings and old warehouses put to new uses (full of restaurants, boutiques, art galleries and souvenir shops) give the district its distinctive atmosphere.
Gastown came into existence in 1867 when a man called John Deighton (1830-75) arrived on the scene. Deighton had a habit of launching into lengthy, bragging monologues and soon acquired the nickname "Gassy Jack". As a result the vicinity (on the corner of Water St. and Carrall St.) became known as "Gassy's Town" or "Gastown".As Vancouver grew the city center gradually expanded in the direction of Gastown, as well as further to the west.In the 1960s the charm of this old district came to be appreciated anew and renovation of the run-down buildings began. In 1972 Gastown was declared a historical monument.With its cobblestones and gaslights Water St. is particularly attractive.
Related Attractions
Gastown Steam Clock
Standing on the corner of Cambie Street and Water Street in the Gastown section of Vancouver is a steam operated clock which toots every quarter hour. Made in the 1870s it is today linked to the district heating system.The Steam Clock is a popular tourist draw with visitors standing around waiting for the clock to sound. If you are in Gastown a visit to the Steam Clock, and actually hearing it go off, is one of the highlights.
Hill's Native Art Gastown
Hill's Native Art gallery has a large collection of First Nations and Inuit arts and crafts. The gallery features over 1200 Native artists and represents every Tribe and Nation of the Northwest Coast. Other locations include Victoria, Nanaimo and Koksilah.In addition to art, Hill's Native Art Gallery also has a collection of books, hand made clothing, blankets, and more.
Map of Vancouver Attractions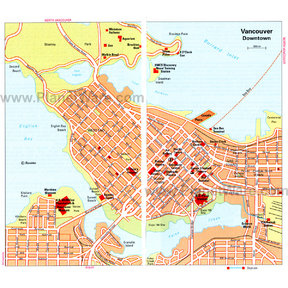 Vancouver Map
More Vancouver Attractions
Popular Destinations Nearby