Uppsala Cathedral
The original Cathedral in Uppsala was based on English models, but later received its High Gothic stamp from a French builder, Etienne de Bonneuil. The Gothic cathedral was finally consecrated in 1435. Its total length is 118.70m/390ft and its internal width 45m/150ft; the towers are 118.70m/390ft high. The towers were partly rebuilt in 1702 after a fire, and were given new spires in 1745. Restoration work carried out about 1880 gave rise to much criticism, and in recent years extensive alterations have been made to restore the church so far as possible to its medieval form.
Address:
Domkyrkoplan, S-75310 Uppsala, Sweden
Opening hours:
May 1 to Sep 30:
8am-6pm
Oct 1 to Apr 29:
8am-6pm; Sat: 10am-6pm
Related Attractions
Interior
The interior of the Cathedral is of impressive effect. The sumptuous Baroque pulpit (1707) was carved by Burchard Precht to the design of Nicodemus Tessin the Younger. At the east end of the choir is the burial chapel of Gustavus Adolphus, with the king's tomb (Netherlandish work of about 1576). On the north side of the church are the tomb of Katarina Jagellonica (1583) and the marble monument of her husband, John III. On the north side is the Oxenstierna Chapel.Also buried in the Cathedral are Carl von Linné (Linnaeus), Archbishop Nathan Söderblom and the philosopher Emanuel Swedenborg.In the Silver Chamber, among other treasures, can be seen the gilded reliquary (1574-79) of King Eric IX (St Eric), who was killed by the Danes in 1160. In the north tower is a museum with, among much else, a gold brocade robe (ca. 1400) which belonged to Queen Margaret, ruler of the united kingdoms of Denmark, Norway and Sweden.
Map of Uppsala Attractions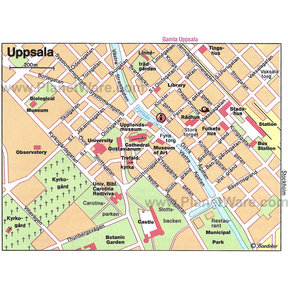 Uppsala Map
Popular Destinations Nearby