Port Antonio Tourist Attractions
Set between mountains and a double harbor, Port Antonio is a relaxed town with the preserved charm of a sleepy fishing village. The area is distinctly less commercial than the other resort towns.Port Antonio's scenery is abundant with orchids, bananas and palm trees. Swimming, snorkeling or scuba-diving are enjoyed, particularly in the 200ft/60m Blue Lagoon, fed by freshwater springs.Founded in 1723, Port Antonio became Jamaica's center for banana export in the late 1800s. One of Jamaica's first hotels was built here in 1905, and soon became a magnet for the rich and famous of the day.Movie swashbuckler, Errol Flynn settled here. Navy Island, set between Port Antonio's two harbors and reached by ferry, was once owned by Flynn and renowned for wild parties. Today the island is a favorite for picnics and daytrips.Jamaica's spicy "jerk"-style" of cooking originated here and some of the best can be found at Boston Beach east of Port Antonio.
Nonsuch Caves and Athenry Gardens
Numerous bats can be seen among the ancient stalagmites and stalactites of Nonsuch Caves, where rare fossils and Indian relics have been found.The caves can be explored along with the hundreds of species of plants in 185ac/74ha Athenry Gardens.
Rio Grande River
Expert guides pole bamboo rafts through an impressive stretch of Rio Grande's tropical rainforest during a 2.5 hour tour. Actor and Port Antonio resident, Errol Flynn is said to have originated this pastime.
Manchioneal, Jamaica
The beautifully situated little fishing port of Manchioneal is 7mi/11km east of Port Antonio and is named after the poisonous mancineel tree common to the area.
Blue Lagoon
The 200ft/60m deep Blue Lagoon was reported for many years to be bottomless. It is a popular spot with swimmers because its dense salinity allows virtually effortless floating.
Folly Great House
The Folly Great House at Port Antonio is the ruin of a mansion built unwisely in 1906 from concrete and seawater which decayed in the Thirties when the sea salt began to eat away at its foundations.
Boston Beach
East of Port Antonio is Boston Beach, a popular bathing area with waves high enough for surfers. Jerk Pork originated here.
Fort George
Fort George is an 18th C British stronghold, whose cannons still point out to sea, with a fine view of Navy Island.
Frenchman's Cove
Frenchman's Cove contains a variety of luxury hotels. The beaches here are wonderful with white sand and shallow waters mixed with lush outcroppings of land.
Navy Island
Ferries take visitors to Navy Island for picnics and day trips. The island was once owned by movie pirate Errol Flynn and hosted many wild Hollywood parties.
Somerset Falls
The Daniel's River plunges through a gorge of natural rock in a series of cascades and pools known as Somerset Falls.
Port Antonio Court House
Port Antonio contains some handsome colonial buildings including the 18th C courthouse.
Christchurch
Christchurch is Port Antonio's 19th C parish church.
Reach Falls
Reach Falls are some of Jamaica's prettiest falls and normally free of tour buses.
Map of Port Antonio Attractions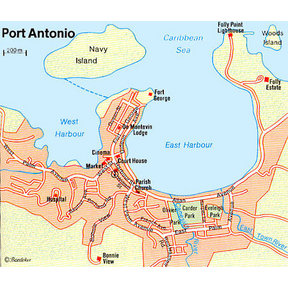 Map - Port Antonio