14 Top-Rated Tourist Attractions in the Cayman Islands
A British Overseas Territory in the western Caribbean, the Cayman Islands offer some of the best diving in the world. Crystal clear waters in striking shades of blue slosh upon the shores of this trio of tropical isles, which includes Grand Cayman, Cayman Brac, and Little Cayman. Coral reefs ring all three islands, shipwrecks are scattered off their shores, and steep underwater walls teem with a treasure trove of marine life. One of the nation's top tourist attractions is Stingray City, a shallow sandbar where visitors can interact with throngs of graceful rays.The popular cruise port of Grand Cayman is the largest and most Americanized of the three islands. Stunning Seven Mile Beach is its crown jewel with a range of watersports and beachfront resorts, and the island offers many other attractions. Visitors can browse the duty-free stores in the colorful capital of George Town, stroll through botanic gardens, hike the nature trail, commune with critters at the Turtle Farm, and escape to the island's tranquil East End. Cayman Brac lures nature lovers with its craggy coastline, deep caves, and slower pace, and Little Cayman is positively sleepy. But this diminutive island reveals its own riches. Some of the best dive sites in the world lie in its sparkling seas, and the island is famous for its bonefish flats and Tarpon Pond.
1 Seven Mile Beach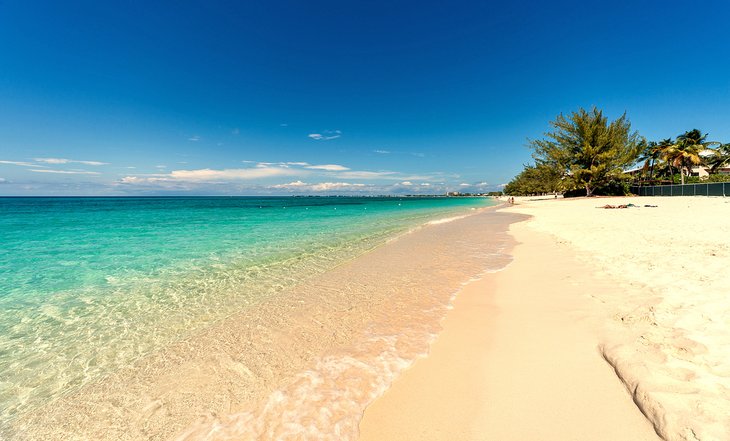 Sublime Seven Mile Beach is one of the most famous stretches of sand in the Caribbean. Fringed with casuarinas and coconut palms, this ravishing sweep of flour-soft sand and turquoise sea flanks the island's main road north from Georgetown. Even with hordes of cruise ship passengers spilling onto its shores, this broad stretch of beach provides a peaceful patch of sand for everyone and is usually free of roaming vendors. Large resorts and posh homes line its creamy shores, and the entire beach is public and impeccably maintained.
2 Stingray City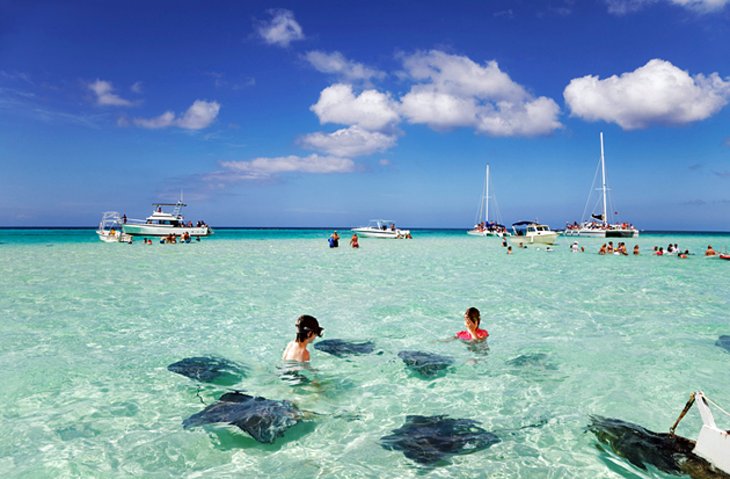 Anyone with a fear of stingrays will be cured after this trip. Stingray City is one of the most famous shallow water snorkels and dives in the Caribbean and one of Grand Cayman's top tourist attractions. Custom-built boats zip out to a shallow sand bar surrounded by crystal clear water where guests can feed, kiss, and cuddle these satiny creatures. Timid visitors may prefer to kneel on the sandy bottom and just watch in awe as the gentle animals glide around them. Guests can snorkel, dive, or swim at the sandbar.
Address: Raleigh Quay, Grand Cayman
3 George Town
George Town, an offshore banking hub and Cayman's attractive capital, comes alive when cruise ships arrive. Lining the harbor front are a collection of restaurants and duty free shops housed in colorful gingerbread buildings, a contrast to the condominiums, satellite dishes, and modern glass Government Administration Building known as the "Glass House". Visitors will find several tourist attractions in this cute capital. The National Trust for the Cayman Islands Visitor Centre is a great place to learn about the island's natural history while the small Cayman Islands National Museum displays historical and ecological exhibits. Fort George was built to protect the island from the Spanish and pirates. Today all that remains is a portion of the wall. Constructed by a naval architect, Elmslie Memorial Church, features a ceiling resembling a schooner's wooden hull.
4 Atlantis Submarines
Atlantis Submarines offer visitors a chance to experience the underwater world without getting wet. This 48-passenger submarine takes tourists down to depths of 30 meters where they can peer through the submarine's large viewing windows at the kaleidoscopic vistas. Tropical fish, shallow reefs, underwater canyons, and even shipwrecks are just some of the sights to enjoy. The company also offers night submarine tours and shallow-water excursions in their Seaworld Observatory.
Address: 30 South Church Street, George Town
5 Diving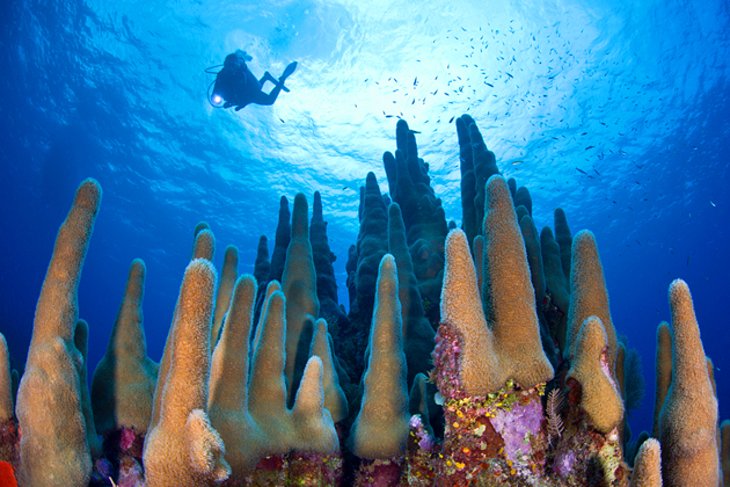 Surrounded by reefs, the Cayman Islands are one of the best diving destinations in the Caribbean. Divers rave about the diverse coral formations, caverns, grottos, tunnels, wrecks, steep walls, and excellent visibility. All three islands are scattered with sites. Off Grand Cayman, near Gun Bay, is the wreck of a ten-ship convoy, while the Kittiwake Shipwreck & Artificial Reef, off the northern tip of Seven Mile Beach, is an Ex-US Navy Submarine Rescue Vessel sunk in 2011 to expand the options for divers and snorkelers. Devil's Grotto is a wonderland of crevices and swim-throughs, while divers at the North Wall might glimpse stingrays, eagle rays, and turtles. Off Little Cayman, Bloody Bay Marine Park is an underwater wonderland with the famous Bloody Bay Wall, plunging to depths of more than 1,800 meters. Cayman Brac also boasts numerous excellent dive sites. The sunken Russian frigate, Captain Keith Tibbetts off the island is one of the most famous wrecks in the world.
6 Mastic Reserve and Trail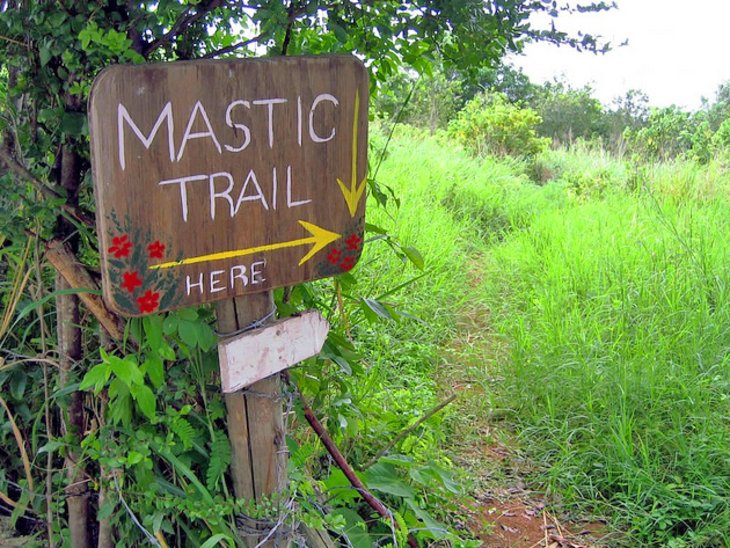 The Mastic Reserve on Grand Cayman is designed to protect an area of dry subtropical forest, which is typical to the Caribbean but disappearing through deforestation. Within the reserve, the three-kilometer long Mastic Trail takes visitors across jagged iron shore and through dry forest, silver thatch palms, and black mangrove wetland. Originally built more than 100 years ago, the trail was no longer used and became overgrown when the island's roads were developed. With much help and repair the trail was reopened in the mid 1990s. Today nature lovers can stroll along the well-marked trail and spot wild orchids, birds, and small animals such as lizards and hermit crabs. Guided tours educate guests about the reserve's flora and fauna and are highly recommended.
Address: Frank Sound Road, Grand Cayman
7 Hell, Cayman Islands
On the north coast of Grand Cayman, sinister black rock formations inspired the naming of the town Hell. In 1962 Hell opened its own district post office for those who wanted to mark their visit to Hell officially. The post office is now painted bright red and a resident "devil" dispenses witticisms along with souvenirs. A sturdy boardwalk provides easier access to view the rock formation.
Address: West Bay, Grand Cayman
8 Cayman Turtle Farm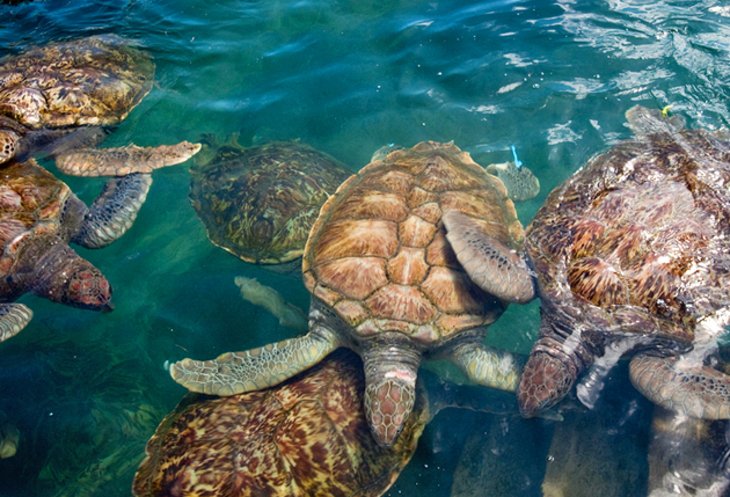 Cayman Turtle Farm is a research and breeding farm housing five species of sea turtles. It provides a large export business for the island, but has also helped to protect the turtles from extinction. Touch tanks and wading pools provide plenty of opportunities for animal lovers to commune with these gentle creatures. For an upgrade in the admission price visitors can enjoy the attractions at the adjoining marine park, including an aviary full of tropical birds, a fish-filled snorkeling lagoon, swimming pools, and a replica of a typical Cayman street lined with gingerbread houses.
Address: 825 NW Point Rd, West Bay, Grand Cayman
9 Pedro St. James National Historic Site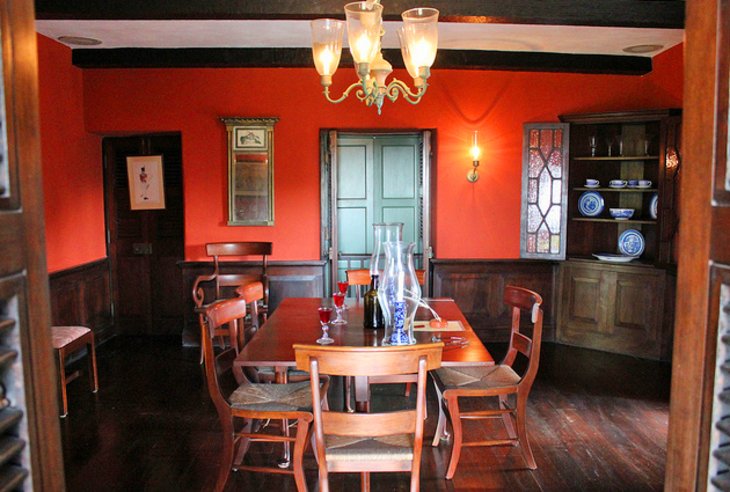 About 20 minutes drive east of George Town, the Pedro St. James National Historic Site is home to a restored 18 th century plantation house known as Pedro's Castle. One of the oldest buildings on the island, this elaborate three-story stone structure is known as the "Birthplace of Democracy in the Cayman Islands". It was here in 1831 that the decision was made to form the nation's first elected parliament. Today visitors can tour the restored house and learn about its history during a 3D multi-media presentation in the theater. Also on the grounds, the Hurricane Ivan Memorial tells the tragic story of the 2004 natural disaster. After touring the house, visitors can explore the surrounding woodland and admire the bluff top views.
Address: Pedro Castle Rd., Savannah, Grand Cayman
10 Q.E. II Botanic Park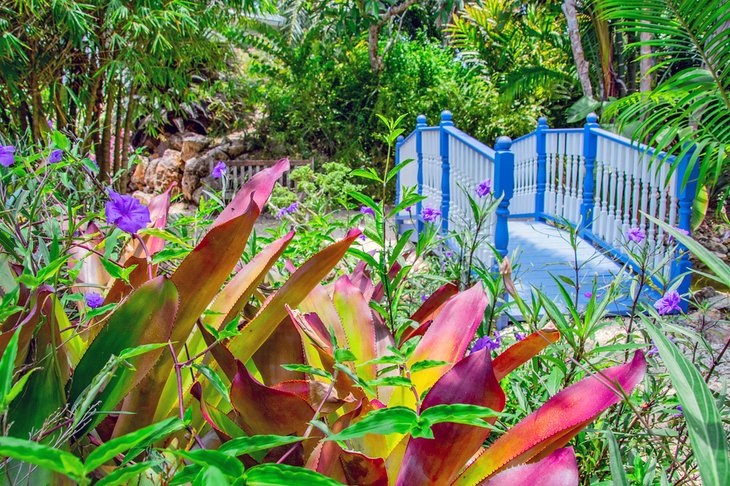 The Grand Cayman Q.E. II Botanic Park preserves the island's flora and fauna, including the endangered blue iguana. Visitors can stroll the garden's peaceful paths past lily-topped ponds, palm gardens, woodland habitats, orchids, and colorful flowers. Plants and trees are labeled, and benches beckon from shady nooks. In addition to the iguanas, visitors may also spot snakes, birds, lizards, turtles, and agoutis. History buffs and green thumbs alike will enjoy the Heritage Garden with medicinal plants and a restored Caymanian cottage.
Address: Frank Sound Road, North Side, Grand Cayman
11 Cayman Brac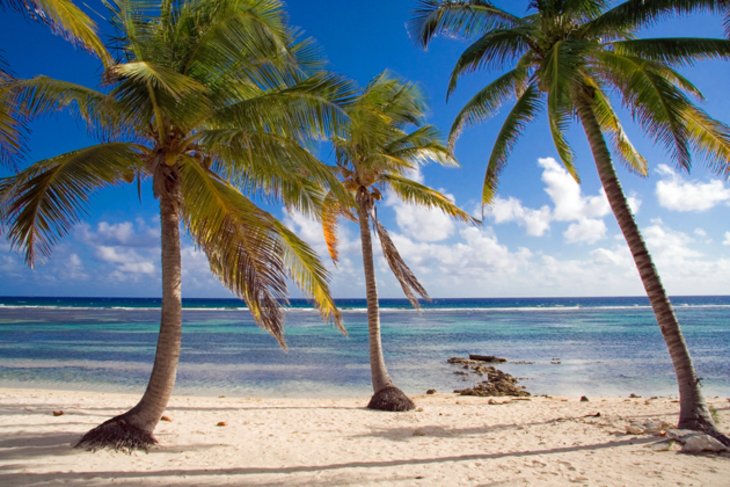 A thirty-minute flight from Grand Cayman, Cayman Brac rewards visitors with dramatic coastal scenery, fantastic dive sites, and breathtaking bluff top hikes. The island is the second biggest of the three Cayman Islands. Bat colonies congregate in the island's deep caves, and the 42-foot limestone Bluff, the highest point in the Caymans, lies on the island's eastern tip. Along the Bluff, visitors might spot nesting sea birds as they climb the steep walkway to a lighthouse with beautiful ocean views. Another scenic trail leads hikers through a National Trust Parrot Preserve. Other attractions on the island include West End, a small resort originally established in the 17th century, and Spot Bay, Cayman Brac's largest village with duty-free shopping. A highlight for divers is the MV Captain Keith Tibbetts, a 330-foot sunken Russian frigate.
12 Little Cayman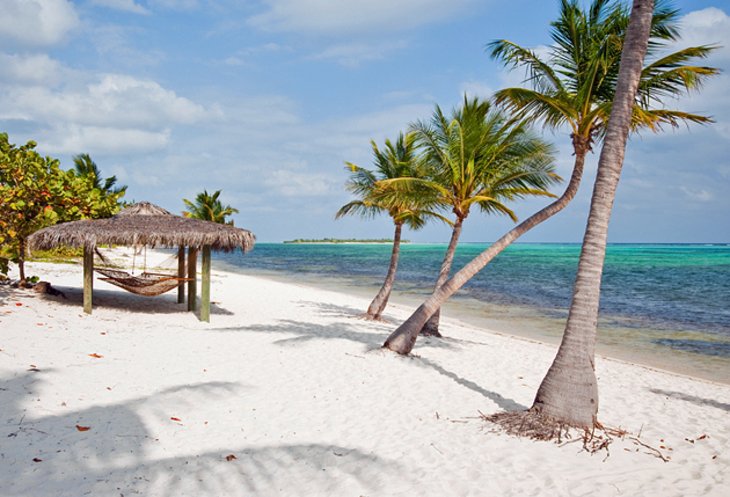 The smallest of the Cayman Islands, Little Cayman is known for its superb fishing and diving. Bloody Bay Marine Reserve lies just offshore here with wreck sites and the famous Bloody Bay Wall. Fishermen flock to the Southern Cross Club, a venerable resort where guides take visitors to prowl the flats for bonefish or to cast a line in the island's Tarpon Lake. Little Cayman is also home to the Booby Pond Nature Reserve, a large breeding colony of red-footed boobies and frigate birds with a popular café and museum. Owen Island, a deserted sliver of sand 180 meters from the island, is a popular picnic spot.
13 East End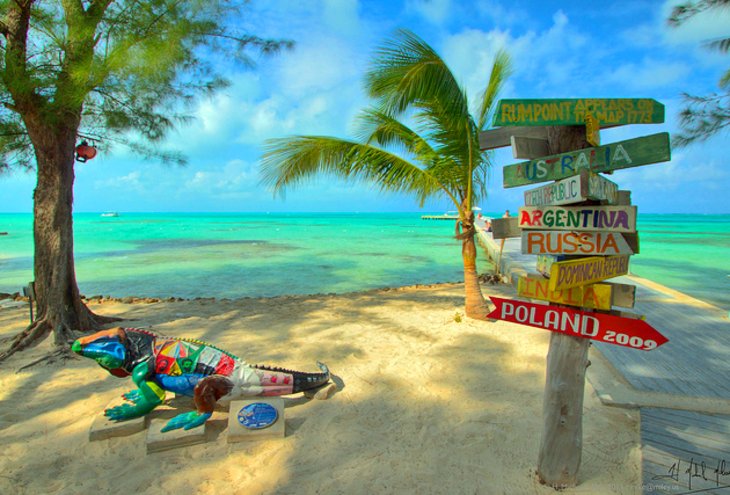 Far from the cruise ship crowds of George Town, the East End offers a slower-paced alternative to the popular attractions on the island's west coast. This side of the island also offers superb snorkeling, authentic island food, blowholes, secluded beaches, and excellent dive sites. Only fifteen minutes from the East End on the island's northern tip lies Rum Point, a peaceful pine-fringed cove slung with hammocks and volleyball nets.
14 Camana Bay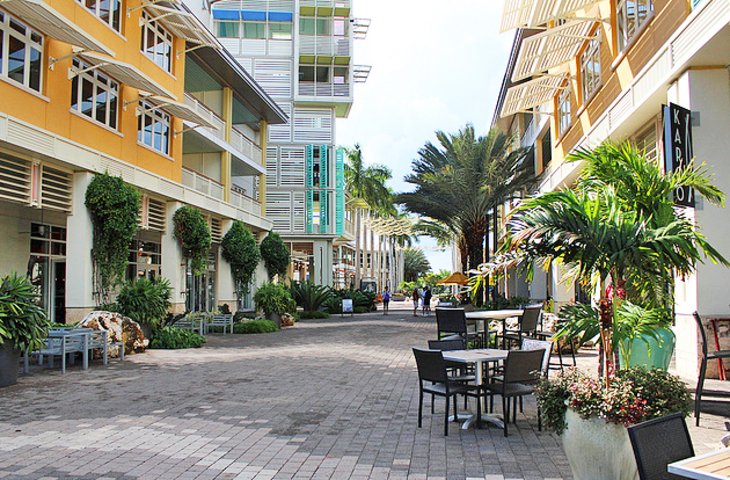 A few minute's drive north of George Town, Camana Bay is a new pedestrian-friendly waterfront development with restaurants, shops, a cinema, interactive fountains, and an Observation Tower. Visitors can enjoy 360-degree views across Seven Mile Beach, George Town, and the North Sound from the top of the tower, and the development's Town Square hosts community events as well as a popular farmers' market.
Address: Market Street, Grand Cayman
Popular Pages