Montego Bay Tourist Attractions
Montego Bay is the essence of a resort town. Beaches, palm-covered hills and historic Georgian houses complement this thriving port city.
Rose Hall Great House
Rose Hall c1760 is a restored plantation where legendary Annie Palmer (the White Witch) ruled with cruelty and met a violent death. Her home is decorated with period furniture.
Sam Sharpe Square
The central feature of Montego Bay, Sam Sharpe Square commemorates Sharpe, a slave and a local Baptist deacon, who advocated passive resistance to force the planters to comply with emancipation. Sharpe was hanged in what was then Charles Square.After independence, Sam Sharpe was made a National Hero and the square was named in his honor.
The Cage
The Cage in Montego Bay was an overnight jail for runaway slaves, disorderly seamen and vagrants built in 1806.
Miranda Hills
Montego Bay's seafront and the slopes of the Miranda Hills encompass many luxury hotels set in beautiful grounds, offering their guests a wide range of diversions.The finest stretches of beach in this area are Walter Fletcher Beach, Cornwall Beach and Sunset Lodge Beach.
Belfield Great House and Gardens
The Belfield Great House and Gardens is a restored mansion in Montego Bay that reflects the lifestyle of the 18th C plantations. The original sugar mill is now available for private events, weddings and functions, or can be toured.
Blue Hole Museum, Great House, Plantation
The Blue Hole Museum is an 18th century estate and former sugar mill with a Great House, boiling house and plantation which can be toured. The property has much history and offers insight into some of the island's history.
Burchell Memorial Church
Burchell Memorial Church was established in 1824 by Rev. Thomas Burchell, a Baptist missionary and abolitionist. Samuel Sharpe, slave leader was a deacon there. The early congregation was mostly slaves.
Harbour Street
Harbour Street in Montego Bay, popular with cruise-boat passengers, where the bustling Crafts Market sells straw, batik and woodcarving. Duty-free shops have everything from Scottish cashmere, perfume and cigars to liquor, china and crystal.
Tryall Golf, Tennis & Beach Resort
The golf course at the Tryall Golf, Tennis & Beach Resort is a Ralph Plummer designed par 72, 18 hole championship course. There are scenic views out over the sea from some of the holes.
Zipline Adventure Tours
Zipline Adventure Tours takes people out into the forest on an off roading adventure in a 6X6 Pinzgauer to the mountains. Participants then learn about zipline before winging along 250' of lines through the tree tops.
Montego Bay Freeport
Reclaimed swampland south of Montego River is now occupied by Montego Bay Freeport with a deep-water harbor, cruise berths, a yacht club, duty free area and an industrial zone.
Belvedere Estate Tour
Belvedere Estate is a 1,000ac/400ha historic working plantation surrounded by lush tropical foliage, streams and waterfalls.
Court House (City Centre Building)
Built c1774 the Court House is important to Montego Bay's history and is probably best known for the trial of National Hero Samuel Sharpe which was held in 1832.
Crafts Market
Souvenirs, wooden carvings and straw hats for visitors are among the trinkets for sale at the Montego Bay Crafts Market.
Croydon in the Mountains
Croydon in the Mountains is a 132ac/53ha working plantation in the village of Catadupa. Its main crops are coffee, pineapples, plantains and citrus.
Doctor's Cave Beach
At Doctor's Cave Beach and Bathing Club, white sand edges a clear water beach believed to be fed by mineral springs.
Gloucester Avenue
Gloucester Avenue is a trendy section of Montego Bay with art galleries, cafes and shops. The area also has other amenities including banks, and other services.
Old Fort Craft Park
The Old Fort Craft Park is located at the remains of the old fort overlooking the harbor and has a wide variety of goods for sale.
Rocklands Bird Feeding Station
Rocklands Bird Feeding Station is a bird sanctuary where you can watch, photograph or hand-feed a bird yourself.
Sir Donald Sangster International Airport
Sir Donald Sangster International Airport, Jamaica's largest, handles millions of passengers a year.
St James Parish Church
St James Parish Church, built in 1775 and faithfully restored after a 1957 earthquake, is one of the finest churches in Jamaica.
The Dome
A yellow brick tower replaces the dome which was built in 1837 over the creek which used to supply Montego Bay with water.
Mobay Undersea Tours (Closed)
This attraction is no longer in operation.
Tryall Waterwheel
The gigantic Tryall water-wheel is nearly 200 years old and still turning.
Map of Montego Bay Attractions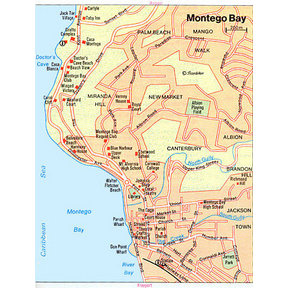 Map - Montego Bay