10 Top-Rated Tourist Attractions in Nairobi
Nairobi, Kenya's capital and largest city, still conjures all the romance and adventure of its colorful colonial days. The city evolved from a humble camp for railway workers in 1899 to the capital of British East Africa by 1907. Today, Nairobi's rich history and tribal culture is brought to life in its excellent museums. The Karen Blixen Museum, in particular, is a big hit - especially with Out of Africa fans who come to see where the namesake Danish author toiled on her coffee farm in the beautiful Ngong Hills.
But even in such a bustling city, wildlife is a huge draw. This cosmopolitan capital is one of the only cities in the world to boast a safari park within its borders. A mere 15-minute drive from the skyscrapers of the city center, visitors can enjoy a classic African wildlife experience at Nairobi National Park. Lion, cheetah, zebra, wildebeest, giraffe, rhinoceros, and buffalo roam the sun-soaked savanna here, and animal lovers can cuddle baby elephants and connect with giraffes at the excellent animal sanctuaries nearby. Nairobi is also the gateway to the world-famous safari parks of Kenya, which have captivated adventure seekers for more than a century.
1 Nairobi National Park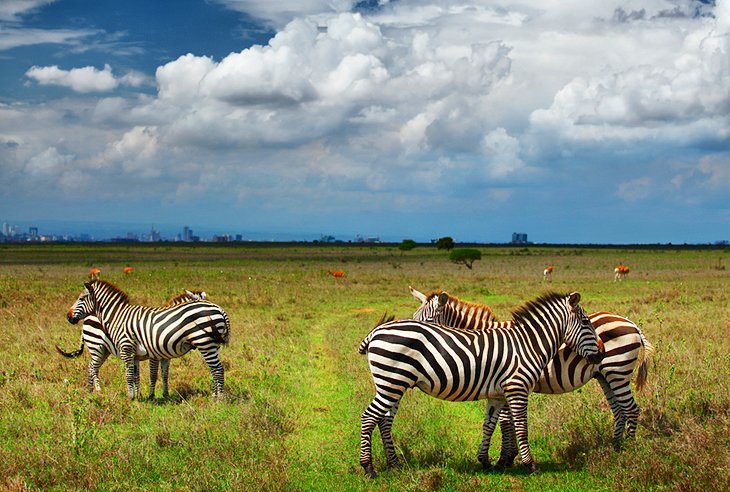 Kenya's first national park, Nairobi National Park is a haven for wildlife and only 7 km from the skyscrapers of Nairobi's city center. The park is also a rhino sanctuary, which protects more than 50 of these critically endangered creatures. In addition to the rhinos, visitors may spot lions, gazelles, buffaloes, warthogs, cheetahs, zebras, giraffes, and ostriches, and more than 400 species of birds have been recorded in the wetlands.
Nairobi National Park is also a famous ivory burning site. In 1989, President Moi ignited 12 tons of elephant tusks and rhino horns here, boosting the country's conservation image on the world stage. Today a monument marks this historic site. The Nairobi Safari Walk is a popular attraction offering animal lovers the chance to spot wildlife on foot, and walking trails weave around the area known as Hippo Pools. At the park's main gate, visitors can bond with orphaned baby elephants and rhinos at the David Sheldrick Wildlife Trust.
2 David Sheldrick Wildlife Trust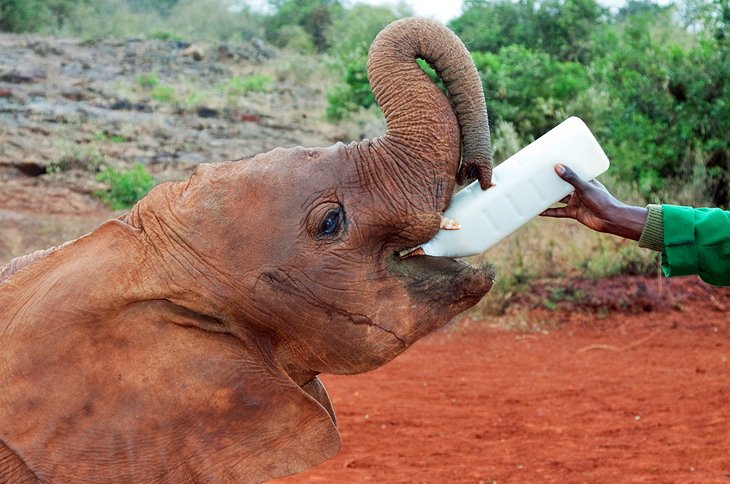 At the main gates of Nairobi National Park, this orphan-elephant rescue and rehabilitation program is a must-see for animal lovers. Daphne Sheldrick founded the project in 1977 in memory of her late husband David, a former warden at Tsavo East National Park. The center cares for young abandoned elephants and rhinos and works to release the animals back into the wild. Visitors can commune with these lovable creatures as they frolic in the mud and drink from giant baby bottles.
Hours: Open daily 11am-noon
Address: Mbagathi Road, Nairobi
3 Karen Blixen Museum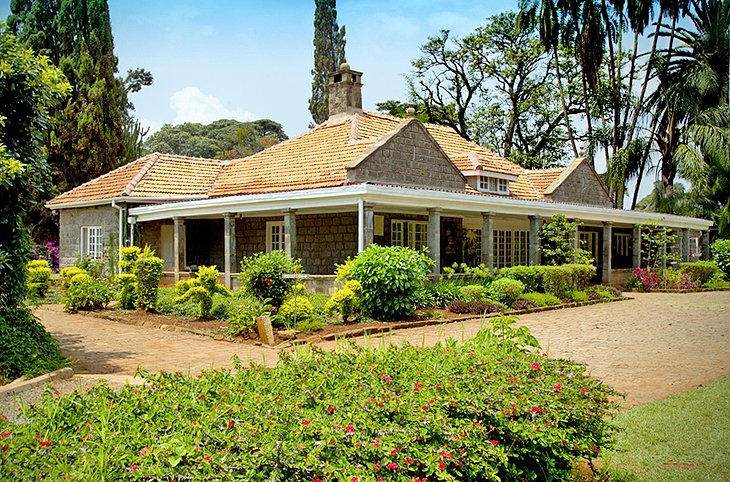 One of Nairobi's top tourist attractions, the Karen Blixen Museum at the foot of the Ngong Hills is the former home of the famous namesake Out of Africa author. Karen Blixen, also known by her pen name Isak Dinesen, lived in the house from 1917 to 1931 where she ran a coffee plantation. Today, visitors can tour the well-preserved colonial farmhouse, a kitchen in a separate building, a coffee-drying plant in the woodland, and an agricultural college on the grounds. Furniture that belonged to Karen Blixen and her husband is on display, as well as photographs, and books owned by Karen and her lover, Denys Finch Hatton. Enthusiastic guides bring the story of Karen Blixen and colonial Kenya to life.
Hours: Open daily 9:30am-6pm
Address: Karen Road, Nairobi
4 Giraffe Centre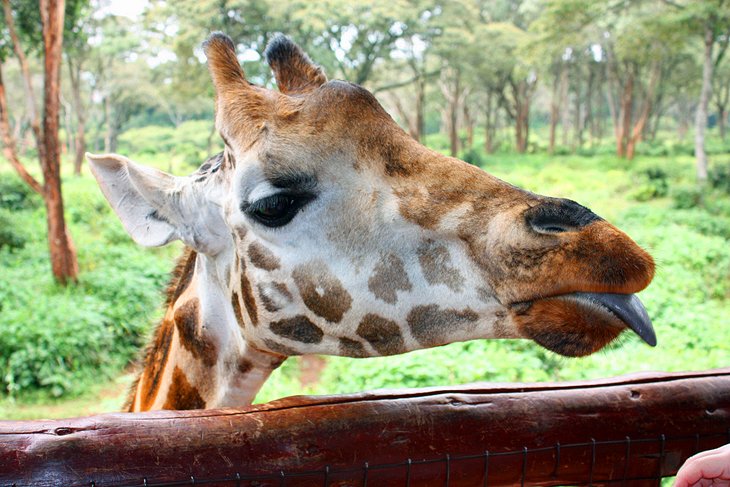 At the Giraffe Centre, on the edge of Nairobi National Park, visitors can come face to face with endangered Rothschild's giraffes. This non-profit center lies on the grounds of the plush guesthouse, Giraffe Manor, and its main mission is to provide conservation education for children. The visitor center displays information about these graceful creatures, and a raised platform allows visitors to feed them at eye level with specially prepared pellets. This attraction is a favorite with children - photo ops with wet gray giraffe tongues slurping little faces are priceless. After communing with these long-lashed beauties, visitors can enjoy a 1.5 km self-guided forest walk in the adjacent nature reserve.
Hours: Open daily 9am-5pm
Admission: Non Resident Adult - Kshs 1000, Non Resident Child/Student - Kshs 500
Address: Langata Road, Nairobi
5 Nairobi National Museum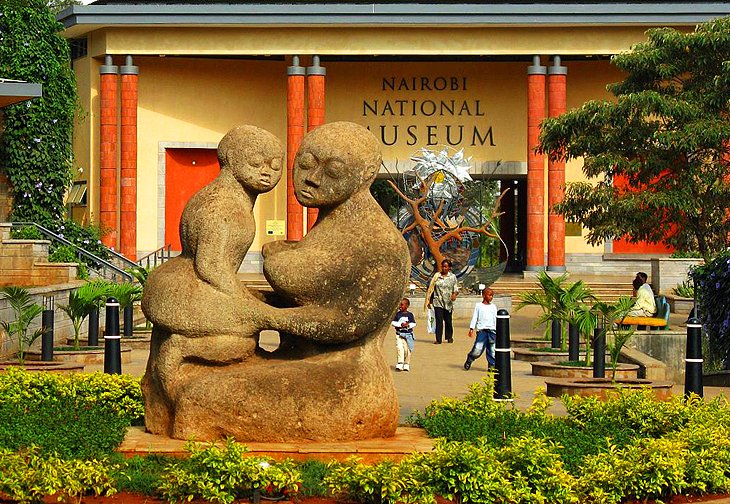 The National Museum in Nairobi is an educational way to spend a few hours on a city stopover. The museum displays diverse cultural and natural history exhibits including more than 900 stuffed birds and mammals, fossils from Lake Turkana, ethnic displays from various Kenyan tribal groups, and exhibits of local art. In the Geology Gallery, visitors can explore an impressive collection of rocks and minerals and learn about tectonic plates and the life cycle of a volcano. The Hominid Vault contains a collection of prehistoric bones and fossils, including the preserved fossil of an elephant. At the museum, visitors can purchase combination tickets, which include entrance to the adjacent Snake Park with live specimens of Kenya's most common reptiles.
Hours: Open daily 8:30am-5:30pm
Admission: Non-Resident Adults - Kshs 1,500; children under 16 years - Kshs 1,000
Address: Museum Hill Road, Nairobi
6 Bomas of Kenya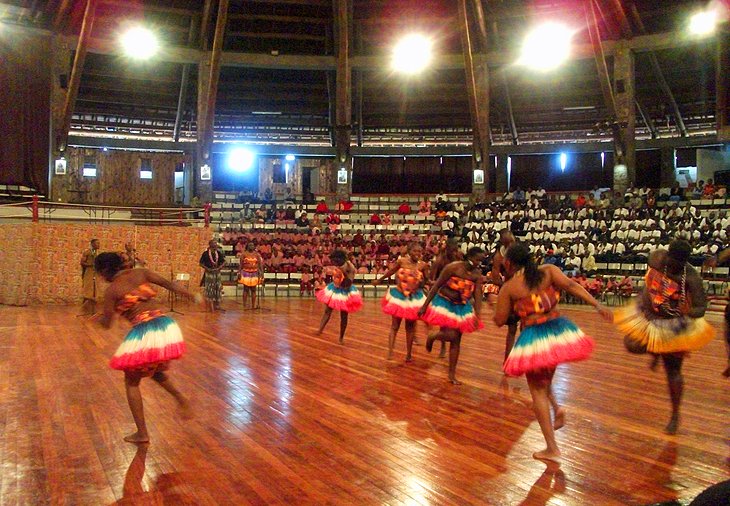 About 10 km from Nairobi, Bomas of Kenya is a living museum celebrating the colorful tribes of Kenya. Visitors here can learn about the lifestyle, art, music, crafts, and culture of each tribe. The complex encompasses a recreated traditional village with homesteads or bomas built in the traditional style, each one reflecting the culture of a major ethnic group. Every afternoon, a team performs traditional dances and songs in the large theater.
Hours: Traditional Village - weekends and public holidays 10am-6pm; Cultural Dances - Mon-Fri 2:30-4pm, weekends and public holidays 3:30-5:15pm
Location: Forest Edge Road, off Langata Road, Mageso Chember
7 Kenyatta International Conference Centre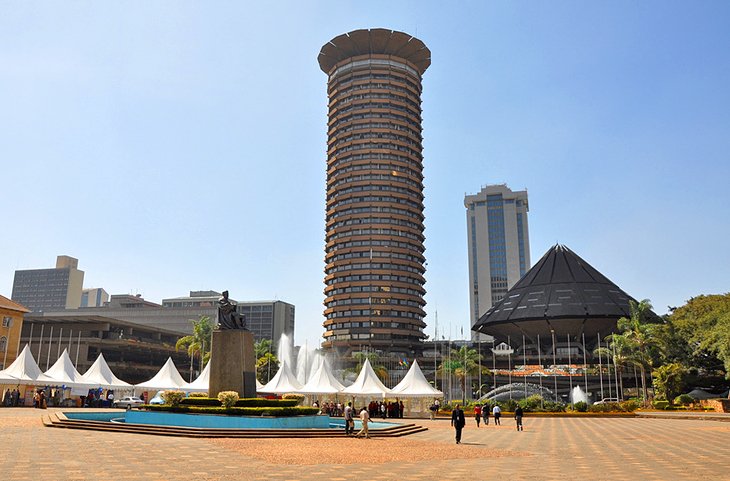 Named for the Republic's First President, Jomo Kenyatta, the distinctive cylindrical Kenya International Conference Centre (KICC) is an internationally acclaimed venue for conferences, meetings, and exhibitions. Though not the tallest building in Kenya, it dominates the skyline with a 28-story tower overlooking a large amphitheater. Its pale terracotta façade recalls the color of traditional African huts, and the central plenary hall resembles the ancient Roman Senate. Visitors can zoom up to the rooftop viewing platform and admire panoramic views over Nairobi, or enjoy a meal at one of the restaurants.
Address: Harambee Avenue, Nairobi
8 Railway Museum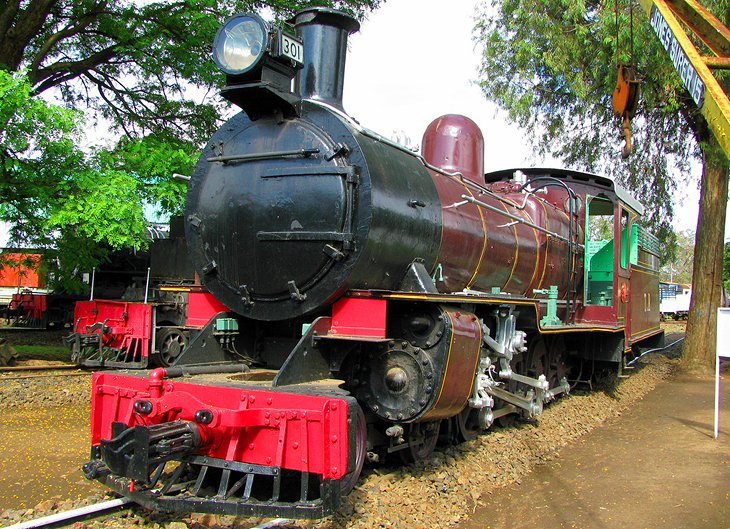 The Railway Museum in Nairobi celebrates the rich history of the railroad in Kenya and its impact on the nation's development. Among the museum's fascinating collections are train and ship models, photographs from the original construction of the Uganda Railway, railway magazines, maps and drawings, and a silver service set used on overnight trains to Mombasa. A collection of steam locomotives and rolling stock are also on display, including a model of the MV Liemba, built by the Germans and still in use along Lake Tanganyika. A favorite exhibit is the carriage used during the hunt for the Maneater of Kima in 1900. Captain Charles Ryall, a colonial officer, positioned himself in the carriage to shoot a man-eating lion; unfortunately he fell asleep and was dragged out the window by the lion.
Hours: Open daily 8:45am-4:45pm
Address: Uhuru Road, Nairobi
9 Ngong Hills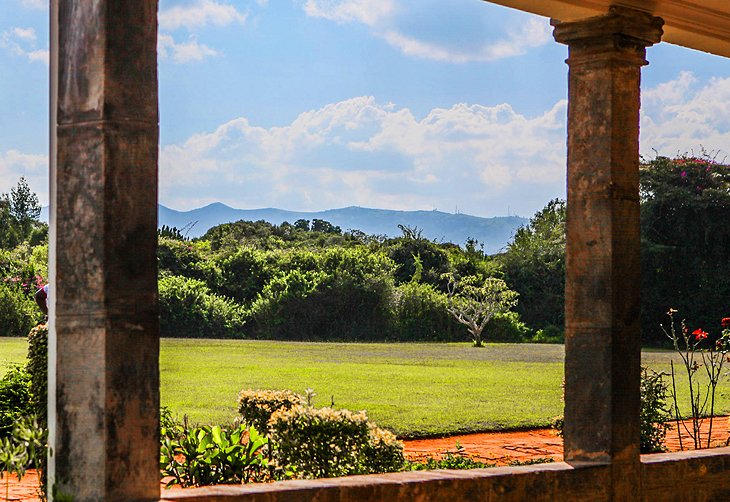 "Ngong" means "knuckles" in Masaai since these beautiful pointed green hills resemble the back of a fist facing the sky. The hills are the peaks of a ridge overlooking the Great Rift Valley, and many white settlers established their farms here in the early colonial days. Half-timbered houses and flowering gardens remain, but seem more suited to southern England than Africa.
Several walking trails traverse the hills offering beautiful views of the valleys below. Wildlife is also visible in the area. Buffalo, gazelles, giraffes, bushbuck, the occasional klipspringer, and troupes of baboons are often glimpsed grazing along the roadside. For Out of Africa fans, the grave of Denys Finch Hatton, the lover of famous Danish author, Karen Blixen, lies on the eastern slopes, graced by an obelisk and garden.
Address: Great Rift Valley, Mageso Chember, Nairobi
10 National Archives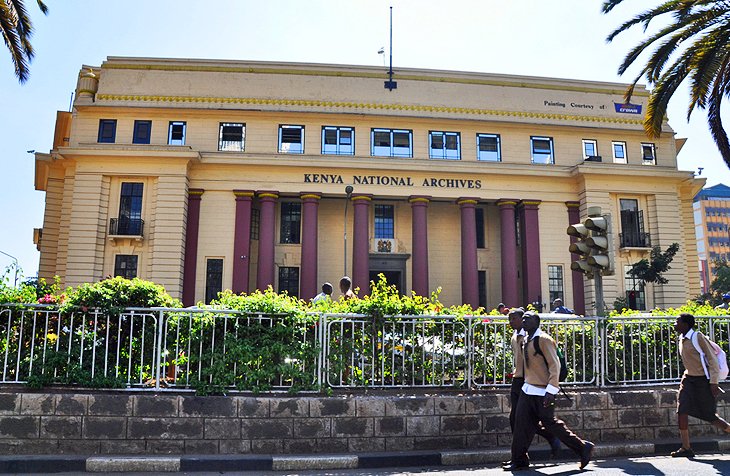 Housed in the old Bank of India building, the National Archives spotlights Kenyan tribal culture as well as the country's art, history, and politics. The main floor gallery displays historical documents and a collection of photographs. Paintings and artifacts from the collection of Joseph Murumbi, one of Africa's most famous collectors, dominate the exhibits. The second floor houses more art, a display of postage stamps, and the National Archives reading room, which is used for personal and professional projects.
Address: Moi Avenue, Nairobi
Sponsored Links

Nairobi Deals
More on Kenya