Metéora
In northwestern Thessaly there rears up out of the plain of the Peneios (Piniós) a group of conglomerate rock formations up to 300m/985ft high which have been weathered by erosion into a variety of bizarre forms. Vertical rock faces, sharply pointed pinnacles and massive crags tower up above Kalambáka and the village of Kastráki, separated by deeply slashed defiles.
Related Attractions
Surroundings
Kalambaka
Kalambáka is a small country town situated at the point where the river Piniós emerges from the Pindos range into the Thessalian plain. It is a convenient base for a visit to the Metéora monasteries, or a starting-point for a trip through the Pindos mountains to Ioánnina.Kalambáka is the terminus of the Fársala-Kalambáka railroad line.
Mitrópolis Church
Below a sheer rock face is the Mitrópolis church, dedicated to the Dormition of the Mother of God. A basilica rebuilt by Andronikos Palaiologos in 1309, the original church is traditionally believed to have been founded in the reign of Justinian (sixth C.). Some features of the church are consistent with this dating - the basilican plan, the large marble ambo in the nave and the synthronon (a semicircular stone bench for the priests) in the apse. The paintings in the nave date from the period after the rebuilding; they were the work (1573) of Neophytos, son of the Cretan artist Theophanes who was responsible for the paintings in the Áyios Nikólaos monastery in the Metéora.
More Meteora Pictures
Map - Meteora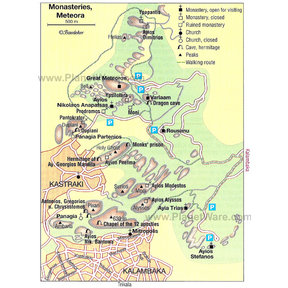 Map - Monasteries, Meteora
Popular Destinations Nearby