Georges Pompidou National Center for Art and Culture, Paris
Centre Pompidou (Beaubourg)
Between the Halles district and the Marais in Paris is the Centre Pompidou (Centre National d'Art et de Culture Georges Pompidou), which since it was opened in 1977 had become one of Paris's major attractions, with over seven million visitors a year. This house of culture with the character of a workshop covers a wide range of activities. It was designed as a center for creative work and the exchange of information, presenting art, architecture, design, literature and music in a setting in which they could interact and supplement one another.
Georges Pompidou National Center for Art and Culture Highlights
Musee National des Arts et Metiers Techniques
Musée national des Arts et Metiers Techniques was established in the abbey of St Martin des Champs.The collection includes items from Conservatoire National des Arts et Métiers, which was founded in 1794. The exhibits focus on scientific instruments and inventions, and include an original version of the Foucault pendulum.
Musee National d'Art Moderne (MNAM)
On the third and fourth floors of Paris' Pompidou Center is the Museum of Modern Art, a large collection displayed in chronological order, beginning with the Fauves (Derain, Vlaminck, Marquet, Dufy, Matisse, Bonnard) and Picasso's early works and continuing with Cubism (Picasso, Braque, Gris, Léger), Expressionism (Nolde, Macke, Kandinsky), Constructivism (Klee, Mondrian), Dadaism and Surrealism (Picabia, Duchamp, Dalí, Ernst, Magritte, Masson), Abstract Expressionism (de Staël, Hartung, Poliakoff, Estère, Dubuffet), New Realism (Tinguely, Arman) and Pop Art (Warhol, Oldenburg). There is also an outstanding collection of modern sculpture (Arp, Moore, Giacometti, Calder, Laurens, Duchamp-Villon).The fifth floor is used for special exhibitions of contemporary art and retrospective exhibitions of artists' work. From the cafe-restaurant on this floor there are wide-ranging views over the roofs of Paris. In Studio 5 there are regular film shows.
Bibliotheque Publique d'Information
Below the portrait of Pompidou in Paris' Pompidou center by Vasarely is the escalator which runs up through the "glass caterpillar" to the Bibliothèque Publique d'Information, a reference library on three floors, with half a million books which visitors can consult free of charge. There are also collections of slides, videos and microfilms available for consultation and a "médiathèque" with learning programs in 95 languages.
Institut de Recherche et de Coordination Acoustique / Musique (IRCAM)
The Institut de Recherche et de Coordination Acoustique/Musique (IRCAM), which lies on the south side of the Centre Pompidou, underground, is devoted to research and development in the field of contemporary music. The present director, appointed in 1991, is Laurent Bayle, who is concerned to promote closer cooperation with the other elements of the Centre. IRCAM is open to the public only for concerts.
Atelier Brancusi
To the north of the forecourt at the Georges Pompidou center is a small two-part building housing a reproduction of the studio of the Romanian sculptor Constantin Brancusi (1876-1957), with many of his works.
Atelier des Enfants
The Atelier des Enfants at the Georges Pompidou center, which caters for children between the ages of 5 and 13, puts on periodic special exhibitions and has a workshop well equipped with toys.
Center of Industrial Design
The Center of Industrial Design, on the mezzanine floor of Paris' Pompidou center, has a collection of plans, drawings, models and industrial objects which are displayed in rotation.
Salle Garance
The Salle Garance at the Pompidou Center in Paris, at the corner of Rue Saint-Merri, screens films important in the history of cinema and cycles of films by famous directors.
Bibliotheque du Centre National d'Art et de Culture Georges Pompidou
The Bibliothèque du Centre National d'Art is in the Georges Pompidou National Center.
More Georges Pompidou National Center for Art and Culture Pictures

Map - Georges Pompidou National Center for Art and Culture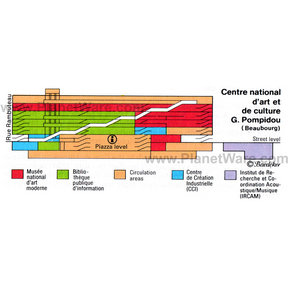 Map - National Center of Culture - Georges Pompidou
Map of Paris Attractions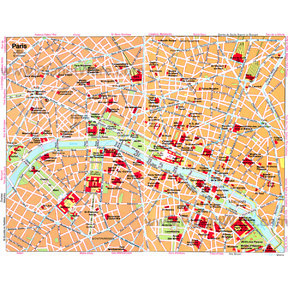 Paris Map