Lumbini Tourist Attractions
Lumbini, a town in the Tarai about 22 km (131/2 mi.) west of Bhairawa, is famous as the birthplace of Siddhartha Gautama the historic Buddha, known as Buddha Shakyamuni. Situated well off the tourist track, almost 250 km (155 mi.) from Kathmandu, Lumbini is a worthwhile detour from the route from Pokhara to the Chitwan National Park. In this pilgrimage town there is no tourist hustle and bustle - it is visited mainly by Buddhist pilgrims from Japan, Thailand and Tibet retracing Buddha's footsteps through the stations of his life. Lumbini is remarkable only for its tranquility, undisturbed by major celebrations and largely devoid of sights. Only a few relics from the excavation site remain to bear witness to the importance of the town and these have come within the framework of the Lumbini Development Project. Lumbini has been nominated for inclusion on the UNESCO list of world cultural sites. Archaeologists hope for major discoveries both here and at Tilaurikot (27 km (17 mi.) west), once the capital of the ancient kingdom of Kapilvastu. At the present time excavation work is under way.To visit Lumbini from Kathmandu, a distance of almost 250 km (155 mi.), requires special reason. But it is worth a short detour if traveling from Pokhara via Tansen to Chitwan.Siddhartha Gautama, or Buddha as he became, was born in Lumbini in about 543 BC. He was a prince of the Shakya dynasty who ruled the small kingdom of Kapilvastu. The Lumbini area was part of India until incorporated into Nepal in 1856.According to legend Queen Maya Devi was journeying to her parents' home to give birth to her child (Siddhartha) when, resting in a shady grove, her labor began. A sal tree is said to have lowered its branches for her to hold - a scene which has inspired countless sculptors and painters.In 249 BC the great Indian Emperor Ashoka, patron of Buddhism, came to Lumbini and erected a stone column. He may even have prompted the development of Lumbini as a Buddhist site, for when the Chinese traveler Hiuen Tsang visited in the 7th c. he reported finding monasteries and stupas there, though already fallen into disrepair. Whether as a result of Muslim invasion or the spread of Hinduism, any such tradition had long since died out when, in 1895, a German archaeologist discovered Ashoka's Column buried deep beneath jungle vegetation. Even then no attempt was made to preserve Buddha's birthplace. U Thant, the Burmese former Secretary General of the United Nations, himself a Buddhist, is said to have wept at the sight of the dilapidated town.
Maya Devi Mandir
Although this temple, due to archaeological excavation, has been dismantled and at present cannot be seen, a description is given below. The Maya Devi Mandir, dedicated to Buddha's mother, is believed to be more than 2000 years old. It contains an ancient stone relief from the 2nd c. AD depicting Buddha's birth. The ravages of time have almost erased the carving, completing the work of the Muslim invaders who chiseled away the figures. But the scene is reproduced in marble near by: Maya Devi is shown reaching out with her hand towards a branch while Brahma welcomes the newborn Buddha standing at her side. The temple is maintained by Brahmins. Hindus venerate the relief as an image of Rupa Devi, goddess of abundance and fertility.
Ashoka's Column
Ashoka's Column is the oldest historical monument in Nepal. Other similar columns are found dotted around the Indian subcontinent - in Delhi, Uttar Pradesh, Gujarat, Orissa and Madya Pradesh as well as Lumbini - erected by Ashoka not just as commemorative monuments but also to demarcate his kingdom. They show how extensive was the hegemony of the man who paved the way for Buddhism. The columns themselves yield valuable evidence from earliest history. The inscription on the one in Lumbini reads: "King Ashoka, favorite of the gods, made a royal visit in the twentieth year of the coronation. A stone parapet and stone column were erected in honor of Buddha, who was born here".
Water Tank
It is said that Queen Maya Devi bathed in the large water tank at the start of her labor and that Buddha was washed in it after he was born. Two dragons dispense the water, one hot, one cold.
Map of Lumbini Attractions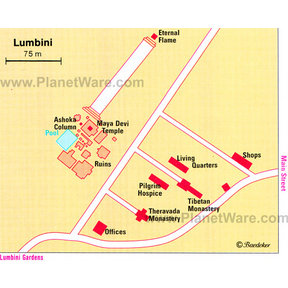 Map - Lumbini, West Nepal