14 Top-Rated Tourist Attractions in Chiang Mai
Chiang Mai is essentially Thailand's second city - the smaller, more relaxed answer to the madness of Bangkok. It was once the capital of the Lanna Kingdom, but now is a major draw for backpackers and travelers of all kinds, not to mention retiring ex-pats and humanitarians. Many who come here return again and again, or stay for years when they had meant to stay only a few weeks. There's an energy in the city that captivates those who visit, whether they seek a trekking adventure or a spiritual awakening as they travel from temple to temple.
The city itself offers plenty of things to do in the way of cooking classes, temple visits, street food, and culture. But beyond its boundaries, you'll find natural perfection, awe-inspiring animals, and unique communities deep into the mountains. It's a special city with much to offer, and the following are some of the best tourist attractions to explore.
1 Wat Prathat Doi Suthep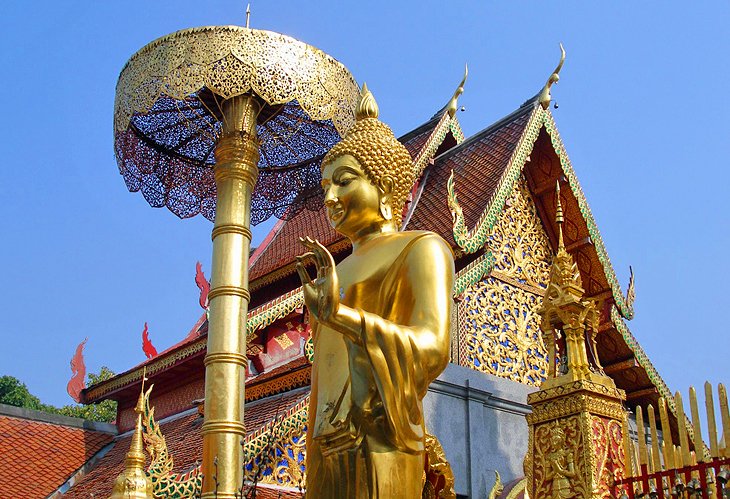 This mountaintop temple is a must-see in Chiang Mai. Wat Doi Suthep's central shrine contains a much-revered, seated Buddha, and is one of the most popular attractions in the city. You can reach the temple by hiking up the mountain (a sweaty but surely memorable endeavor), renting a motorbike, or hopping into a songthaew (red trucks that essentially operate as communal cabs). The drive is a short one, so you can do this whole trip in about two hours. At the base of the staircase leading up to the temple, you'll find vendors selling souvenirs, antiques, and snacks. Brace yourself for the climb because the staircase is steep, but the effort is well worth it. Statues of two demons guard the entrance to the temple precinct. Generally only two of the six gates leading to the gallery and the chedis are open. The gallery is adorned with statues of Buddha in the Chiang Mai and Sukhothai styles. The temple itself is ornate, with many representations of the Buddha, detailed dragon statues, and elephant carvings. There is also a small museum on the premises.
On a clear day (and most of them are clear, unless you're visiting during the rainy or burning seasons), you can look out over the entire city and spot the chedis atop other wats poking out among the clustered buildings. If you're wearing shorts, you will be required to put on a sarong-like wrap to cover your legs. It is advised to cover your shoulders and your legs at least past your knees when visiting any temple. There is a small fee to enter the temple complex.
2 Doi Pui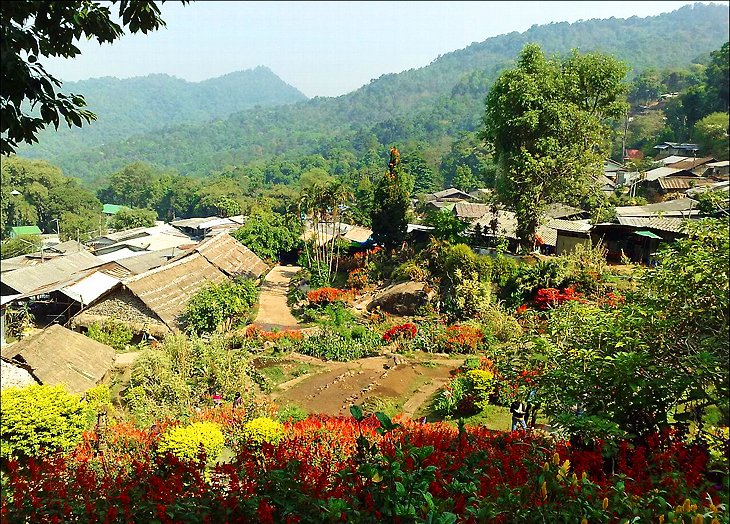 This small Hmong village is admittedly more tourist oriented than authentic. Yet there is a small exhibit of a traditional hill tribe home, and information on the history of the many groups that have settled in the Thai mountains in past generations. If you're feeling particularly touristy, you can dress up in ethnic garb for a photo shoot. There are many small shops where you can purchase hand-woven textiles, handmade jewelry, tea, and other goods.
There is a large garden with a diverse array of plants, and the view from the village is breathtaking. Stop for lunch at one of the small restaurants overlooking the greenery below and order a hot bowl of khao soi, Chiang Mai's most famous dish. Add this to your itinerary the same day you visit Doi Suthep, since you only need drive a bit further into the mountains to reach Doi Pui. Enjoy the ride; it's a beautiful one.
3 Doi Inthanon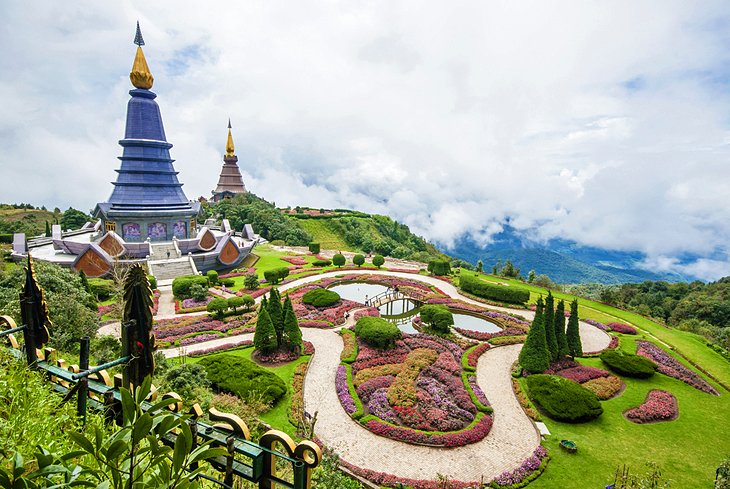 This is the highest peak in Thailand, and the national park that surrounds it is filled with some of the many natural wonders that make the country such a draw in the first place. You can do some trekking and hike the mountain, or take a more leisurely route around the park. Several waterfalls and a hill tribe village are other draws, along with two pagodas built to honor King Bhumibol Adulyadej and Queen Sirikit. You'll want to either hire a driver for the day or rent a motorbike and see the sites on your own, as you won't be able to make your way through the entire park on foot. But it's only about a two-hour drive from the city, so if you leave early, you can get in a full and satisfying day on the mountain.
Admission: 200THB for adults, 100THB for children
4 Wat Chedi Luang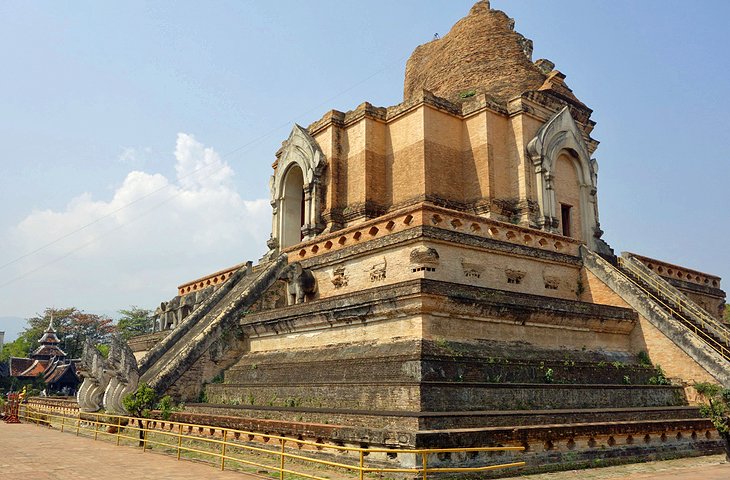 Ruins aren't exactly a rare sight in Chiang Mai, or in Thailand generally, for that matter. But there's something about Wat Chedi Luang that is particularly beautiful and haunting. Constructed in 1401, the imposing structure was damaged during an earthquake in 1545. But it remains remarkable today, and you can still see the massive elephant carvings that adorn it.
Beneath a huge gum tree on the left of the entrance to the precinct stands a delightful little temple, the Lak Muang. Built in 1940 on the site of an earlier wooden building, the shrine is the abode of Chiang Mai's guardian spirit (Lak Muang). According to tradition, if the great tree should fall, disaster will overtake the city. The temple is something to behold at any time of day, but it's particularly lovely at night, when it is all lit up.
5 Wat Prasingh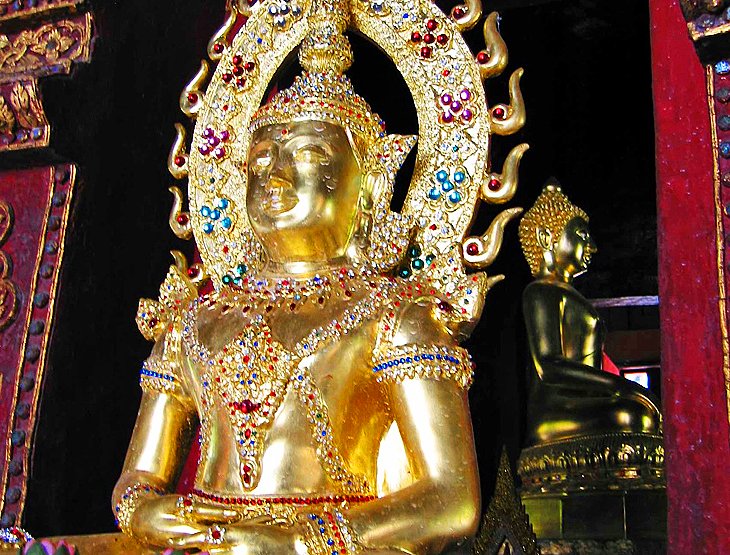 This temple stands at the heart of the Old City, which is where travelers spend much of their time. Amidst the close sois, or alleys, and heavy motorbike traffic, Wat Prasingh rises at the end of Rachadamnoen Road. It is the largest wat in the city, and dates to 1345 when an ancient king built it in his father's honor. The father's ashes are still buried on the grounds - but don't let that spook you from visiting. The decadent structures are impressive, and it's an especially great place to check out on Sundays.
The wat's most sacred shrine is a small building called the Phra Wiharn Lai Kam, erected during the reign of King San Muang Ma (1385-1401) to house the famous, now sadly headless, Sukhothai-style figure known as the Phra Singh Buddha. According to tradition the Buddha, in the familiar "calling the earth to witness" pose, came to Thailand from Ceylon, finding its way first to Ayutthaya and then to Kamphaeng Phet, Chiang Rai, Luang Prabang and back again to Ayutthaya before, in 1767, arriving in Chiang Mai where it has been ever since (but there are doubts as to the relic's authenticity). Head to Wat Prasingh in the early afternoon and you'll have a chance to browse a market on the grounds, perusing creative souvenirs and sampling fresh juices and teas after visiting the temple.
Location: End of Rachadamnoen Road
6 Chiang Mai Gate Market
This is the place to find the best street food in Chiang Mai. Every night, vendors set up at the Chiang Mai Gate and sell everything from pad kra pow (spicy meat and basil dish) to the perfect dessert of fresh mango sticky rice topped with coconut milk. Do yourself a favor and order a smoothie from Mrs Pa. Her stand is located directly across from the 7-Eleven and says Pa's Smoothies on the sign. Your best bet is to let her mix up a concoction of her devising; you can never go wrong this way. The market is held seven nights a week, but it's best to go on weeknights since there are fewer vendors on Saturday and Sunday evenings.
7 Sunday Walking Street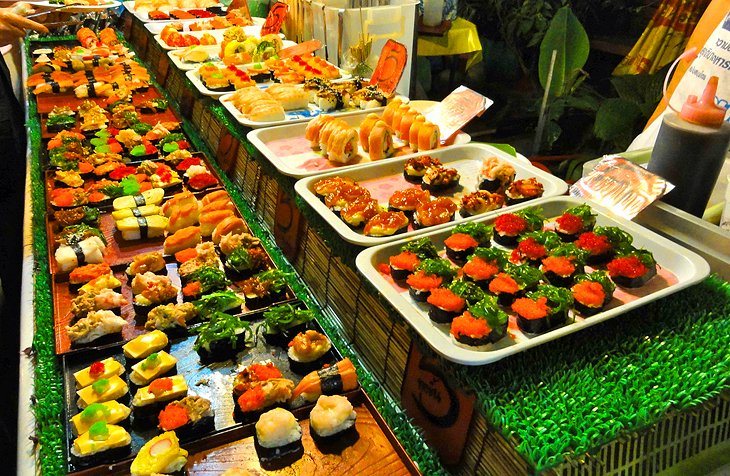 If you're wondering where to get your street grub on during the weekend, fear not. Chiang Mai has a market for every occasion. The Sunday Walking Street is a must for eating and shopping, though go early if you're not one for crowds. The main market thoroughfare is Rachadamnoen Road, which begins just behind Thapae Gate, where you'll find vendors selling handcrafted lamps, dolls, soaps, jewelry, clothes, Christmas ornaments, local handicrafts, and just about every other keepsake you can imagine. As you reach the end of the first block of Rachadamnoen, you'll find yourself flanked by two temples. The courtyards of both are filled with food stalls offering a grand mix of pad Thai, Japanese curry, sushi for 15 cents a piece, samosas, fried bananas, and dumplings. The market stretches the length of the road, and if you're interested in doing any shopping at all, leave yourself several hours to wander, shop, and eat. Also make sure to have your patience readily available as the throngs can make it slow going when it comes to browsing.
The Saturday Walking Street on Wualai Road is a slightly tamer, and slightly less crowded, version of the Sunday market. You'll find it just behind the Chiang Mai Gate, and it's a great place to pick up hand-woven clothing, pillow covers, purses, wallets and other items sold by members of local hill tribe communities.
8 Night Bazaar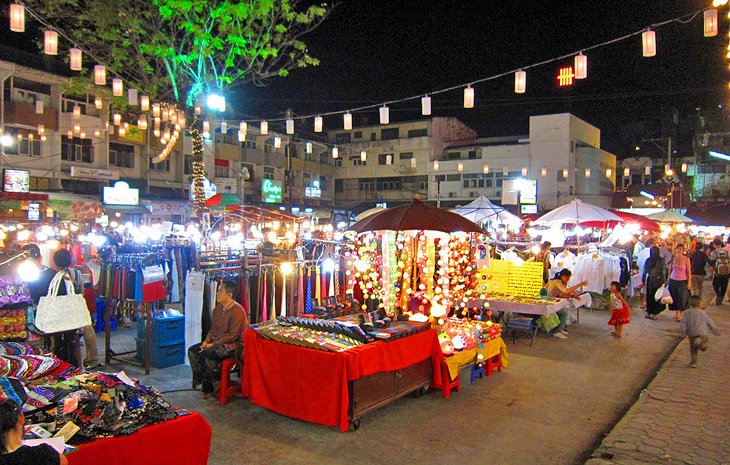 This is a great spot for shopping, if you are prepared to do some haggling. Because the Night Bazaar attracts many tourists, you'll want to be on your guard against getting ripped-off. But there are some great finds here, from clothes and scarves to carvings and housewares. When you're finished shopping, you can take in a muay Thai boxing fight at the stadium on the premises. Muay Thai fights are a big part of local culture, and can add an exciting element to your stay in Chiang Mai. Entrance to the fights is usually between 200 and 400 THB.
Location: Chang Klan Road
9 Documentary Arts Asia
Beautiful and relaxing as Chiang Mai is, it also attracts many humanitarians focused on the plight of refugees from Burma and the marginalized hill tribe communities. Documentary Arts Asia is a gallery space that holds regular documentary and Asian film screenings and events related to the political and humanitarian situations throughout Asia. They have a library that is open to the public for browsing and continually rotate photographic exhibits at the gallery. It's an excellent place to learn more about the historical and political contexts of Thailand and the rest of the region.
Address: 12/7 Wualai Road Soi 3, Chiang Mai
10 Elephant Nature Park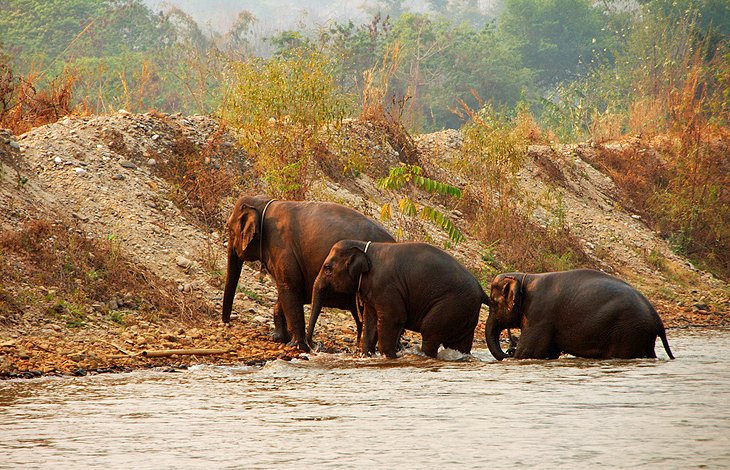 There are many elephant camps around Chiang Mai, but all are not created equal. Many have been criticized as treating the animals poorly and overworking them. Elephant Nature Park is not one of these places. Visitors are invited to spend a day volunteering with the elephants, feeding them and bathing them in the river. Most of the elephants are rescues, having suffered as show or labor animals. Once they come to ENP, they are no longer workers and are treated gently and respectfully.
A day spent here is an eye-opening experience, as you both get to spend time up close with the elephants and learn about their plight. The cost of volunteering includes transportation and lunch, and the money goes toward maintaining the grounds and providing for the animals. Be sure to book in advance, as the volunteer spots do fill up ahead of time.
Admission: 2,500THB per adult, 1,250THB per child
11 Tiger Kingdom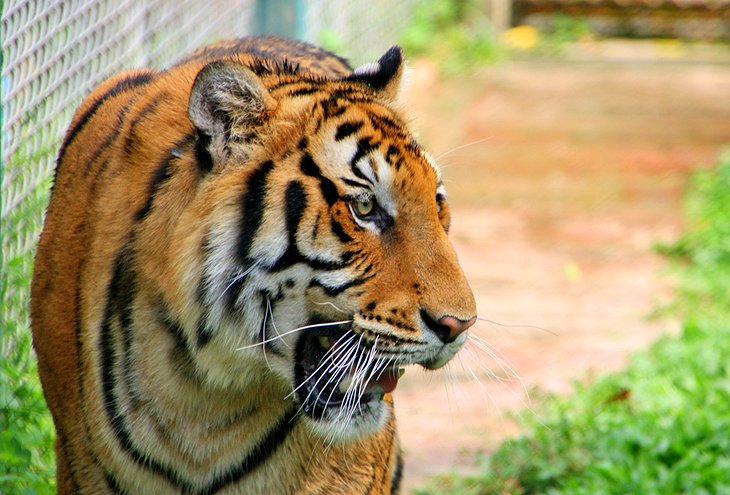 Elephants are the priority animals for travelers in Chiang Mai, but tigers are a close second. The Tiger Kingdom draws large crowds because of the promise of some serious face time with one of the world's fiercest predators. There has been speculation that the tigers are drugged, though the official story is that the tigers are calm around visitors because due to being raised around humans. When you arrive, you can choose a package based on which tigers you want to see. The most popular are the babies (of course) and the full-grown tigers, though you can see mid-range ones as well. You'll get 10-15 minutes in a caged area, where you can pet the animals and take photos for proof that you were actually cuddled up next to a tiger.
Admission: 420-620THB per tiger group. Special packages also available.
Hours: Open 10am-6pm
12 Editor's Pick Bua Thong Sticky Waterfalls
You'll definitely want to spend a day outside the city checking this place out. The wooded area surrounding the falls is serene and peaceful, but the real draw is the fact that you can walk up the falls. The limestone is "sticky" even as the water runs over it, so you can climb up and down to your heart's content. It's a real treat, and provides a nice complement to some of the more traditional tourist activities. Aim to go on a weekday, since the place gets fairly crowded on the weekends. For between a few hundred and a thousand Thai baht, you can hire a songthaew or tuk-tuk driver to take you out and back.
13 Huay Tung Tao
This is a perfect place to laze away a day under the Thai sun, surrounded by hills and with a lake to swim in at your leisure. This reservoir is popular with locals and ex-pats alike. You can rent a hut on the lake for the equivalent of a few dollars, and a huge tube to lounge on in the water for 50THB. Don't worry about packing lunch because you can order fresh fish and other dishes from the local kitchens. And it's only about 10 km from the city, so it makes a perfect day trip. You can hire a driver and negotiate a pick-up and drop-off rate. It's worth purchasing an inexpensive Thai SIM card so you can give the driver a call if you need to make adjustments to your meeting times.
14 Eakachai Houseboat at Mae Ngat Dam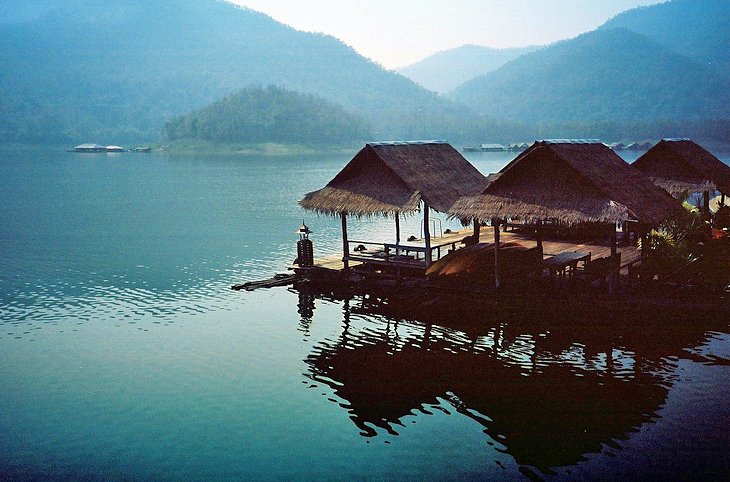 If you think Huay Tung Tao sounds sweet, wait until you get a load of the floating houses at Mae Ngat Dam. These small bungalows on the water can only be reached by boat, so you have to hire someone to take you out to your humble abode for the night. Whether you're sunning yourself on your deck or paddling around the lake, you'll be amazed by the stunning beauty of this park - found about a 30-minute ride from the city.
Again you can order food brought directly to your hut, and at night, don't be surprised to hear fellow guests playing music and singing. Prices may vary depending on negotiations, but be sure to call ahead to make a reservation and confirm the costs beforehand.
Where to Stay in Chiang Mai for Sightseeing
If you're planning to see the top tourist attractions in the city of Chiang Mai, the best place to stay is near the walled Old City, a wonderful place to explore on foot, with its Buddhist temples, bookstores, antique shops, and cafés. Near the Old City's Tha Phae Gate, the lively Night Bazaar buzzes with activity and the surrounding area is also popular and centrally located for sightseeing. Hotels in the area of town called Riverside tend to be a little more tranquil but still lie within easy access of all the attractions. Below are some highly-rated hotels in convenient locations for sightseeing:
Luxury Hotels: Minutes from the Old City and Night Market yet in a tranquil Riverside location, Anantara Chiang Mai Resort is a stylish sanctuary with contemporary Asian accents. Also within walking distance to the Old City is the more intimate colonial-style Ping Nakara Boutique Hotel & Spa with charming gingerbread trim. Seemingly a world away from all the hustle and bustle, yet only 10-minutes via a hotel shuttle from the Old City, The Dhara Dhevi Chiang Mai is a sumptuous villa resort in the style of an ancient palace set amid 60 acres of lush tropical gardens.
Mid-Range Hotels: An excellent mid-range option in the heart of the city is the Golden Bell Hotel next to the Sunday Walking Street market. If you're seeking a little more serenity, two good-value boutique hotels on the outskirts of the city include Rimping Village, a ten-minute walk from the Night Market, and Shewe Wana Boutique Resort and Spa, with easy access via tuk tuk to all the top attractions.
Budget Hotels: If you're on a budget, Varada Place offers excellent value within walking distance of the Old City, while Vanilla Place Guest House and Rustic River Boutique are also centrally located, a short hop from the Night Bazaar.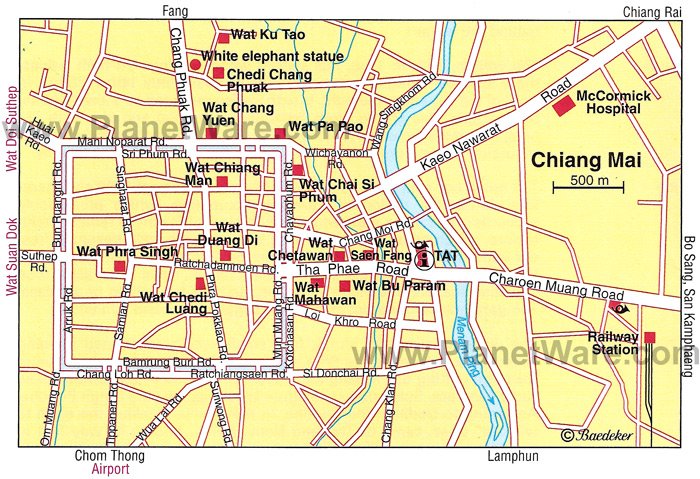 Chiang Mai Map - Attractions
Want to use this map on your web site?
Copy and Paste the code below:
More on Thailand