9 Top-Rated Tourist Attractions in Pattaya
Thailand's famous beach resort town of Pattaya has developed a colorful reputation over the years. Located less than 200 km from Bangkok, it's a convenient place to enjoy sun, sand and sea. The beach town has drawn tourists and ex-pats from all over the world ever since US soldiers "discovered" the once-sleepy getaway destination during the Vietnam War. Since then, Pattaya's profile has steadily increased and it is now one of the most popular beach destinations in Southeast Asia.
After a spate of development in the 1970s, the city became known as a haven for sex tourism, though in recent years the government has made efforts to turn Pattaya into a family-friendly destination. Still, Pattaya remains more of an adult's destination. If you are traveling with the family or are seeking a more subdued location, check out Jomtien Beach. The area is still touristy, but quieter than the bustling center of town.
1 Nong Nooch Village
The sprawling park at Nong Nooch (pronounced "nung nut") Village offers a little bit of everything on the spectrum. There's a magnificent orchid garden that will awaken the inner horticulturist in everyone, and a zoo that's fun for all ages. Guests can also see Thai boxing matches, cockfights, and an elephant show (the latter two being of dubious ethical quality). Door-to-door transportation can be arranged through the park or a local tour company.
Hours: Daily 8am-6pm
Admission: 500 THB for adults, includes full park access, cultural shows, and elephant performances
Address: 34/1 Moo 7 Na Jomtien, Sattahip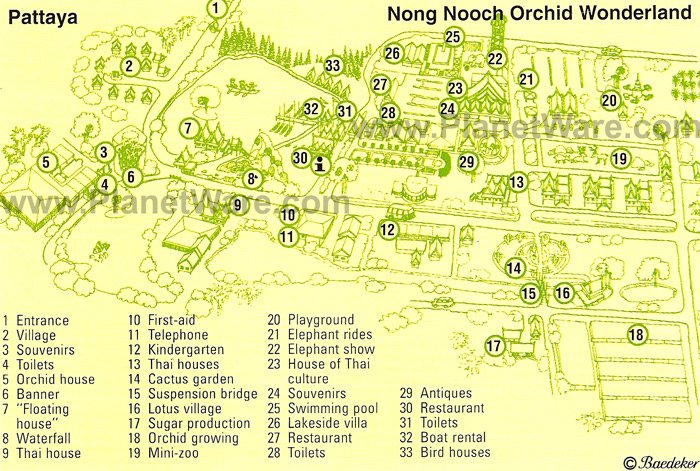 Nong Nooch Orchid Wonderland, Pattaya, Chonburi Map
Want to use this map on your web site?
Copy and Paste the code below:
2 Jomtien Beach
Escape the bustle of the main city, but still enjoy Pattaya's highlights by relaxing at Jomtien Beach. Sun yourself near the peaceful shoreline or take refuge in shade provided by trees at the beach's edge. Water lovers can take advantage of all kinds of activities, including jetskiing, parasailing, and windsurfing. When in need of refreshment, guests will find plenty of restaurants serving up local fare and fresh seafood.
3 Sanctuary of Truth
Billed as "the magnificence of heaven recreated on Earth", this massive building is a study in Thai architectural styles. Every available space is intricately decorated with wooden carvings and the entire structure was built to pay homage to ancient religions and philosophies - a reaction to modern egotistical behaviors and attitudes. While visiting the sanctuary, guests can take in Thai cultural shows and Thai boxing, or go elephant trekking, horseback riding, or hop on a speedboat to get around.
Admission: 450 THB for adults, 225 THB for children (when purchased at a discount online)
Address: 206/2 Moo 5, Soi Naklua 12 , Naklua, Banglamung
4 Wat Yansangwararam
As with all of Thailand's impressive wats, this one offers insight not only into Thai design and architectural traditions, but also into the society's values. This temple was dedicated to King Bhumibol Adulyadej in 1988 to commemorate the 42nd year of his reign. To the right-hand side of the path leading to the temple there is a lake with attractive Chinese pavilions and other buildings. Wat Yansangwararam's shrine stands on a hill, reached by a flight of 299 steps lined with naga snakes.
5 Mini Siam
A fun way to see the wonders of Thailand and the world, Mini Siam displays models of some of the most famous international sites. Among those on display: Bangkok's Victory Monument and Wat Arun (also known as the Temple of the Dawn), New York's Statue of Liberty, London's Tower Bridge, Sydney's Opera House, and Paris' Arc de Triomphe. Bookings should be made at least a day in advance.
Hours: Daily 7am-10pm
Address: 387 Moo 6 Sukhumvit Rd., Pattaya City Naklua, Banglamung
6 Four Regions Floating Market
The first and only floating market in Pattaya, this bustling hive of commerce gives guests an opportunity to experience local living and indulge in excellent Thai fare. If meandering through the market doesn't seem like enough excitement for you, hop on a tour that includes boat rides, visits to rice fields and traditional Thai houses, wicker crafting, and a stop at the kite museum.
Hours: Daily 8am-6pm
Admission: Free, but tours can cost up to 300 THB
Address: 451/304 Mu 12, Sukhumvit Road, Tambon Nong Prue, Amphoe Bang Lamung
7 Pattaya Park
A day spent at Pattaya Park will be a fun one, whether you're young or young at heart. Get the adrenaline pumping with a ride on the roller-coaster or indulge that childhood nostalgia on the carousel. There's a water park for cooling off and the Pattaya Park Tower affords you beautiful views of the surrounding area while you indulge in a good meal.
Hours: Daily 10am-7pm (Fun Park)
Address: 345 Jomtien Beach, Pattaya City
8 Underwater World Pattaya
A trip to Underwater World is not your average day at the aquarium. Here, at Thailand's first modern aquarium, guests can spend the night among the animals, feed koi fish from bottles, and dive with sharks and rays. Other activities and tourist attractions include otter and shark feedings. Be sure to book in advance for diving, snorkeling, and other special programs.
Hours: Daily 9am-6pm (last guests admitted at 5:30pm)
Admission: 500 THB for adults, 300 THB for children (diving and other special programs cost extra)
Address: 22/22 Moo 11,Sukhumvit Rd.,Nongprue, Banglamung
9 Naklua
For some quality time at the markets, head to the small town of Naklua. Plan your excursion in the morning to take advantage of the fish market, or in the evening for the night market. You'll find several good restaurants in the area and get a taste of local life away from the tourist crowds in the heart of Pattaya. It's best to take a group taxi, so make some new friends while lounging at the beach and make an outing of it together.
Where to Stay in Pattaya for Sightseeing
Most travelers visit Pattaya for the lively entertainment venues on Walking Street and the sun-soaked beaches. If you're seeking seaside relaxation away from the buzz of the busy downtown strip but with easy access to it, Pattaya Hill is the best place to stay and is home to many of the upmarket hotels. Families usually prefer Jomtien Beach. Here are some highly-rated hotels in these areas:
Luxury Hotels: Seemingly a world away from the city buzz yet only a 12-minute drive to Walking Street, Royal Wing Suites & Spa is an all-suite hotel presiding over a lush mountainside, with a private beach and beautiful views of the sea. At the Sheraton Pattaya Resort, an eight-minute drive from Walking Street, you can splash in the sprawling palm-fringed swimming pools or bask on a private beach. Steps away from the beach, Pattaya Marriott Resort & Spa, with a well-shaded pool, is only a 10-minute walk from the main downtown strip, and if you want to stay even closer to Walking Street, the Hilton Pattaya is a mere three-minute stroll away.
Mid-Range Hotels: Across the road from the beach and within walking distance of shops and restaurants, Holiday Inn Pattaya is a popular mid-range option. If you're looking for light-filled contemporary accommodation, Hotel Baraquda Pattaya - MGallery Collection, with an inviting fish-shaped pool, offers great value within walking distance of the beach and all the downtown action. Far from the madding crowds and featuring stunning sea views, the Royal Cliff Beach Terrace is renovated in contemporary Thai style, with seven sparkling swimming pools and two-bedroom suites for families.
Budget Hotels: At a budget-friendly price, Ibis Pattaya, in quieter North Pattaya, lies an easy four-minute walk from the beach but eleven minutes by car to Walking Street, while Chada Thai House lies within walking distance of the city's main street and the beach. If you prefer a quieter family-friendly location away from the hubbub of Pattaya, SeaSide Jomtien Beach offers excellent value.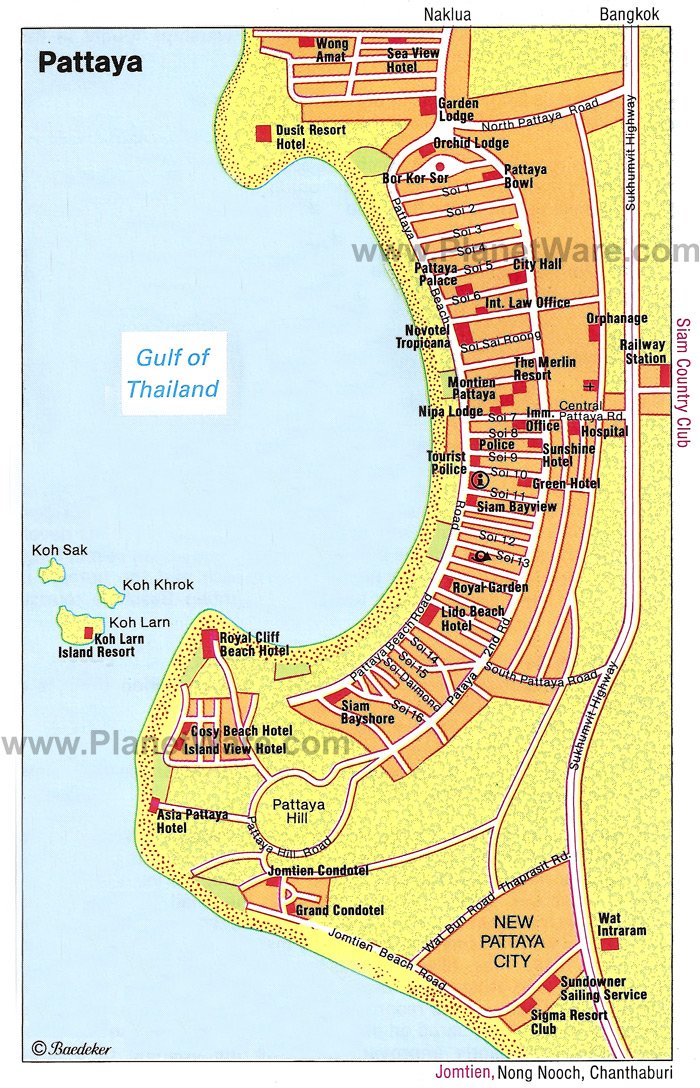 Pattaya Map - Attractions
Want to use this map on your web site?
Copy and Paste the code below:
More on Thailand