Annapurna Treks
AnnapurnaIn many regards the Annapurna Massif north of Pokhara is an ideal walking area. The dramatic contrasts of the Nepalese countryside are especially visible: from the sub-tropical vegetation of the Pokhara valley to the dry rain shadow area with features of the Tibetan plateau. The people and cultures are also very different: facial characteristics, houses, lifestyles, customs and religion.
Related Attractions
The Muktinath Route runs along the Kali Gandaki valley, where tourists will find guest houses and restaurants at various intervals.
The Annapurna Circle is a popular trekking route which leads around the Annapurna Himal. Tea houses and lodges can be found at fairly regular intervals.
In the heart of the Annapurna Region is the Annapurna Sanctuary, a beautiful and popular hiking area. The landscape displays 6000m to 8000m peaks, forests, glaciers, and terraces.
This route was opened to foreigners in the early 1990s. An enclave of Tibetan culture, this area is interesting for its customs and traditions.
More Annapurna Treks Pictures
Map - Annapurna Treks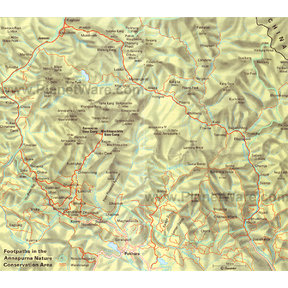 Map - Annapurna Conservation Area, West Nepal