Hyde Park Corner, London
Hyde Park Corner is the busiest road junction in London, leading north to Marble Arch and Oxford Street, east to Buckingham Palace, west to the Albert Hall and southwest to Kensington, Brompton (for Harrods department store) and the Victoria and Albert Museum and the Natural History Museum with the Geological Museum.
Important Information:
Transit:
Underground: Hyde Park Corner.
Related Attractions
A branch of the Victoria and Albert Museum, the Wellington Museum is located in Apsley House. The Museum showcases fine works of art, some of which belonged to the First Duke of Wellington.
Wellington Arch
At Hyde Park Corner stands the Wellington Arch, a monumental triumphal arch commemorating Wellington's victory at Waterloo; it is surmounted by a bronze quadriga (four-horse chariot) with a figure of Peace. Facing the Duke's residence, Apsley House, is a bronze equestrian statue of Wellington; at the corners of the pedestal are figures of a Grenadier Guard, a Scottish Highlander, a Welsh Fusilier and an Inniskilling Dragoon.
The birthplace of Queen Victoria, Kensington Palace served as the private home of the Queen between the years 1689 and 1760. The Palace is now partially open to tourists and visitors.
Albert Memorial
This memorial to Prince Albert of Saxe-Coburg-Gotha (1819-61), Queen Victoria's consort, in Kensington Gardens, was designed by Sir George Gilbert Scott and unveiled by the Queen in 1876. The Queen had originally thought of a huge monolithic granite obelisk, to be financed by public subscription, but the amount collected was insufficient and the present more modest monument, in the neo-Gothic style of the period, was built instead. Albert is seated under a richly decorated canopy 58m/190ft high, holding in his hand the catalogue of the Great Exhibition of 1851. Around the pedestal are 178 marble neo-classical reliefs of artists and men of letters of every period. At the corners of the pedestal are sculptured groups symbolizing Manufactures, Engineering, Commerce and Agriculture, and at the outer corners of the steps are other groups symbolizing the continents of Europe, Asia, Africa and America.
Hyde Park Corner War Memorials
Besides the Wellington Arch, there are two other war memorials at Hyde Park Corner - the Royal Artillery War Memorial (1928) and the Machine Gun Corps War Memorial (1927), with a figure of David.
Map of London Attractions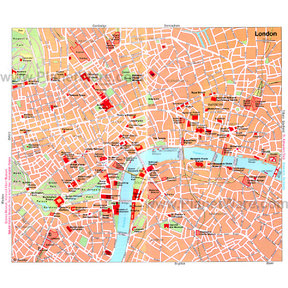 London Map