St Peter's Church, Leuven
Sint-Pieterskerk
Standing in the middle of the Grote Markt Sint-Pieterskerk is a prime example of Brabant Gothic. Begun in the 15th C. by van Vorst, continued by Keldermans and de Layens, it was more or less completed by Joost Massys. Original plans envisaged three towers on the west side and a main tower of 165m/541ft. This work was abandoned as the foundations were on sand and previous buildings had collapsed.The tower is a UNESCO site.
St Peter's Church Highlights
Sint-Pieterskerk Interior
The main nave's notable features are its straight line of sheaf pillars and high pointed arch windows. Among the treasures in this part of the church are the late Gothic brass font in the chapel to the left of west gate and the splendidly carved Baroque pulpit of 1742. In the left transept is a Madonna "Sedes Sapientiae" (1441), the patron saint of the Catholic University.The choir is separated from the nave by a richly decorated late Gothic rood screen (1488) depicting a crucifixion scene by Jan Borreman (around 1500). During restoration work the octagonal Romanesque crypt of the original 10th C. church was discovered below the choir.
Museum of Religious Art
The choir and ambulatory have been converted into the Stedelijk Museum voor Religieuze Kunst (Museum of Religious Art). The late Gothic choir stalls have the original carvings; to the left is the impressive 12.5m/41ft-high stone tabernacle by de Layens (1450). In the chapels to the right and left of the choir are the tombs of Duke Henry I of Brabant (d. 1235), his wife Mathilde (d. 1211) and his daughter Maria (d. 1260). All that remains of a 12th C. wooden cross, burnt in 1914, is a head of Christ with a pitiful expression. Outstanding is the "Last Supper" the chief work of Dirk Bouts, painted 1464-1468 and still well preserved. The supper takes place in a Gothic hall and the figures are arranged around Christ; unlike many representations the betrayal of Judas is not in the foreground, instead it is the symbolic Eucharist, as also portrayed in the side panels. The triptych with the "Martyrdom of St Erasmus" as the center panel (1465) is also by Bouts; the "Descent from the Cross" is a copy of a masterpiece by his teacher, Rogier van der Weyden.
Map of Leuven Attractions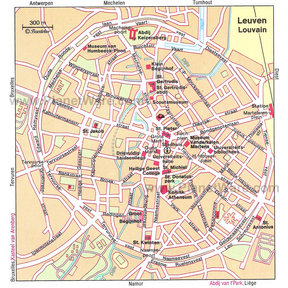 Leuven Map
More Leuven Attractions
Popular Destinations Nearby