Calgary Stampede
The Calgary Stampede is the highlight of the city and should not be missed by visitors traveling to Alberta in July.Calgary, the city lying between the wilderness and the wheat-fields and ever since its foundation in competition with its sister city to the north, Edmonton, justifies its reputation as a "cowboy town" only once in the year, when the ten-day "Calgary Stampede" is held.
Important Information:
Address:
1410 Olympic Way SE, Canada
Then the population seems to feel obliged to dress accordingly, and blue jeans and brightly-colored Stetsons become the order of the day. Calgary becomes the center of attraction for all Wild West fans; rodeos and wagon-racing teams, an authentic Indian camp of wigwams and traditional Indian dances, as well as agricultural shows all contribute to this great outdoor event.In addition to what goes on at the Stampede Grounds, local establishments around Calgary also participate in the Calgary Stampede by offering free "stampede breakfast" at different places throughout the week. Stores decorate their windows. Temporary petting zoos and midway rides pop up in parking lots. Restaurants and clubs host have special events or have entertainment in the evening. The Calgary Stampede has a presence throughout the city during the days and evenings for this first week in July.
Related Attractions
Calgary Stampede Park
In the south-east of Calgary, by the Elbow River, Stampede Park extends over 24 ha (60 acres). Every year since 1912 the Calgary Exhibition and the Stampede have been held here. In the month of July the Wild West lives again. In the world's biggest and wildest rodeo cowboys compete to be the "best of the bunch". Prizes are awarded for the best breed of animal and neck-breaking chuck wagon races are held. Spectacular shows are also put on for the public. Night time entertainment with live performances by the latest country artists are held at Stampede Park. During the rest of the year fairs and exhibitions of all kinds are held here, and there are horse races in the Grand Stand..
Grain Academy
The "Grain Academy" of the Alberta Wheat Pool is situated in Calgary's Stampede Park, in the Round Up Center. Linked to the Grain Academy is the Canadian Grain Academy Museum containing an exhibition with a model of a railway which brought the grain from the prairies over the Rocky Mountains to Vancouver Harbor, as well as a functioning granary. There are also films and explanatory documents giving information about the production, handling, and importance of various types of grain.
Map of Calgary Attractions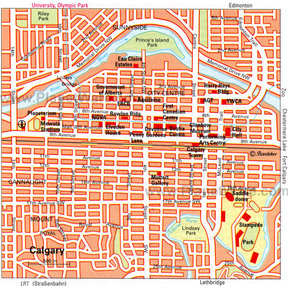 Calgary Map
More Calgary Attractions
Popular Destinations Nearby