Museum of Art, Basel
Öffentliche Kunstsammlung
From the Basle Minster, Rittergasse, lined by handsome Rococo houses, runs southeast into St-Alban-Graben. At the corner of Dufourstrasse in a building designed by R. Christ and P. Bonatz (1932-36), is the Basle Public Art Collection or Museum of Art (Kunstmuseum), which contains the finest collection of pictures in Switzerland, including both old masters and modern art, and also a Print Cabinet.
Address:
St Alban-Graben 16, Postfach 4010, CH-4010 Basel, Switzerland
Opening hours:
10am-5pm; Closed: Mon
Always closed on:
New Year's Day (Jan 1), May Day / Labor Day (May 1), Christmas - Christian (Dec 25), Christmas Eve - Christian (Dec 24), Mardi Gras - Shrove Tuesday - Christian, Good Friday - Christian
Entrance fee in CHF:
Adult CHF10.00, Senior CHF8.00, Child 16 & under FREE
Disability Access:
Full facilities for persons with disabilities.
Facilities:
Gift shop, Restaurant or food service
Museum of Art Highlights
Old Masters
On the first floor are the old masters, from Konrad Witz to Holbein the Younger (both well presented), and a collection of French and Dutch pictures presented by Professor Bachofen.Items of particular importance include the Heilspiegel (Mirror of Salvation) Altar by Konrad Witz (d. ca. 1447), portraits by Holbein (16th C.), a "Crucifixion" by Mathias Grünewald (d. 1528), paintings by Niklaus Manuel-Deutsch (d. 1530) and Rembrandt ("David with Goliath's Head", 1627), Böcklin's "Island of the Dead" (earliest version).
Museum of Art - modern art
The second floor houses an outstanding collection of 19th and 20th C. art, including Impressionists, Expressionists and Surrealists (Gauguin, Van Gogh, Corot, Corinth, Cézanne, Braque, Kokoschka, Picasso, Kandinsky, Léger, Chagall, Paul Klee, Juan Gris, Dali, Max Ernst), together with 20th C. works and special exhibitions.Items of particular importance include Böcklin's "Island of the Dead" (earliest version, 1880) and works by Ferdinand Hodler (1853-1918).
Map - Museum of Art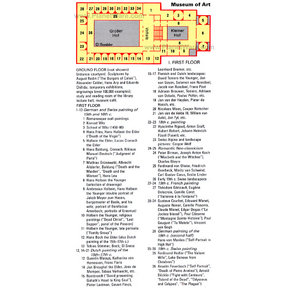 Map - Basel - Museum of Art First Floor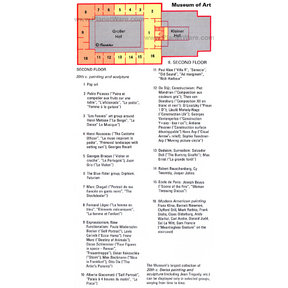 Map - Basel - Museum of Art Second Floor
Map of Basel Attractions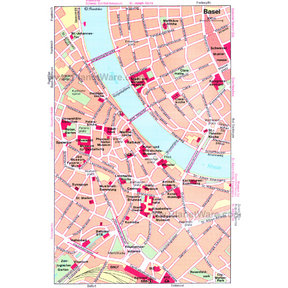 Basel Map