Castell de Montjuïc, Barcelona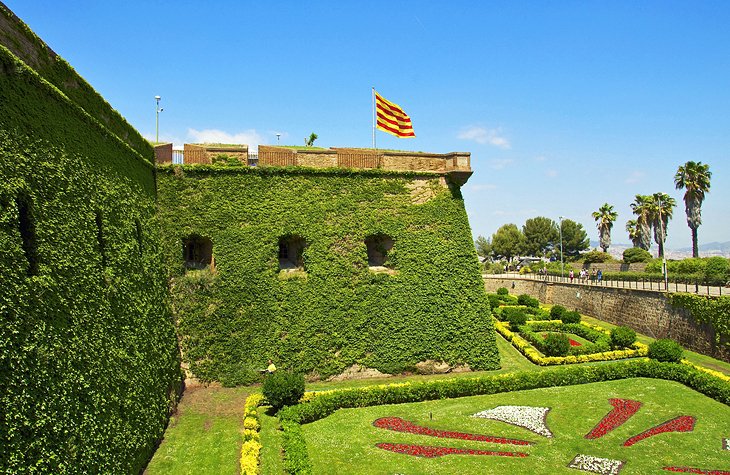 Castell de Montjuic
The whole of the summit area of Montjuïc is occupied by the extensive buildings and grounds which make up the Castell de Montjuïc (fortress). From the corner bastions in particular, the visitor has a panoramic view across the whole of the metropolis. On the west side stands an ornate memorial to Francisco Franco, which is gradually becoming dilapidated and in the moat there is an archery ground. In the whole fortess site there are several large-calibre guns which command the whole of the port area. It is well worth taking a walk round the flat roof of the citadel. From there there is a complete panorama over the sea, port, city and mountains.
Address: Parc de Montjuïc, E-08038 Barcelona, Spain
Castell de Montjuic Highlight
Military Museum
The Museu Militar is located inside the citadel which is normally open until 9pm. In the courtyard stand flat- and sloping-fire guns from the 19th and early 20th centuries. The exhibition is housed in the rooms surrounding the courtyard and in the casemates.From the gateway, where the ticket office is located, the visitor turns left and views the exhibition in a clockwise direction. The library (Rooms 3 and 4) can be visited by prior arrangement. From there we go downstairs into the casemates (Rooms 1-7; photography is forbidden here). In the smaller room on the left and in the neighboring rooms can be seen displays of blank weapons, firearms, models of battleships and fighting planes, a large model of Montjuïc, as well as models of other Spanish castles, landscape dioramas of historic battlegrounds. On the wall there is a large map showing the individual comarques (districts) and important castles of Catalonia, and a collection of tin soldiers. In the large room (at the bottom of the stairs on the right) there are medieval and more recent weapons (crossbows, flails, armour, blank weapons and firearms).The tour then returns to the courtyard; here are the auditorium (Room 6) and newly furnished rooms (Room 7 onwards). These contain more historical weapons, extensive collections of modern firearms (handguns from various sources, automatic weapons) and uniforms of various military units. Non-military material is to be found in Room 18, where items connected with the history of the mountain and finds from the old Jewish cemetery can be seen.From the inner courtyard visitors can go up to the large roof terrace, from which there are splendid views.
Address: Castell de Montjuïc, E-08038 Barcelona, Spain
Castell de Montjuïc Map
Want to use this map on your web site?
Copy and Paste the code below:
Popular Pages