Jasper National Park
AccessBy roadYellowhead Highway 16, Prince George-Jasper-Edmonton; Icefields Parkway.By rail"The Canadian" (VIA Rail: Toronto-Edmonton-Jasper-Vancouver); "The Rocky Mountaineer" (Vancouver-Jasper)By busBrewster Transportation & Tours, from Calgary via Banff and the Icefields Parkway to JasperLocationJasper National Park, with an area of 10,878 sq.
Address:
Box 10, Jasper, AB T0E1E0, Canada
Entrance fee in CAD:
Family $18.00, Adult $9.00, Senior $7.75, Students $4.50
Useful tips:
Camping fees vary.
Related Attractions
Maligne Lake
Maligne Lake, 11 km (7 mi.) further on, is the largest glacial lake in North America. At a height of 1673 m (5491 ft) in the beautifully scenic Maligne Valley, the lake, which is surrounded by majestic ice and snow-covered peaks, is about 22 km (14 mi.) long and just under 2 km (11/4 mi.) across at its widest part. It is well worth taking the boat trip to the southern end of the lake, past the world famous picture postcard views of the Narrows and Spirit Island.There are also very lovely walks along the lakeside to Schäffer Viewpoint (about 1.5 km (1 mi.)) or up to the Opal Hills. The climb of about 8 km (5 mi.), taking 3 hours brings the walker 305 m (1001 ft) higher up and is rewarded by a splendid view.From June to September, visitors can join in white-water rafting for 11 km (7 mi.) downriver on Maligne River.
Maligne Canyon
Scenic Maligne Lake is a good destination for a day out, reached by taking the Maligne Road, which branches off from the Yellowhead Highway 3 km (2 mi.) beyond Jasper. The Maligne Canyon, 11 km (7 mi.) east of Jasper, is one of the most beautiful canyons in the Rockies. It has several waterfalls and a 4 km (21/2 mi.) nature trail, starting at the lodge (open in summer) and leading along the Maligne Canyon, its chalky sandstone walls as high as 50 m (164 ft), with interpretive panels explaining the geomorphological features. The canyon is very narrow in places and spanned by several bridges. Its lower section carries far more water than the upper part since water from Medicine Lake enters the canyon at various places, flowing through subterranean clefts and gushing out of karst hollows.
Mount Edith Cavell
From Jasper, it is well worth making the trip 30 km (19 mi.) further south to Mount Edith Cavell (3363 m (11,0374 ft); approach on Highway 93 A) named after the British nurse who was a First World War heroine. A winding mountain road, about 15 km (91/2 mi.) long (open Jun.-Oct.) twists and turns up to Cavell Lake and a car park at the foot of the impressive north face. The Angel Glacier moves downwards from a saddle. A short footpath leads through the moraine to a little lake below the tongue of the glacier. There is a very pleasant 3 to 4-hour walk up to the Cavell Meadows, from where there is a particularly good view of the Angel Glacier and Mount Edith Cavell.
Miette Hot Springs
Miette Hot Springs, at 54°C (129°F) are the hottest springs in the Canadian Rockies. The thermal baths (39°C (102°F) are part of a larger leisure complex with accommodation, restaurants and riding stables.There are two pools at Miette Hot Springs, one is very shallow for children, the other is deep and aimed at adults. It is possible to rent towels on site and change rooms are available. If you forget your swim suit, they have those too. There is also a cafe and gift shop on site.Near Miette Hot Springs are some hiking trails where it's always possible to see some of the area's wildlife.
Pocahontas, Canada
Just 50 km (31 mi.) north of Jasper, the Miette Hot Springs road branches off the Yellowhead Highway at Pocahontas, a few miles before the eastern entrance to the park. Coal deposits were discovered at Pocahontas in 1908 and mined for about ten years after the railway line was completed in 1911. All that now remains of the Pocahontas mine are a few foundations.The Punchbowl Falls, cascading down a narrow crevasse, are a few miles further on.This is not worth making a special trip to see but if you are going by Pocahontas it is worth having a look.
Pyramid Lake (Patricia Lake)
About 7 km (41/2 mi.) north of Jasper, Pyramid Lake and Patricia Lake are reached by a winding road. These two attractive mountain lakes below the impressive 2768 m (9085 ft) Pyramid Mountain have good windsurfing, canoeing and boating as well as sailing. No motorized boats are allowed on the lake.Hiking and horseback riding are popular around Pyramid and Patricia Lake.A 5 km (3 mi.) circular trail past Patricia Lake leaves from the Pyramid riding stables.In the vicinity are rental shops, accommodation, and other facilities for tourists.
Skeena Express
"The Skeena" express, part of Via Rail, runs on the 1160 km (720 mi.) route between Jasper and the Pacific coast port of Prince Rupert. The two-day journey includes an overnight stop in the town of Prince George. The Skeena's dome car ensures splendid views of the magnificent high mountain scenery of this part of central British Columbia.The trip is considered a highlight of the Rockies and is a great option for travellers who are just coming to the interior to see Jasper and the surrounding area before heading to the coast.
Jasper Tramway
Jasper Tramway is Canada's longest and highest aerial tramway tour into Jasper National Park. It rises 973 m / 3,191ft. Views from the Tramway include the Canadian Rockies and the town of Jasper.The Jasper Tramway brings passengers up Whistler's Mountain where they are free to walk around at an elevation of 2277 m / 7472 ft. Visitors will find a gift shop and restaurant at the upper station. Plaques offer information on the surroundings and there are also hiking trails at the top.
Marmot Basin Ski Area
Marmot Basin Ski Resort in Jasper National park is located approximately 20 km (13 mi.) south Jasper on the other side of Whistler's Mountain. Marmot Basin offers some of the best skiing in the vicinity and provides a variety of options for all levels of skiing ability. Views from the hill are spectacular. Unlike the ski hills around Lake Louise and Banff, Marmot Basin Ski Resort sees far fewer tourists and is more of a local's hill. Consequently there are generally fewer line ups.
Medicine Lake
Medicine Lake, is 6 km (31/2 mi.) long, and appears to have no outflow to speak of at its northern end, yet the water level varies greatly during the course of the year. In late autumn the lake is almost empty, with only a trickle of water meandering between the mud banks on the lake bed, to seep away at the north-east side of the basin. This phenomenon was a mystery to the local Indians, and their medicine men took advantage of it, hence the name Medicine Lake.
Whistlers Mountain
The Jasper Tramway station is about 7 km (41/2 mi.) south of the town of Jasper, near a large campsite on Whistlers Mountain. This mountain tramway goes up Whistlers Mountain, named after the whistling of the marmots which run around here in the summer. There is a good view of Jasper from the mountain station (restaurant) at 2277 m (7473 ft), but it is also well worth walking all the way up to the summit (2464 m (8087 ft)) to take in the magnificent panoramic view.
Cottonwood Creek
Moose, deer and beaver can be seen in the Cottonwood Creek area, in the early morning or in the evening.There are some day hikes in the Cottonwood Creek area. Get information from the park office for the latest conditions.
Maligne River - Rafting
From June to September, visitors can join in white-water rafting for 11 km (7 mi.) downriver on Maligne River.
Punchbowl Falls
The Punchbowl Falls is a dramatic falls, cascading down a narrow crevasse. The parking area is sign posted along Highway 16, west of Jasper.
More Jasper National Park Pictures
Map - Jasper National Park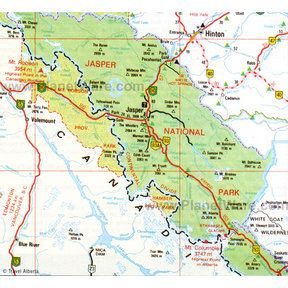 Map - Jasper National Park
Popular Destinations Nearby