Tobago Island Attractions
Tobago, the smaller island of Trinidad & Tobago, lies about 35 km North-East of the island of Trinidad. It is characterized by the Main Ridge, a mountainous range that runs from the South-West to the North-East.
Scarborough, Trinidad and Tobago
Scarborough is the capital of Tobago, but is not a prime tourist city. Wrapped around a bay, it has constructed a little used cruise docking facilities. Just opposite the docks is a market area which is busiest on Friday and Saturdays, but aside from one or two poorly stocked crafts shops, little is sold but a standard selection of vegetables and fish.Scarborough is scenic when seen from the overlook of Fort King George, a spot of tranquility.
Fort King George
Built in the 1780s overlooking Scarborough Bay, the site offers both a good view of the town and a park-like tranquility with some magnificent trees. Some of the original brick and stone walls, an early prison, the officers' mess, several cannon, and a later lighthouse still survive. It is the best preserved fort on Tobago.The Tobago Museum is located on the grounds.

Tobago Museum
Run by the Tobago Trust in the Barrack Guard House of Fort King George the Tobago Museum has a varied collection. Perhaps its most well-displayed collection are the antique maps on the second floor. There is also an emphasis on African Art reflecting the slave history of Tobago's citizens. Amerindian artifacts, military buttons, coins, shells and minerals are some of the other collections.
Botanic Garden
The Botanic Garden in Scarborough comprises ten acres of tropical trees and shrubs which are clearly labeled and create some interesting views. Open lawns surround the tree specimens.
Tobago Heritage Festival
The Tobago Heritage Festival takes place each year from mid July to early August and is celebrated throughout Tobago. The event, one of the most important on the island, showcases dance, music, and food as it celebrates the history and heritage of the people.
Tobago - Scuba & Snorkeling
There are several areas appropriate for scuba diving and or snorkeling and several companies which serve tourists wishing to partake of these sports. Most of the areas are off the north coast or Tyrrel's Bay. Some of the reef areas are protected.
Tobago Fest
Touted as a "mini Carnival", Tobago Fest is held in September. Like Carnival, which is a huge event on Trinidad, Tobago Fest celebrates with music, parades, competitions, and calypso shows while adding its own distinct Tobagonian flare.
Tobago Island Pictures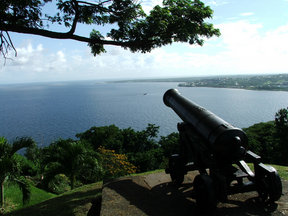 Map of Tobago Island Attractions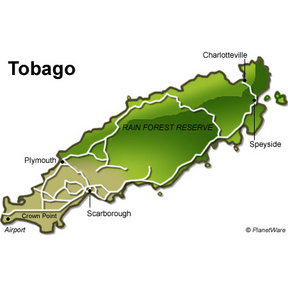 Map - Tobago