15 Top-Rated Tourist Attractions in Honduras
A diamond in the rough, Honduras, Central America's second-largest country, dazzles visitors with its natural beauty and diverse wildlife. Nature lovers can explore idyllic Caribbean beaches, bird-rich lakes and jungles, and the undeveloped tropical rainforest of La Mosquitia, the Mosquito Coast. But the country's prized jewels are the beautiful Bay Islands. Ringed by thriving coral reefs - part of the world's second biggest barrier reef, which stretches north to Mexico - these laidback islands lure many divers, snorkelers, and travelers seeking a relaxed tropical vibe. Rich in culture, Honduras is also home to an impressive museum in the capital, Tegucigalpa, and the archeological treasures of Copán are one of the finest Mayan sites in the world. Other adventures include dolphin encounters, birding tours, rafting trips, and the chance to swim with gentle whale sharks.
1 Roatán, Bay Islands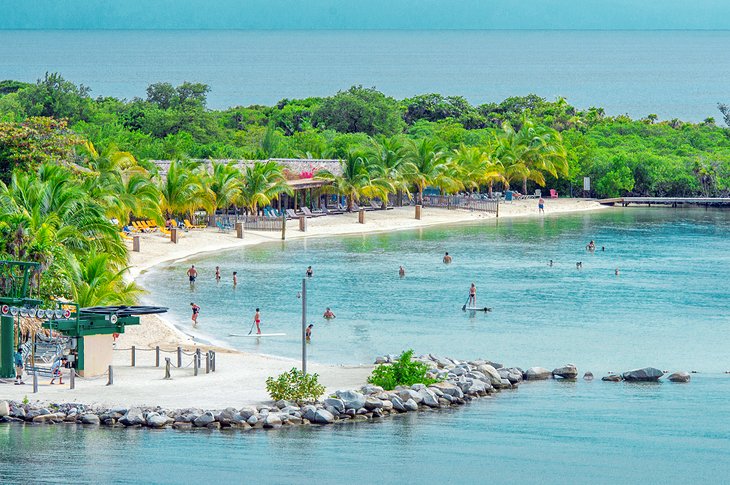 Roatán is the largest and most developed of the Bay Islands. Once a well-kept secret, it is now a cruise-ship port and a popular vacation spot - especially for avid divers and snorkelers. A mountainous backbone undulates through the island's center, and flourishing coral reefs fringe its shores offering superb opportunities for diving and deep-sea fishing. Even with the influx of travelers, Roatán's beaches are beautiful. One of the best strands is West Bay Beach. Although packed on cruise ship days, it ticks all the boxes, with clear waters, snorkeling, swaying palms, and plenty of shops and restaurants nearby.
The small community of Sandy Bay is the cultural center of Roatán. Top attractions here include the Roatán Institute of Marine Sciences with its popular dolphin encounters; Roatán Museum; the Carambola Gardens, a favorite with nature lovers; and the Roatán Marine Park with excellent snorkeling. Other tourist highlights on the island are the environmentally-friendly Blue Harbor Tropical Arboretum and the Roatán Butterfly Garden. Tucked in tropical fruit trees, the garden spotlights butterfly species native to Honduras and the Bay Islands.
French Harbour is Roatán's biggest fishing port and the economic engine of the island. A popular attraction here is Arch's Iguana and Marine Park.
2 Copán Ruins Archeological Site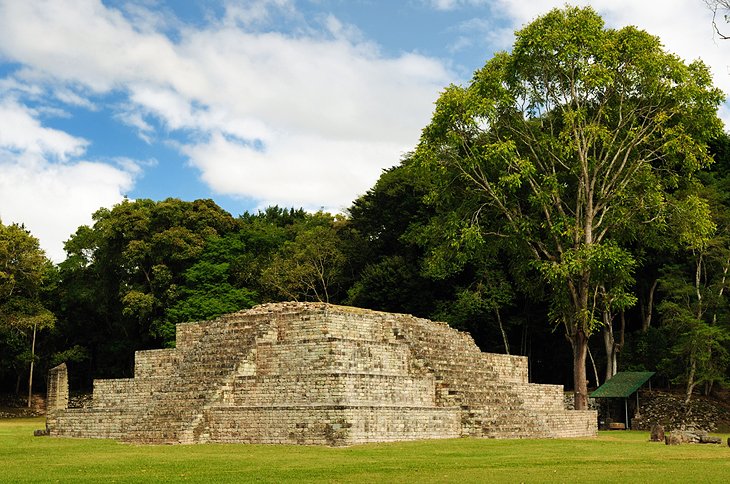 Copán Ruins Archeological Site (Copán Ruinas Sitio Arqueológico) is the most studied Maya city in the world and a UNESCO World Heritage Site. Dating back nearly 2,000 years, the society that lived here was highly stratified, deeply symbolic, and focused on tradition. Visitors will find plenty to appreciate here. The site is famous for the stelae and altars that are scattered around the immense plaza, most of which were erected during the years 711 and 736. Other highlights include the ball court; the Hieroglyphic Stairway, a unique temple, which holds the longest known Mayan text; and the Acropolis featuring superb carved reliefs of the 16 kings of Copán.
About 1.6 kilometers from the central acropolis, Las Sepulturas archaeological site forms part of the "PAC" (Proyecto Arqueológico Copán) and provides valuable insight into how the Mayan elite lived during the days before the collapse of Copán. After touring the ruins, don't miss the Museum of Mayan Sculpture, which displays impressive artifacts recovered from the site. Many visitors also like to stroll along the well-signed nature trails where birds and butterflies dart among the thick foliage.
Not far from Copán, El Puente is a smaller Mayan archaeological site on the Chinamito River with several pyramids that have been partially restored.
3 Museum of Mayan Sculpture, Copán
At the Copán Ruins Archeological Site, the superb Museum of Mayan Sculpture displays a series of original pieces of sculpture, stelae, and altars recovered from the site. The museum, which tunnels through a hillside before opening out into a vast sunlit open space, is best visited after touring the ruins to understand where the pieces on display originally belonged. Undoubtedly, the masterpiece here is the full-sized replica of the ornate Rosalila temple, discovered intact under structure 16 in the acropolis. This excellent museum is an essential stop on any visit to the ruins.
4 Utila, Bay Islands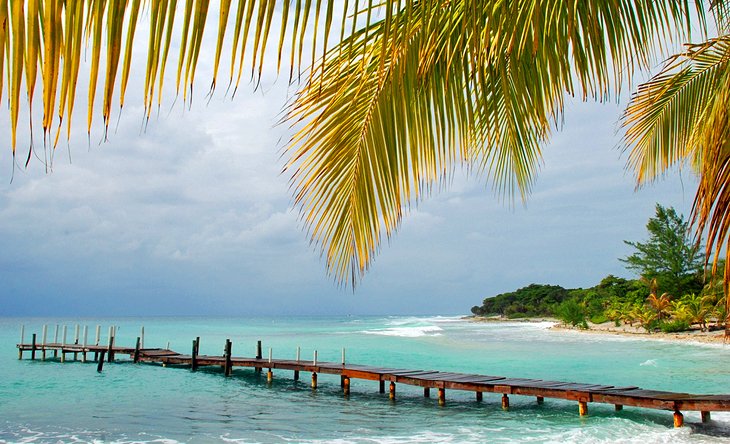 About 32 kilometers from the west coast of Roatán, Utila is the most budget friendly of the Bay Islands. Backpackers flock to this small, 13-kilometer-long-island, and many visitors come here on affordable dive vacations. Presiding over an arching bay, Utila Town is the main settlement where locals compete fiercely over domino games and tourist shops and dive centers dot the streets. Besides diving, most visitors bide their time basking on the two slivers of beach, snorkeling in the lagoon, zipping out to a sprinkling of cays off the island's southwest coast, or soaking up the rustic tropical vibe. Dive operators also offer visitors the chance to dive or swim with whale sharks. These gentle giants are frequently spotted in the waters around the island - especially during March to April and August to September.
5 Little French Key, Bay Islands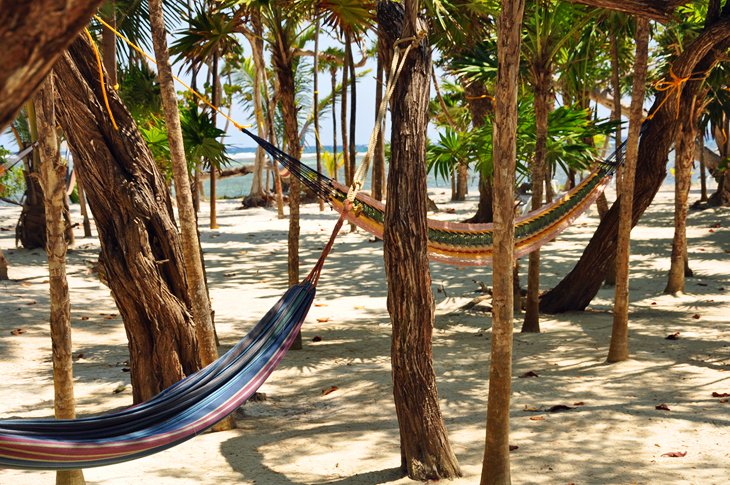 A popular day trip from Roatán, Little French Key is an eco-friendly tropical paradise off the island's south shore. Imagine hammocks slung between coconut palms, sparkling clear waters with fantastic snorkeling, and a pretty white-sand beach with kayaks and chaises longues. After a few hours of beach fun, visitors can dine on fresh seafood at the restaurant or head to the wildlife sanctuary for close-up animal encounters. Sanctuary residents include rescue animals such as monkeys, deer, and toucans. Those seeking a tranquil tropical experience in manicured surrounds will enjoy it here.
6 Dolphin Encounter, Roatán Institute for Marine Sciences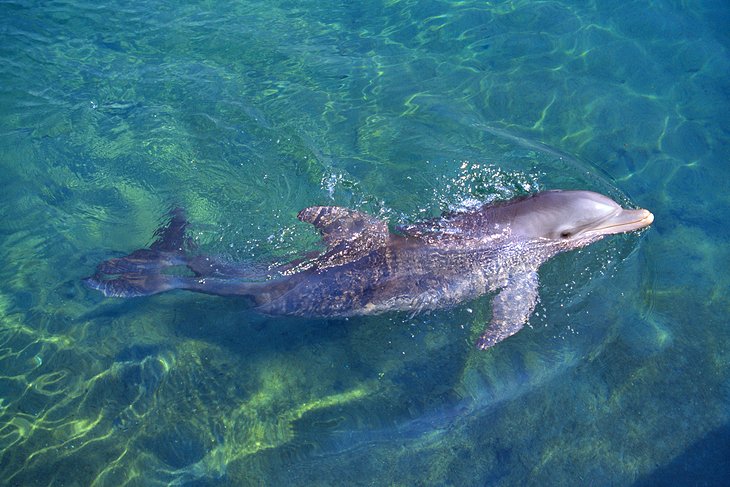 On the northwest coast of Roatán at Anthony's Key Resort, the Roatán Institute of Marine Sciences educates locals and visitors about marine ecology and offers a popular dolphin encounter in a natural lagoon. Besotted animal lovers can swim and snorkel with the dolphins, play simple games with them, participate in a dolphin specialty course, or enjoy a dolphin dive experience. Budding marine biologists can also sign up for the "Dolphin Trainer for a Day" program and perform their own dolphin show for their proud parents at the end.
7 La Tigra National Park
About 20 kilometers from Tegucigalpa, La Tigra National Park (Parque Nacional La Tigra) is one of the most beautiful places in Honduras. Perched at an altitude of 2,270 meters, this unspoiled park preserves a lush cloud forest that is home to ocelots, pumas, and monkeys, although it's rare to see these larger mammals. The park is also a haven for birds; more than 200 species flit within its borders, including toucans, trogons, and the elusive quetzal. Well-marked hiking trails wind through the thick forest where bromeliads and orchids flourish. Stop by the visitor's center at each entrance for maps and park information and to pay the admission fee. Guides can also be arranged here. This is one of the most visited parks in Honduras and offers a vision of how the area looked long before logging claimed much of the surrounding forests.
8 Lago de Yojoa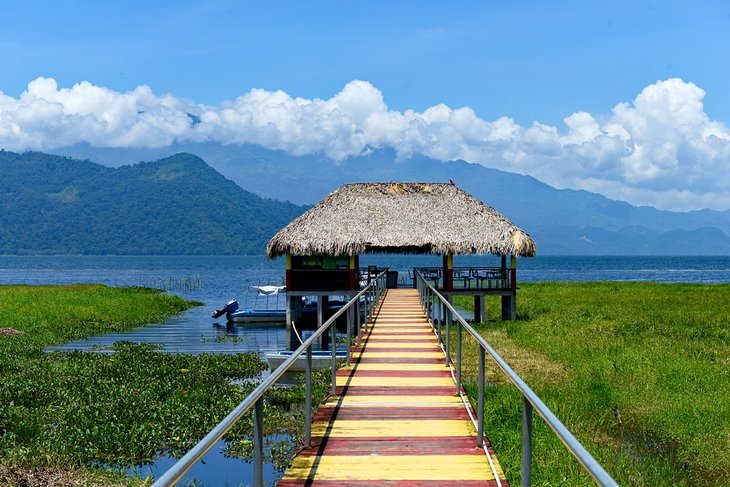 Along the main road between Tegucigalpa and San Pedro Sula, Lago de Yojoa is the largest natural lake in Honduras and a haven for birders. More than 480 species have been spotted here, including whistling ducks, northern jacanas, and crakes. Visitors can explore this shallow lake from shore, or glide through the reeds in a canoe. Two mountainous national parks border the lake: Santa Bárbara National Park on the northern shore and Cerro Azul Meambar National Park to the south. Other popular activities in the area include hikes to waterfalls, exploring an underground cave system, and tours of coffee plantations and archeological sites.
9 Parque Nacional Jeanette Kawas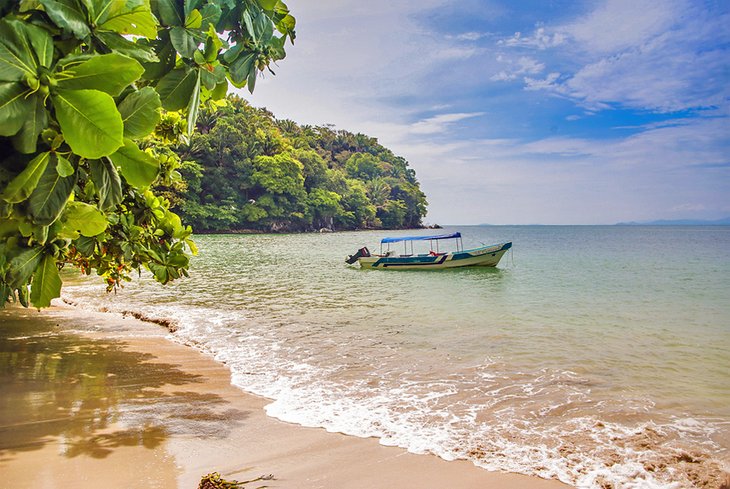 Formerly known as the Punta Sal National Park, this beautiful wilderness area is now named after the environmental activist, Jeanette Kawas, who fought passionately during her life to preserve its rich ecosystems. The park stretches along a peninsula at the western end of the Bay of Tela and supports diverse habitats, from tropical jungle, mangroves, and wetlands to sparkling beaches and coral reefs. Wildlife is abundant and includes many rare species. Visitors may encounter dolphins, howler monkeys, and a large variety of tropical birds including toucans, quetzals, and motmots. The Micos Lagoon has the highest population of birds in the area with up to 350 different species. Tour operators run day trips to the park from Tela, which typically include a hike across the peninsula to a pretty beach, swimming, snorkeling, or diving; and an optional visit to the traditional Garifuna village of Miami on a picturesque beach and lagoon.
10 Cayos Cochinos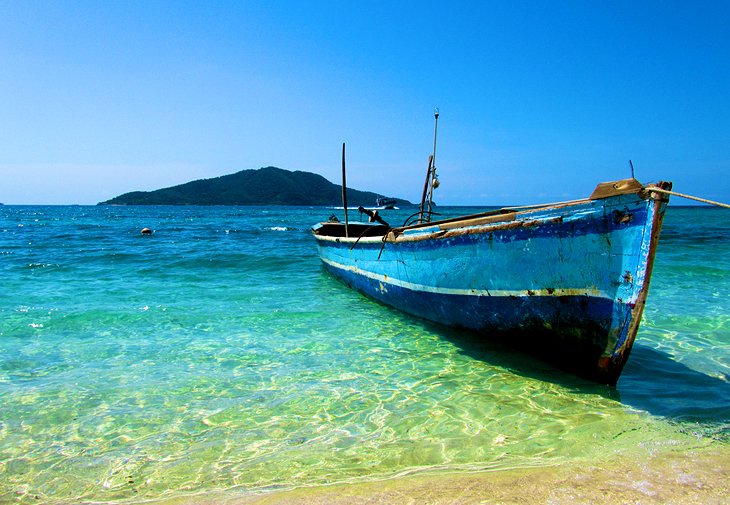 Also known as the Hog Islands, the archipelago of Cayos Cochinos is an undeveloped, quintessential tropical paradise. This group of small, privately-owned islands and cays lies 17 kilometers off the coast near the old banana port of La Ceiba. The islands and the black coral reefs that surround them are a Marine Biological Reserve and remain pristine due to their remote location and difficult access. A true back-to-nature experience, Cayos Cochinos offer excellent snorkeling, diving, hiking, and birdwatching. Accommodation options include rustic eco resorts as well as hammocks or huts at local Garifuna villages. The islands are accessible only by boat from La Ceiba, Roatán, or Utila.
11 Lancetilla Botanical Gardens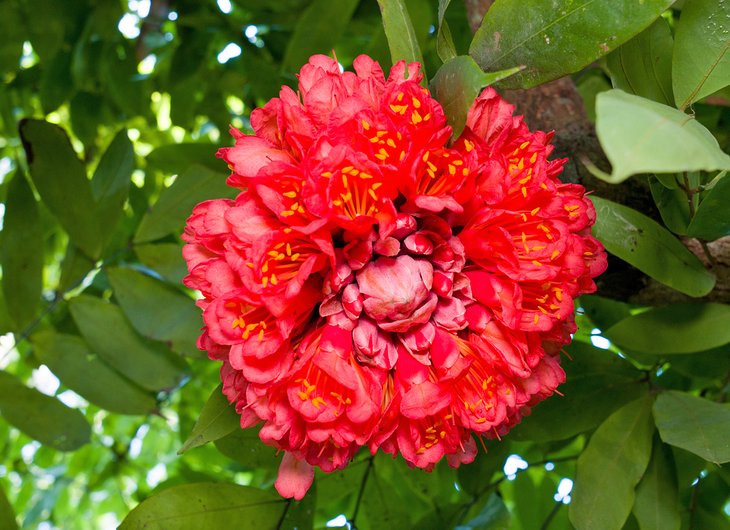 About five kilometers from the city of Tela, Lancetilla Botanical Gardens are the second largest tropical botanical gardens in the world. In 1926, the United Fruit Company established the gardens as an experimental site to test the economic viability of various fruit and hardwood trees. Today, the magnificent groves of trees from Central America and other tropical regions comprise part of a protected wildlife corridor along the country's north coast. More than 200 species of tropical birds have also made the garden home due to the abundance of fruit trees. Birders will be rewarded with many sightings as they wander along the well-marked trails through profuse plantings of palms, orchids, and mango trees, among others. One particularly beautiful path leads through a tunnel of bamboo trees to a swimming hole in the Lancetilla River, a refreshing place for a cool dip after a long, hot walk.
12 Río Plátano Biosphere Reserve, Mosquito Coast

In 2011, UNESCO placed this massive swath of jungle along the remote Mosquito Coast on the World Heritage in Danger list. It is one of the few remaining tropical rainforests in Central America. The reserve lies in the watershed of the Río Plátano and forms a mosaic of lowland tropical rainforest, coastal lagoons, undisturbed beaches, mangroves, grasslands, and patches of pine savannah. Steeped in tropical humidity, this important wilderness area harbors a rich diversity of wildlife, including howler monkeys, scarlet macaws, giant leatherback turtles, toucans, and tapirs, although reports of logging and hunting continue to threaten its fragile habitats.
Sloping down to the Caribbean Sea, the mountainous landscape is also home to more than 2,000 indigenous people of the Miskito and Pech tribes as well as the Garífuna, who continue to live their traditional lifestyle. Archaeological sites also lie within its borders. The safest way to explore the Río Plátano Biosphere Reserve is on an organized tour. Ecotourism companies offer wilderness adventures and rafting trips down the Río Plátano.
13 Museum of National Identity, Tegucigalpa
For a dose of culture and a journey through the history of Honduras, visitors should stop by the excellent Museum of National Identity (Museo para la Identidad Nacional) before venturing beyond the capital. Occupying an expansive National Heritage building known as Palacio de los Ministerios, the museum also displays an impressive collection of Honduran and international art. Historic exhibits unveil the country's fascinating past - from pre-Hispanic times to the present day. A highlight here is the virtual tour of the Mayan Acropolis of Copan, which provides a great primer for those who haven't yet visited the attraction and a welcome recap for those who have. Parking is scarce in this central city location, but taxis will take visitors directly to the door.
14 El Cusuco National Cloud Forest Park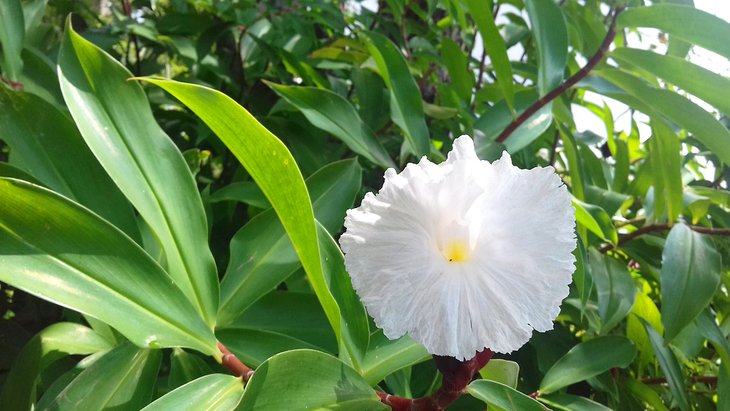 Just west of San Pedro Sula in the Merendon Mountain Range, El Cusuco National Cloud Forest Park (Parque Nacional El Cusuco) is famous for its enigmatic quetzal, one of the loveliest of all tropical birds. Sadly, habitat loss and unsustainable hunting for its beautiful long tail feather have pushed it to the brink of extinction. The park's exceptional biodiversity also includes threatened species of frogs and salamander, jewel scarab beetles, Baird's Tapir, and more than 260 species of birds. Hikers can enjoy some challenging trails here - the park's highest point rises to 2,200 meters above sea level. Local guides can provide access details and share information about the rich flora and fauna.
15 Carambola Botanical Gardens & Trails, Roatán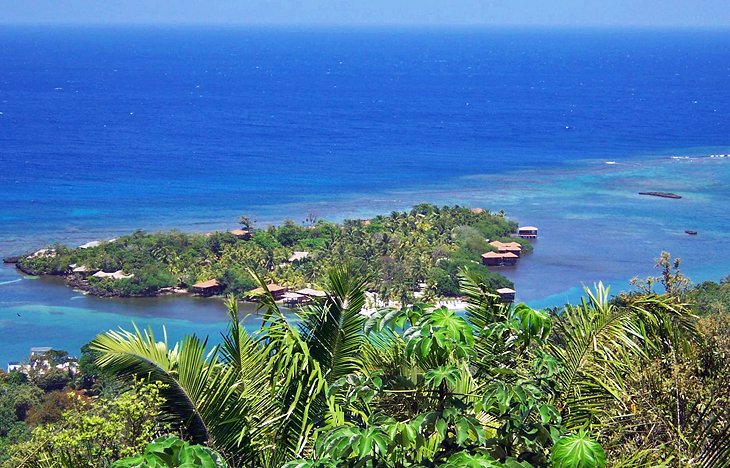 Beautiful Carambola Botanical Gardens & Trails offers a tranquil island nature experience. Trails wind through forests of fruit trees, palms, ferns, orchids, spices, and mahogany. For breathtaking views, follow the mountain path to the top of the ridge where a lookout peers out over the azure Caribbean, the adjacent barrier reef, and for those who time it well, dolphins leaping from the water at Anthony's Key Resort. Along the way, keep an eye out for some of the tropical wildlife. Colorful birds dart throughout the foliage, and visitors may also spot Roatan Anoli lizards and entertaining parades of leafcutter ants. Also in the gardens, Iguana Wall is a sheer section of cliff that offers a breeding area for iguanas and parrots.
Address: Sandy Bay, Roatán
More on Honduras