9 Top-Rated Florida Tourist Attractions
1 Walt Disney World
Florida's hottest attraction, and not just for kids and families any more, is Walt Disney World in Orlando. The magic of Disney has not worn off over the decades as millions of visitors flock here each year to enjoy the Magic Kingdom and the many other attractions of this mega amusement park.
2 Universal Studios
Universal Studios in Orlando is often much more than what most people are expecting. This huge theme park and working film and TV production studio offers all kinds of rides and experiences based on well known movies and shows. There are rides to entertain all ages. In addition there are hotels, restaurants, excellent shows, live music and more.
3 Everglades National Park
The Everglades National Park is the second largest in the country after Yellowstone and the largest subtropical wilderness in the continental U.S. It is a 1.5 million-acre tract of marshy land and swamp and an important and fragile ecosystem that supports alligators, American crocodiles, Florida panthers, deer, turtles, egrets, manatees, river otters and many other species.
The whole area is composed of a wide, shallow river that flows from Lake Okeechobee to the Bay of Florida. The bottom of this river is porous limestone over top of a bedrock base called the Tamiami Formation. It catches rainfall and acts as southern Florida's main water reservoir.
The park was created in 1947 after environmentalists finally convinced the government that the Everglades were vitally important to the balance of nature.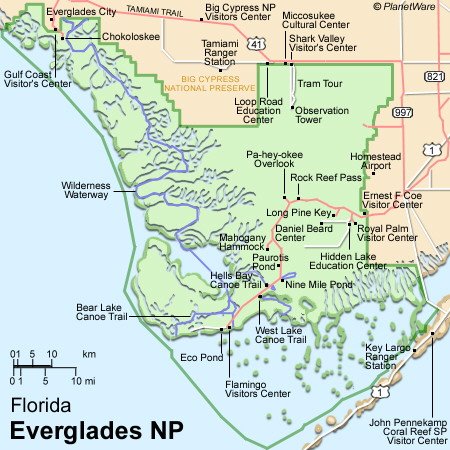 Everglades National Park Map
4 Kennedy Space Center and Cape Canaveral
The Kennedy Space Center and Cape Canaveral Air Station, located near Cocoa Beach on the Atlantic Coast, is a 140,000 acre complex which has been the site of many space shuttle launches. Visitors can take a bus tour to see this large facility and explore the displays at the Kennedy Space Center Visitor Complex.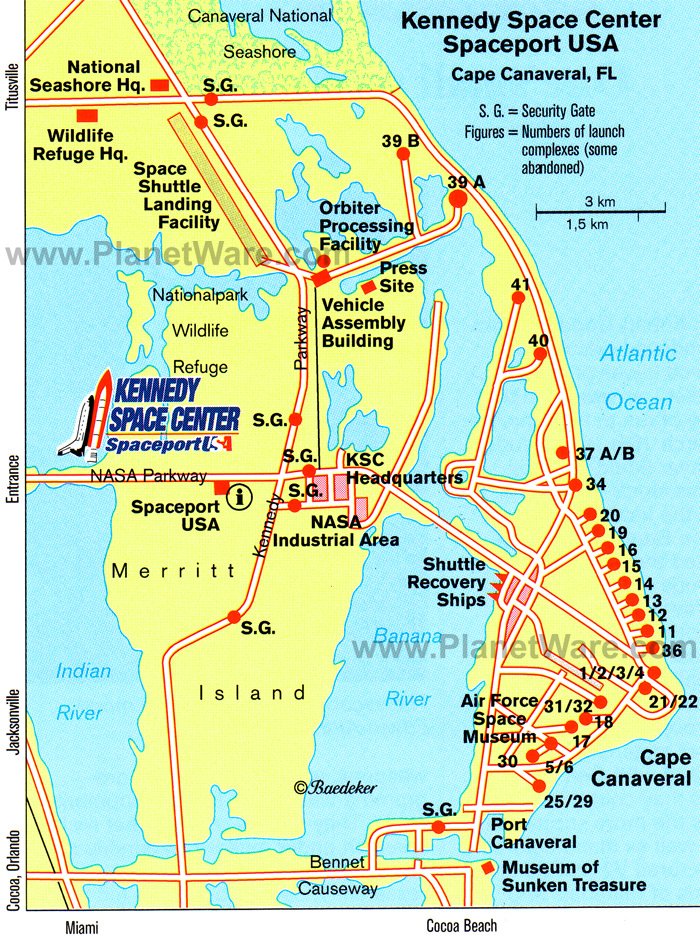 Kennedy Space Center - Spaceport USA Map
5 Daytona 500
The Daytona 500 Nascar race is one of the most famous and considered the most important in the Cup series, kicking off the racing season in February. It is held in Daytona Beach at the Daytona International Speedway where it draws huge crowds every year. The Speedway was built in 1959 to move auto racing off the beach. Previously, races and land-speed competitions were held on the hard-packed sand of Daytona Beach.
6 SeaWorld Orlando
Much like Walt Disney World, SeaWorld Orlando has long been an important part of family vacations to Florida. This huge amusement park features to dolphin and whale shows, opportunities to experience close up encounters with marine life and see a wide variety of species in the various tanks, and also offers thrill rides for all ages.
7 Busch Gardens Tampa
Busch Gardens is one of the most popular attractions in the Tampa area. This African theme park allows visitors to go on safaris and see all kinds of exotic animals as they roam through natural environments. Rides and other amusements are also a big part of the experience.
8 Miami Beach
Miami Beach, including both the town and the actual beach, is the main attraction for most tourists heading to Miami. Located on an island connected to the mainland by bridges, Miami Beach features an historic Art Deco District and a wide swath of sand stretching along the oceanfront. The Art Deco buildings along Ocean Drive contain hotels and restaurants with nice views over the beach.
9 Dry Tortugas National Park
The beautiful reef islands that make up Dry Tortugas National Park are not accessible by car. Most people visit as a day trip from Key West. The Park is home to Fort Jefferson, an impressive complex built by the US Government in the 1800s. Visitors can tour the fort and then spend some time on the beaches, snorkeling, or enjoying a picnic.
Popular Pages