Salt Lake City Tourist Attractions
Situation and characteristicsSalt Lake City, the religious center of the Mormons (Latter Day Saints) and capital of the state of Utah, lies in a high valley of the Jordan River, once an inhospitable tract of country between the rocky summits, rising to over 10,000ft/3,000m, of the Wasatch Range in the east, the Great Salt Lake to the northwest and the Great Salt Lake Desert to the west. The rich resources of raw materials in the area led to the development of metal-processing and chemical industries, and the city is now also a prosperous banking and commercial center. Irrigated farming and tourism also make contributions to its economy.HistorySalt Lake City was founded on July 24th 1847 by Mormons led by Brigham Young who had reached this desert valley after an eighteen-month trek from Illinois. The settlers soon began to irrigate the land and build up a town. Starting from present-day Temple Square, they laid out an ambitious grid plan which still determines the layout of the city. The area, then under Mexican sovereignty, was ceded to the United States under the treaty of Guadalupe Hidalgo in 1848. The Mormons took advantage of this change to establish a state of their own based on their religious ideas. The capital of this state of Deseret ("honey-bee") was Salt Lake City. The young city claimed a similar status for the territory of Utah (named after the Ute Indians), established in 1850, whose first Governor was Brigham Young. The gold rush in the West and the completion of the transcontinental railroad brought increasing numbers of people to the city, which now achieved a modest degree of prosperity. After the Mormons officially renounced polygamy Utah was admitted to the Union as the 45th state. During the 20th century the city developed at a great pace, tripling its population between 1900 and 1930, and thereafter it grew rapidly into a large modern city.
On Temple Square stand the city's famous Mormon Temple, and the Tabernacle, along with other monuments related to the Mormon faith.
California National Historic Trail
The California Trail carried more than 200,000 goldminers and farmers to California during the gold rush years of the 1840's and 1850's. The California Trail system covers more than 5,500mi/8,850kms and passes through the states of Missouri, Kansas, Nebraska, Colorado, Wyoming, Utah, Nevada, Oregon, and California.
ZCMI Shopping Mall
The ZCMI Shopping Mall in Salt Lake City is anchored by the department stores Nordstrom, Meier and Frank. The mall is named for ZCMI which was the oldest department store in the western United States and was founded in 1868.
Map of Salt Lake City Attractions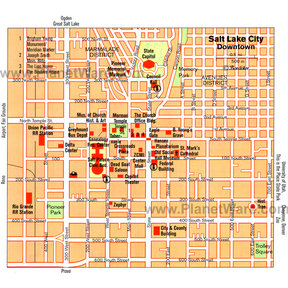 Map - Salt Lake City