Recife Tourist Attractions
Top Tourist Attractions in Recife
Situation and CharacteristicsRecife, capital of Pernambuco state, lies on the Atlantic coast 120km/75mi south of João Pessoa and 285km/177mi north-east of MaceióBus stationTerminal Integrado de Passageiros (TIP); access from BR 232AirportAeroporto Internacional dos GuararapesHistoryUntil the 17th century Recife (the name means "reef") was merely the port for Olinda, a little town situated at the junction of the Capibaribe and the Beberibe. Its expansion began in 1630 with the Dutch occupation, and within ten years it had grown from a village of something under 200 houses to a town of 2000 houses. The Dutch drained the island of Antônio Vaz (now the district of Santo Antônio, which has some of the city's finest buildings) and built a bridge to link it with the mainland. They imported prefabricated houses from the Netherlands and introduced to Brazil the type of house known as sobrados magros (of two or more stories, with stepped gables).Recife
Recife District
Three bridges (Ponte 12 de Setembro, Ponte Maurício de Nassau and Ponte Buarque de Macedo) link Santo Antônio with the Recife district, which lies between the Rio Beberibe and the Pina basin.
Madre de Deus
Madre de DeusA little way south-east of the Ponte Maurício de Nassau is the church of the Madre de Deus (1720), with an aisleless nave. The choir chapel has carved woodwork covered with gold leaf.
Forte Brum
Forte BrumOn the coast road (Avenida Alfredo Lisboa) are the Custom House and the Harbor Office. Farther east, a little way inland, is Forte Brum, built by the Dutch in 1629, which now houses the Military Museum.
Boa Vista
Boa VistaOn the left bank of the Rio Capibaribe is the Boa Vista district. In Rua da Imperatriz is the Igreja Matriz de Boa Vista (1788-1813). In Rua do Hospício is the Archaeological and Geographical Museum of Pernambuco.
Capela Jaqueira
Capela JaqueiraThe church of Nossa Senhora da Conceição, also known as the Capela Jaqueira, was built in 1766 on a country estate which has now been swallowed up by Recife. The chapel is combined with the tower and sacristy in a single building, giving it something of the aspect of a Baroque church in miniature. The façade, which shows similarities with that of the monastic church of São Bento in Olinda, is attributed to Francisco Nunes Soares, who built São Bento. The high altar had painted and gilded decoration. The walls are partly faced with Portuguese azulejos.
Graças
Graças is one of the city regions in the Recife area.
Sitio da Trindada
Sitio da TrindadeOn the site of the old farm of Sítio da Trindade (Casa Amarela district) there stood in 1630 the Arraial do Bom Jesus, a stronghold of resistance to the Dutch. Various popular festivals are celebrated here in June, August and December.
Museum of Pernambuco
Museum of PernambucoThe Museum of Pernambuco is on Avenida Rui Barbosa in the Graças district. In the neighboring district of Casa Forte is the Anthropological Museum of the North-East, whose collections include craft products, specimens of literatura de cordel (trivial literature, so called from the cord on which the books were strung up for sale) and Afro-Brazilian cult objects and utensils from the period of slavery.
Map of Recife Attractions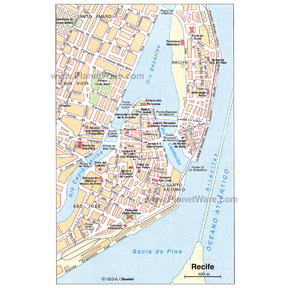 Map - Recife