10 Top Tourist Attractions in Mérida & Easy Day Trips
Mérida, capital of Yucatán, has retained much of its old colonial charm. For centuries a prosperous center for textiles with strong trade connections to Europe - particularly with France - the city became known as "ciudad blanca," or the "white city," for the white garments worn by the townsfolk, a tradition that continues today. Founded in 1542 by the conquistadors, Mérida is laid out with its streets running at right angles to one another, making it much easier to navigate compared to most other Mexican towns. Thanks to its warm, humid climate and numerous attractive parks and flower gardens, it is a leisurely alternative to the country's much busier cities and makes for a perfect place from which to explore Yucatán's many Mayan sites, in particular those of Uxmal and Chichén Itzá, each an easy drive away.
1 Historic Plaza Mayor
Plaza Mayor - also known as Plaza de la Independencia - is both the commercial and cultural hub of Mérida, and is a good place to start a walking tour of the old city center. In addition to being surrounded by some of Mérida's most important buildings, it's also a very pleasant space to simply hang out thanks to its shady palm trees, beautiful flower gardens, and fountains. Covering an entire city block, it's as popular among locals as it is tourists due to its regular markets with vendors selling everything from food to crafts and souvenirs. It's also lined with a number of good restaurants offering traditional Mexican fare. Also of interest is the Municipal Market, just a short walk south of Plaza Mayor and worth visiting for its many products made from locally produced sisal including hammocks and panama hats, huipiles (Mayan-style dresses with brightly colored embroidery around the neck), and guayabera shirts for men.
2 Gran Museo del Mundo Maya
One of Mexico's most important museums, the ultra-modern Gran Museo del Mundo Maya is dedicated to the Mayan culture that is evident everywhere in Yucatán. Comprising of four large permanent exhibitions housing more than 500 relics, highlights of this impressive collection include ancient engravings and sculptures, historic documents, and textiles dating from the pre-Spanish period, as well as fascinating displays covering the Maya during the colonial period. Of particular interest is the section dealing with the Maya culture as it exists today, as well as a superb hi-tech audio-visual show exploring the long history of the local people, which can also be seen at night as it's projected onto the building's exterior.
Address: Calle 60 299-E, Revolucion, 97180 Mérida, YUC
3 Mérida Cathedral
On the east side of the Plaza Mayor, occupying the site of an earlier Maya temple, stands Mérida Cathedral, built between 1561 and 1598 and the largest church in Yucatán. Despite its rather plain façade, the building's interior boasts a rich décor notable for its many references to the town's Mayan and colonial histories. One of the first you'll see is a painting above a doorway of the Maya ruler, Titul-Kiú, shown visiting conquistador Francisco Montejo in Tihó. Other notable features include the Chapel of the Christ of the Blisters (Capilla del Cristo de las Ampollas), with its 16th-century Indian woodcarvings famous for the blisters left after the wood was charred during a fire. Part of the cathedral since 1645, the relics here are the subject of special celebrations held each October.
Address: Calle de la Revolución No. 62, Centro, 97000 Mérida, YUC
4 Parque Cepeda Peraza and the Church of Jesús
In the picturesque Parque Cepeda Peraza (or Parque Hidalgo) stands the quaint Church of Jesús, or the Church of the Third Order (Iglesia de la Tercera Orden), a favorite church for weddings. After enjoying the park and the church's superb 17th-century exterior - it was built as part of a convent that later served as a Jesuit seminary - be sure to pop inside for a look at the fine high altar with its exquisite altarpiece of carved and gilded wood made in the Plateresque style, a tradition common to communities with talented silversmiths. Afterwards, take a ride on one of the fun "calesas," horse-drawn coaches in Parque Cepeda Peraza that will take you past some of the town's most interesting colonial architecture.
Address: Por 59 y 57, Calle 60, Centro, 97000 Mérida, YUC
5 MACAY: The Museo de Arte Contemporáneo de Yucatán
The Museum of Contemporary Art (Museo Fernando García Ponce-Macay), known locally as MACAY, is one of the state's most important museums. This superb gallery is a joy to explore for its many excellent permanent and temporary exhibits of both modern and contemporary art. Highlights of its permanent collection include works by leading Mexican artists including Gabriel Ramirez Aznar, Fernando Castro Pacheco, and Fernando García. The facility also serves as an important cultural establishment offering numerous workshops and programs, and boasts a library, café, and shop. English language guided tours are available, as well as audio guides. Also of interest is the Museum of Popular Art (Museo Regional de Arte Popular) with its fine collections of textiles and costumes, pottery, jewelry, toys, and musical instruments.
Address: Pasaje de la Revolución 58-60, Centro, 97000 Mérida, YUC
6 The Natural History Museum
Mérida's superb Natural History Museum (Museo de Arqueología e Historía) lies in the beautifully restored former government building known as the Palacio del General Cantón. The collection in this imposing 19th-century building consists mostly of material associated with the Maya civilization's heyday, although other advanced cultures from pre-Columbian Mexico are also well represented. Collection highlights are the sacrificial gifts retrieved from the cenotes at Chichén Itzá, as well as reproductions of the sketches of the Maya sites drawn by archeologist Frederick Catherwood and photographs taken by Teobert Maler at the turn of the century.
7 Casa Montejo
The south side of Plaza Mayor is dominated by Casa Montejo, one of the finest examples of Spanish colonial architecture in Mexico. Built in 1549 as the residence of the wealthy Montejo family who owned the building until 1978, the palace's magnificent Plateresque façade once extended along the whole of the south side of the square (although somewhat smaller today, it remains impressive). Inside, its large and handsome rooms are laid out as a museum set around two courtyards and are furnished with antique furniture imported from Europe. Of particular interest is the coat of arms of the Montejo family, as well as the stone sculptures of a conquistador standing with one foot on the bowed head of a conquered Maya.
8 The Governor's Palace
A must-visit in Mérida is the sumptuous Government Palace (Palacio de Gobierno). Built in 1892 and decorated with 31 interesting murals painted by the Campeche artist Fernando Castro Pacheco between 1971-74, the building and its beautiful central courtyard is considered something of a masterpiece. In addition to its fine murals, the building also houses a rich collection of paintings by other leading Mexican artists, the best of which can be seen in the History Room. They cover topics from the Spanish invasion to their often harsh treatment of the Maya. After enjoying these historically significant murals, spend a little time exploring this splendid old building, in particular the balcony for its fine views over the cathedral and Plaza Mayor.
Address: Calle 61, Mérida
9 The City of Mérida Museum and Railway Museum
In the city's historic old post office building, the City of Mérida Museum deals specifically with the community's development through the centuries. Of special interest are exhibits dealing with locally produced textiles, in particular henequen, once referred to as "green gold" for the prosperity it brought to Mérida. Also of interest are exhibits dealing with the pre-historical period and the years prior to colonization by the Spanish. Another worthwhile attraction is the fun Railway Museum of Yucatán, established by train enthusiasts to preserve and collect items related to the state's once busy railroads. Highlights include a number of old engines and rail cars, as well as related displays and artifacts.
10 Galleries, Museums, and Studio Tours
Thanks in large part to the influx of tourists - as well as residents who have moved here from abroad - Mérida, which in 2000 was selected as the Cultural Capital of the Americas, has come to play an important role in the promotion of Mexican arts. The city boasts many fine private galleries selling works by local artists in contemporary and traditional styles, along with traditional pottery and other art forms. Many of the better-known artists open their studios for tours, with some areas designated as art districts, such as that along Calle 60. Both the state and municipal governments also have their own dedicated art galleries, some of the most notable being the Museum of Popular Art (Museo de Arte Popular), Foro Cultural Amaro, and Museum Peon Contreras with its displays of contemporary art from across the country.
Day Trips from Mérida
The Ancient Ruins of Uxmal
The famous Maya site of Uxmal, 80 kilometers south of Mérida in the northwest corner of the Yucatán Peninsula, is one of the most unified and beautiful pre-Columbian sites in Mexico. Declared a UNESCO World Heritage Site in 1996, Uxmal dates back to the sixth century and in contrast to Chichén Itzá shows little Toltec influences. In addition to the many fine examples of the dominating Puuc styles - seen in the thin limestone cladding in square or lattice patterns on top of smooth walls - are its many panels of Chac masks (the rain god) with long curved noses and snakes with stiff bodies. Particular buildings of note are the Pyramid of the Soothsayer, at 35 meters the highest building in Uxmal and notable for its oval base; and Temple I, the oldest building and notable for having a date chiseled into a door lintel revealing the building's age (it was built in AD 569) as well as the famous sculpture known as the Queen of Uxmal on its façade. Also of interest is the on-site museum with its four stone heads of the rain-god Chac and hieroglyphic panels.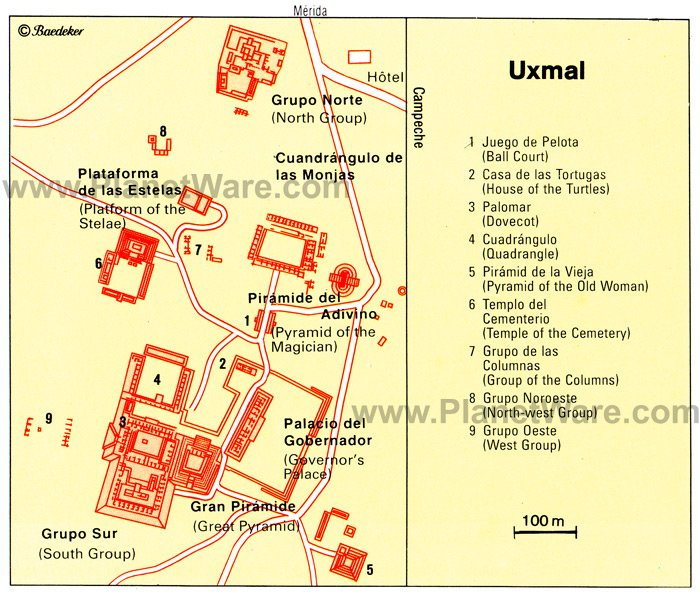 Uxmal Map
Want to use this map on your web site?
Copy and Paste the code below:
The Mayan City of Chichén Itzá
One of the most popular day trips from Mérida is to Chichén Itzá, one of Yucatan's most important pre-Columbian sites. Just one-and-a-half hours away by road, Chichén Itzá is Mexico's largest and best-restored archaeological site and for centuries served as the political and religious capital of the Maya empire. Now a UNESCO World Heritage Site, it is one of the region's most-visited attractions and, given its size, can take the best part of a day to explore. Highlights include visiting the 30-meter-tall El Castillo - also known as the Pyramid of Kukulkán - the site's largest and most important building, as well as the majestic Temple of the Warriors with its columned halls. Also of interest is the Wall of Skulls (Tzompantli), a large square platform believed to have been used to hold the stakes on which the heads of those executed for human sacrifices were impaled.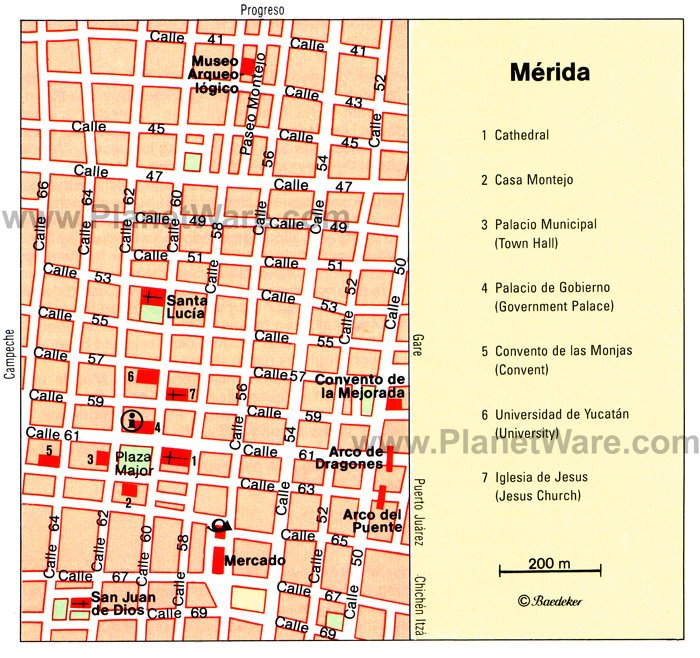 Merida Map - Attractions
Want to use this map on your web site?
Copy and Paste the code below:
More on Mexico