Cancun Tourist Attractions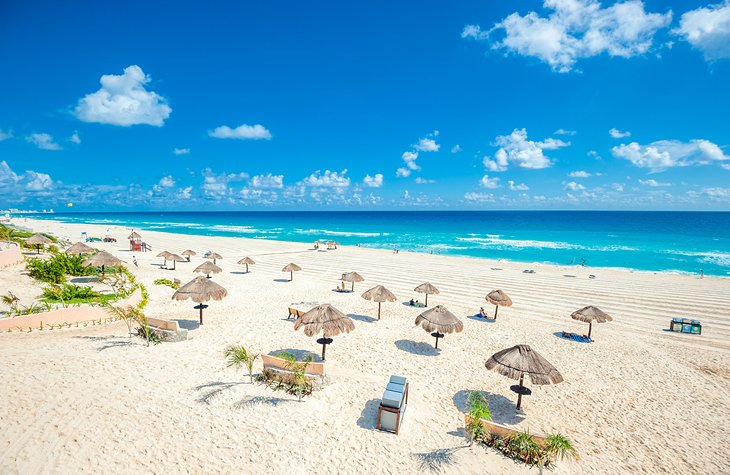 Cancun
Situated on a 21km/13mi-long, 400 m (440 yd)-wide, L-shaped island off the north coast of Yucatán, Cancún is a purpose-built luxury resort with an excellent tourist infrastructure. Having been built up from virtually nothing in little more than a decade, the large holiday centre lies fringed by glorious white sand beaches and coral banks, its reputation further enhanced by an equable subtropical climate relatively free from rain. The tourist area is linked by causeway to the mainland on which the modern city of Cancún now stands.
Resort
The actual holiday resort is situated immediately offshore on Cancún island, linked to the mainland by causeway. It comprises a delightful strip of coast lined with big luxury hotels. From Punta Cancún to Punta Nizuc a narrow spit of land separates the sheltered Laguna Nichupte from the open waters of the Caribbean while, at the north end, the Boulevard Cancún runs along the shores of the Bahía de Mujeres. In the bay lies the lovely Isla Mujeres.In addition to holiday homes, private houses and large modern hotels, the resort boasts a convention centre (Centro de Convenciones) with a 2500-seat auditorium used for cultural events as well, performances by the Ballet Folklórico for example. Also housed in the convention centre building is an archaeological museum (Museo de Arqeología), with photo-montages, plans and artefacts relating to Mayan culture. There are two shopping precincts in the immediate vicinity.
CEDAM
Mexico's underwater exploration club CEDAM has its own museum, located near the Bahía Complex on the Paseo Kukulkán. Finds recovered on underwater expeditions, etc. are among the items exhibited.
Beaches
A series of beaches - de las Perlas, Juventud, Linda, Langosta, Tortugas, Caracol and Chac-mool - extend alongside the Boulevard Cancún and the Paseo Kukulkán all the way from the city boundary. Tortugas, Caracol and Chac-mool are the most popular. Laid out beside the 7.5km/4.6mi Paseo Kukulkán is an 18-hole public golf course known as Pok-ta-Pok.There is a hydrofoil service from the resort (pier at the Centro de Convenciones) to Cozumel (island) and the Isla Mujeres.
El Rey Maya Ruins
Between Punta Cancún and Punta Nizuc a number of interesting Mayan ruins have been found, mostly Puuc in style. They are usually referred to collectively as the El Rey ruins though occasionally heard called Pinturas, San Miguel, Yamilum, Pok-ta-poc or El Conchero. Most consist of stumps of pyramids with temples built on them, some with rounded corners. In addition, more than 50 tombs have been discovered.
Along the Coast from Cancun to Playa del Carmen
Punta Bete
Leaving Cancún, drive south on the MEX 307, past Cancún Airport (15km/9.3mi) to the little harbour of Puerto Morelos (37km/23mi) from where passenger and car ferries cross to Cozumel.Next continue for another 25km/15.5mi to Punta Beté where good accommodation is available close to the beach and where diving equipment can be hired.
Playa del Carmen
10km/6mi further on down MEX 307 from Punta Beté lies Playa del Carmen, another small port from which ferries run to and from Cozumel. The town has a pretty beach but has suffered from too rapid growth in past years. There are good facilities for diving and deep-sea fishing.Akumal, Xel-há and Tulum are 37km/23mi, 44km/27mi and 62km/38mi respectively from Playa del Carmen.
Rio Secreto
Rio Secreto is an underground river running through caves with stunning stalactites and stalagmites. Visitors can take tour which involves descending down stairs into the cave system and then floating around the caverns. Wet suits are provided for these guided tours. Optional pick up from Cancun or the Riviera Maya is possible or visitors who have their own transportation can drive to the location themselves.
Museo Arqueológico de Cancún
This archeological museum features Mayan artifacts. Exhibits also describe the history of the Maya.
Address: Boulevard Kukulkán, Mexico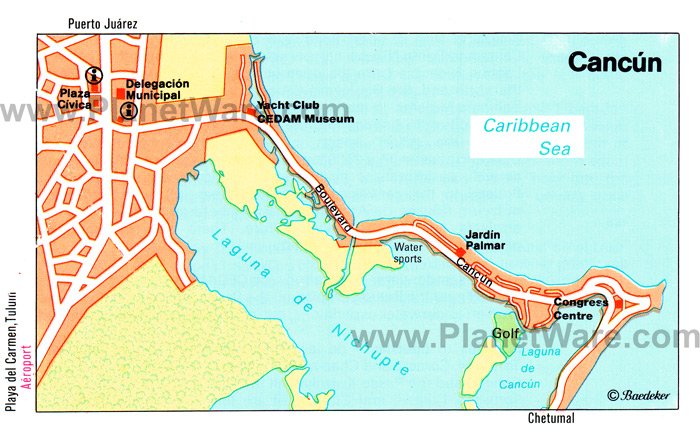 Cancun Map - Attractions
Want to use this map on your web site?
Copy and Paste the code below:
Popular Pages
Destinations
popular right now