Maui Island, Hawaii Attractions
Top Tourist Attractions in Maui Island
Main town: WailukuMaui Island lies west of the Island of Hawaii and is separated from it by the Alenuihaha Channel. Maui lies about 68 miles/110km from Oahu as the crow flies.
Kahoolawe Island is uninhabited and is considered holy ground by the Hawaiians. Members of the Protect Kahoolawe Ohana group often celebrate religious feasts on the island.
Maui Activities
A number of companies offer a range of sporting activities.One unique to Maui is a tour which drives participants to the top of Mount Haleakala and provides the bikes and the convoy escort to allow the ride down from 10,000 feet. Hundreds of people participate each morning.Scuba and snorkeling tours and lessons abound. Sightseeing and sunset cruises are available for those who do not want to get wet.Horseback riding, and motorcycle rentals are readily available.Several nature guided walks are offered.Several companies offer helicopter flightseeing.Several golf courses are available for visitor usage.Several magazines list and advertise these activities and many shops offer discounts.
Maui Luaus
Take in some of the islands culture by attending a Luau. Luaus involve an evening meal (buffet style) which usually consists of roast pig, followed by traditional dancing displays.
Whale Watching
Whale watching tours from Maui allow visitors the opportunity to see humpback whales in the wild.
Maui - Events
There are a number of interesting annual events on Maui.
Lahaina - Lahaina Whale and Ocean Arts Festival
The Lahaina Whale and Ocean Arts Festival takes place each year in March, in Lahaina, to celebrate the migration of the humpback whales. Much of the celebrations take place in Banyan Tree Park, with artists and entertainment, and information on whales presented by various research groups.
Lahaina - Banyan Tree Birthday Party
Each year in April there is a Banyan Tree Birthday Party in Lahaina in honour of the towns famous Banyan Tree. The tree was planted in 1873. There are a number of arts and displays as well as a birthday cake.
Lahaina - Celebration of Canoes
THIS ATTRACTION NO LONGER EXISTS.This two week celebration near at the end of May honors the canoe which made voyage between all of Polynesia possible. Celebrations include luaus and other cultural events as well as a parade.
Map of Maui Island Attractions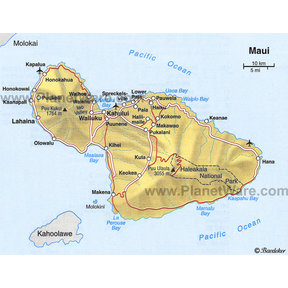 Map - maui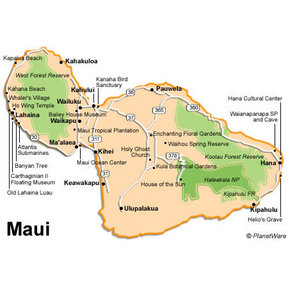 Map - Maui Overview