Djerba Attractions
Situation and characteristicsThe island of Djerba lies 5km/3mi off the southern coast of Tunisia in the Gulf of Gabès, known in antiquity as Syrtis Minor.
ENLARGE MAP
PRINT MAP
EMBED < >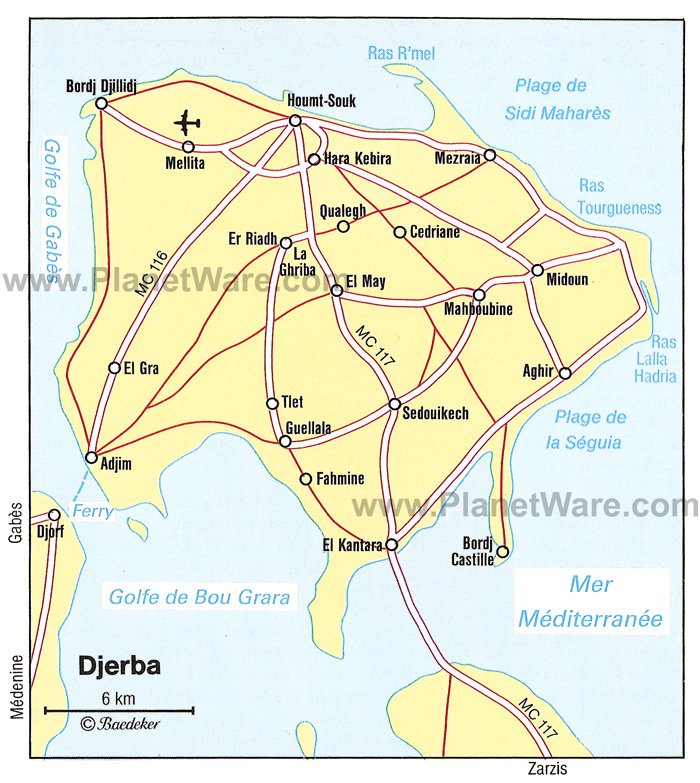 Djerba Map
Zarzis, Tunisia
AccessFrom the mainland end of the causeway from El Kantara MC 117 runs southeast to Zarzis (20km/12.5mi). The "Route Touristique" (Route des Hotels), which also starts at the end of the dam, follows the coast and leads direct, via Hassi, to the hotel zone on the sea.Situation and characteristicsThe second major tourist center of southern Tunisia is the oasis of Zarzis, 20km/12.5mi southeast of Djerba on the Akkara peninsula. Geographically belonging to the Djeffara plain, this coastal oasis was developed by the French in the late 19th century. The landscape pattern is set by olive plantations (700,000 trees), groves of date-palms (110,000 trees; the dates are used only for animal fodder) and market gardens. The town of Zarzis (pop. 11,000) is strongly marked by the tourist trade. The hotel zone extends for some 8km/5mi along the coast, ending 4km/2.5mi from the town, with which it is connected by regular bus services.
Other Sights
Djerba is a good base from which to visit places of interest on the mainland: in particular Chott el Djerid, Gabès, Gafsa, Tozeur, Nefta, Kebili and Médenine.