Christiansted Tourist Attractions
Christiansted is nestled between a reef-protected, shallow harbor and steep hills on the island's north coast. At one point the bustling port of Christiansted was the capital of the territory under Danish rule, and the attractive, six-block historic district reflects the glory days of Danish prosperity on St Croix during the 18th and 19th C.Today, Christiansted features over 100 gold, pink, and brown neoclassical buildings a broad range of modern choices for accommodation, dining and entertainment.
Government House
The large, three-story, U-shaped Government House was built in 1747. Mixing neoclassic and baroque architectural elements, the Government House originated as a private home and evolved into one of the most elaborate governor's residences in all of the Lesser Antilles.The current structure has been joined with various townhouses and the colonnaded galleries are surrounded by ornamental gardens and a courtyard. Enter through the large, sweeping staircase and explore the huge reception hall on the second floor. The period furnishings are gifts from the Danish government.
Nature Conservancy's Estate Little Princess
Nature Conservancy's Estate Little Princess is a 24ac/10ha natural area owned and maintained by the Nature Conservancy. Winding, shady trails lead through the historic plantation building and ruins. Visitors also learn about the bush teas of the U.S. Virgin Islands and can view the growing, processing and packaging of local herbs into teas. The estate is listed on the National Registry of Historic Landmarks.
Lutheran Church
Construction on Christiansted's oldest church began in 1740 as the site of the Dutch Reformed Church. In the 1830s it became the property of the Lutheran Church when they moved their congregation here from the Steeple Building. The structure is noted for the unusual three-tiered gothic tower that was added years after construction. It is still an active parish.
St Croix Aquarium & Marine Education Center
The St Croix Aquarium & Marine Education Center is a small aquarium featuring tanks showing various sea creatures such as sharks, lobsters, sea horses and blue-headed wrasse. Lots of educational information is offered about feeding habits, mating behaviour, reef conservation and diving and snorkelling tips. Children enjoy the interactive Discovery Room.
Apothecary Hall
Apothecary Hall in Christiansted was originally a Danish owned pharmacy that operated in the early 1800s. Today is has been turned into a museum showcasing the old drug jars and pharmacy equipment of the era. The museum is also expanding to be more of a general museum with displays on the island's history.
Henry E Rohlsen Airport
Located just outside of Christiansted, Henry E Rohlsen Airport has a large, expanded terminal and can handle large jumbo jets. While there are some direct flights to the US, this airport mostly receives connecting flights from St Thomas or Puerto Rico.
Kings Wharf
Within the heart of Christiansted's historic district, the commercial anchorage of Kings Wharf has been in use for more than 250 years with ships carrying slaves, sugar and molasses to and from St Croix. Today Kings Wharf is home to a harborside boardwalk, restaurants, shops, pubs and tour operators.
St Croix Agricultural Festival
Taking place mid-February, the St Croix Agricultural Festival is a three-day event that features West Indian and Puerto Rican cooking, island crafts, flora exhibitions and livestock contests. Bands from around the U.S. Virgin Islands provide musical entertainment.
Market Square
Market Square in Christiansted was established as a produce market in 1735. Restored colonial townhouses and reproductions of period buildings now form a shopping complex called Market Square Mall.
Protestant Cay
Just off Kings Wharf lies Protestant Cay, featuring a beach restaurant and a sandy public beach. There are good swimming and snorkelling opportunities off the north side and a sailboat anchorage.
Annual Orchid Show
Each year in February, the St Croix Orchid Society displays over 30,000 species of orchids and some 1,000 more hybrids.
Gallery Gia
Housed in a charming 18th C Danish townhouse, Gallery Gia is a venue for local artists to display paintings, pottery, sculpture, and glasswork.
Gallery at the Penthany
Gallery at the Penthany is an artist's co-operative featuring sculpture, paintings, and mixed-media work.
St Patrick's Day Parade
The annual St Patrick's Day parade is a big event in Christiansted. Islanders dress in green and bands on floats parade through the streets of Christiansted.
Maria Henle Gallery
This gallery features rotating shows of Cruzan and international artists.
Map of Christiansted Attractions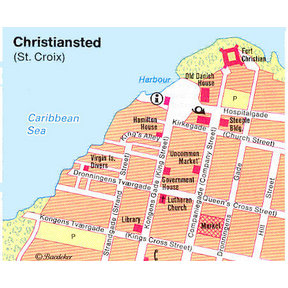 Map - Christiansted
More on PlanetWare