11 Top-Rated Tourist Attractions in Boise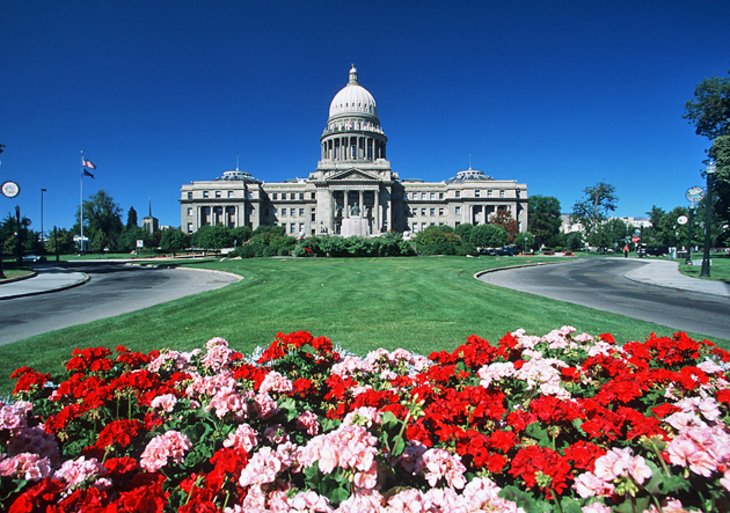 Boise, capital city of Idaho, was established during the gold rush days of the 1800s. Fort Boise, owned by the Hudson Bay Company, was established by British fur traders in 1834. The fort was abandoned in 1854 due to frequent Indian raids. A new fort was built in 1863 to protect the many travelers that came to the area once gold was discovered. A townsite was located next to the fort and that has grown to present day Boise.
1 Old Idaho Penitentiary State Historic Site
Built in 1870 of hand-cut sandstone, the Idaho Penitentiary in Boise includes 30 historical structures, some of which now feature educational exhibits. Visitors can tour the facility to see cells, the Gallow, and the solitary confinement area.
2 State Capitol
Construction began on the Capitol Building in 1905 and was completed in 1920. The majority of the building was constructed of sandstone with marble from Alaska, Georgia, Vermont, and Italy. The top of the dome has a 5 ft high statue of a golden eagle. The building features various displays and temporary exhibits. In 2010 the building was rededicated following extensive restoration work.
Address: 700 West Jefferson Street
3 Boise River Greenbelt
The Boise Greenbelt, located along the Boise River, links 850 acres of natural area and parks and runs through the city center. The 25 mile long Greenbelt offers a variety of bicycling and walking paths, as well as wildlife viewing opportunities.
4 Idaho Anne Frank Human Rights Memorial
The Idaho Anne Frank Human Rights Memorial is located in the cultural district of Boise. The Memorial contains over 60 quotes that were selected from among approximately 2,000 that were submitted. The quotes are from leaders and human rights figures throughout history. A bronze statue of Anne Frank is located in the "Attic" of the Memorial. The garden of the Human Rights Memorial features trees and flowers from around the world, benches, and stainless steel statues of human rights leaders.
Address: 777 South 8th Street, Boise, ID 83702, United States
5 Kathryn Albertson Park
Kathryn Albertson Park is a 41 acre park located southwest of downtown Boise. Most of the park is wetland habitat, with a fountain, gazebos, and walking paths along scenic lagoons. Signs throughout the park offer information on wildlife and habitats.
Address: 1001 North Americana Boulevard
6 World Center for Birds of Prey
The World Center for Birds of Prey propagates birds of prey for release into the wild. Falcons, condors, eagles, and various other birds call the center home. They are kept on-site for breeding and observational research.
Address: 5668 West Flying Hawk Lane, Boise, ID 83709, United States
7 Julia Davis Park
Julia Davis Park is home to the Boise Zoo, the Boise Art Museum, the Idaho State Historical Museum, the Discovery Center of Idaho, the Idaho Black History Museum, and various other features such as a lagoon, a rose garden, and recreational areas. The Boise River Greenbelt is accessible from the park.
Address: 700 S Capitol Boulevard
8 Idaho Botanical Gardens
The Idaho Botanical Garden served as the farm and nursery for the Idaho State Penitentiary until it closed in 1973. The garden features 13 specialty gardens. Each has a unique focus, be it Herb, Rose, Alpine, Contemporary English, Outlaw Field, Butterfly & Hummingbird, Iris, Meditation, Water, Cactus, Peony, Children, and Idaho Native Plants. Also on site is an outdoor Art Gallery with garden sculptures.
Address: 2355 Old Penitentiary Road
9 Discovery Center of Idaho
Hands-on exhibits at the Discovery Center of Idaho help visitors learn about science and scientific wonders. Some of the topics displayed include electricity, sound, motion, perception and hearing. The center is geared toward all ages, making it a good outing for children and families.
Address: 131 Myrtle Street, Boise, ID 83702-7652, United States
10 Basque Museum and Cultural Center
The Basque Museum and Cultural Center provides a glimpse of Basque heritage through exhibits, collections, and tours. Housed in the Cyrus Jacobs-Uberuaga boarding house, the collections on display include traditional music, dance, sports, food and housing.
Address: 611 Grove Street, Boise, ID 83702-5971, United States
11 Bogus Basin Mountain Recreation Area
Bogus Basin is a great year round recreation area. In the winter the hill is a popular ski area, particularly with locals. During the summer months Bogus Basin becomes a wonderful area for hiking and mountain biking, with a comprehensive trail system. Yurts are available to rent.
Address: 2600 Bogus Basin Road
Sponsored Links

Boise Deals
More on Idaho