State Capitol, Sacramento
The old neo-classical Capitol, with its 234ft/70m-high dome, was built between 1861 and 1869; extensions were added later. A complete restoration of the old Capitol (cost: 68 million dollars) was completed in 1982. Since then the marble mosaic floors and many chandeliers again shine as they did in the old days, making the Governor's official seat and the parliamentary chambers (which can also be visited when parliament is not sitting) interesting and attractive to tourists.
Important Information:
Address:
10th Street and Capitol Mall, Sacramento, CA 95814, United States
Opening hours:
8am-6pm
Always closed on:
New Year's Day (Jan 1), Thanksgiving - USA (4th Thursday, Nov), Christmas - Christian (Dec 25)
Useful tips:
A Capitol Tour is offered every hour from 9 a.m. to 4 p.m.
Guides:
Guided tour included with admission.
The colorful gardens, extending over several blocks and with tall palms and numerous other species of trees and plants, make the building the most beautiful Capitol in the United States.Since December 1988 a bronze group sculpture, the Vietnam War Memorial, has stood in the northeast part of Capitol Park (L and 15th Street); its construction was entirely funded by donations, and it commemorates those who sacrificed their lives in the longest war involving the United States of America.
Related Attractions
California State Capitol Museum
The California State Capitol building in Sacramento is a traditional looking state building of neo-Classical design. A huge dome rises above the pillars that mark the entrance. It is a pleasant sight from the grounds with tall trees, a flower garden, and fountain out front. The State Capitol building was built in the 1860s and completely restored in 1982.The State Capitol Museum consists of several rooms in the capitol building and consists of portraits of governors and other paintings, murals, antiques, contemporary art, and other items, all related to the state of California. Tours of the building and the museum are available to the public and last approximately one hour.
More State Capitol Pictures
Map of Sacramento Attractions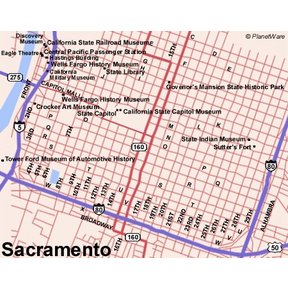 Sacramento Map
More Sacramento Attractions
Popular Destinations Nearby