Washington Park, Portland
This large park to the west of the city centre contains a number of features of interest. The best known is the International Rose Test Garden, where new varieties of roses are grown; in the city's mild climate they continue to flower into autumn. An annual event for rose lovers is the Rose Festival in June. Other attractions are the Japanese Garden, one of the largest outside Japan, the zoo, the Oregon Museum of Science and Industry and a second museum of science and technology on the banks of the river in the city centre), and the Hoyt Arboretum.
Related Attractions
Portland's Japanese Gardens are located on the grounds of an old zoo. The six acres feature a variety of garden styles, as well as a ceremonial tea house for visitors to enjoy.
Pittock Mansion
The Pittock Mansion is located in Pittock Acres Park, just west of downtown Portland. The home was built in 1914 by Henry Pittock, who was the founder of the Oregonian newspaper. Pittock lived here for only 5 years until his death in 1919 at the age of 80. The house, set for demolition in the 1960s, brought the community together as they pursuaded the City of Portland to purchase the home. Through private fundraising the mansion was restored to its full glory over a 15 month timespan. It is because of the forward thinking local residents that visitors have a chance to tour this impressive and eclectic home.The Pittock Mansion had impressive features for its day, including a central vacuum system, intercoms, and indirect lighting. The home is set on 46 acres and at an elevation of 1000 feet above Portland, which allows for exceptional views of the city on clear days. During its heyday the home was known for the impressive gardens. Today that trend continues with miles of walking trails through ever-changing, blooming and fragrant gardens.
International Rose Test Garden
The Rose Test Garden in Portland's Washington Park was founded in 1917 and is the oldest continuously operated public rose test garden in the United States. The garden is a test ground for new rose varieties and even miniature roses. The grounds are divided up into several sections with many interesting plants and spaces to explore.The award winning roses are planted in what is known as the Gold Medal Garden, which also features a lovely gazebo. The Shakespeare Garden, below the Gold Medal Garden, was originally intended to hold plant mentioned in Shakespearean plays. However, the growth of trees, which has resulted in more and more shade over time, has changed the garden landscape and the dynamics around what plant varieties this garden will support. The garden now features rose varieties named after Shakespearean characters.The Rose Test Garden has numerous points of interest and visitors should leave themselves some time to explore the grounds.
Map of Portland Attractions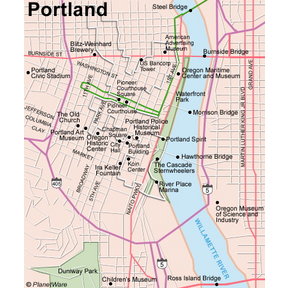 Portland Map
More Portland Attractions
Popular Destinations Nearby