12 Top-Rated Tourist Attractions in Portland, Oregon
Perhaps to compensate for the damp Pacific Northwest winters, Portland is very alive with cultural happenings, musical entertainment, and theater. But those same rains also nourish the city's impressive gardens, and Oregon green spaces range from roses and rhododendrons to a classical Chinese garden.
Portland is the largest city in Oregon. It straddles the Willamette River, having been founded in 1844 on the west bank. Much of the town was destroyed by a great fire in 1873, but after rebuilding, it developed into a thriving port city. Though new transportation hubs in the Seattle area have diminished Portland's status as a shipping destination over the years, it is still considered to be one of the most desirable places to live in the United States.
1 Washington Park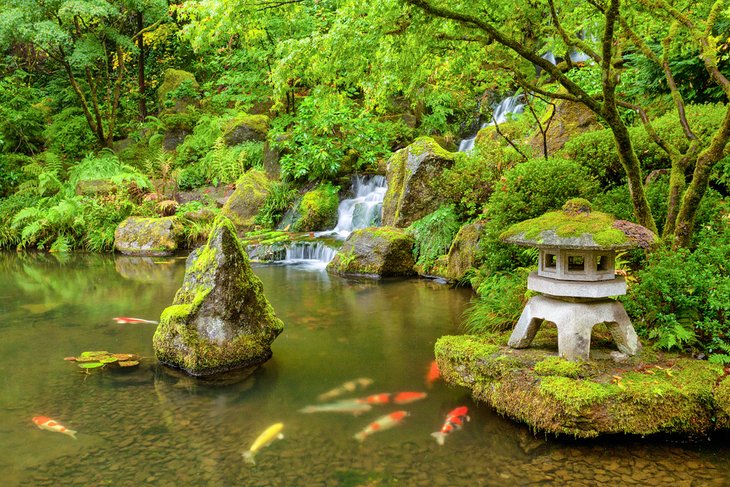 Portland's Washington Park contains a number of tourist attractions, including the famed International Rose Test Garden, a zoo, and museums. A one-time wild land first purchased by the city in 1871, it is located to the west of the city center. Visitors can spend a day exploring the park's attractions, and another strolling through the unusual gardens.
The well-known International Rose Test Garden is where new varieties of roses are grown. In the city's mild climate, roses continue to flower into autumn, though visitors can catch an annual Rose Festival in May and June. Another escape, the Portland Japanese Garden, is one of the largest outside Japan and is landscaped on the grounds of an old zoo. Other popular draws in the park include the present-day zoo, the Portland Children's Museum, and Hoyt Arboretum.
Hours: Daily 5am-10pm
2 Columbia River Gorge National Scenic Area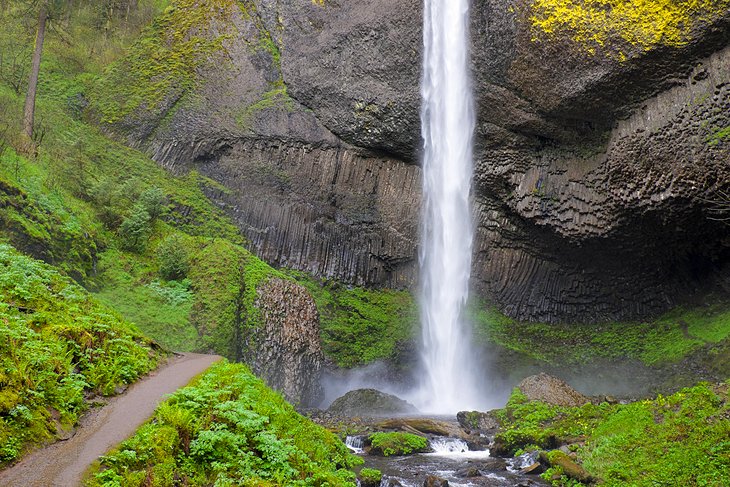 The Columbia River marks the Oregon-Washington state border, and its entire length is a remarkable sightseeing region ideal for leisurely drives and enjoying the outdoors. A day trip destination from Portland, the Columbia River Gorge National Scenic Area covers an immense 292,500 acres along North America's second largest river. The trip takes in locks, viewpoints, and hiking trails. Many visitors like to stop and photograph the waterfalls that edge the route, including the towering Multnomah Falls (which flows year-round), lovely Oneonta Gorge, and Latourell Falls in Guy W. Talbot State Park.
3 Pittock Mansion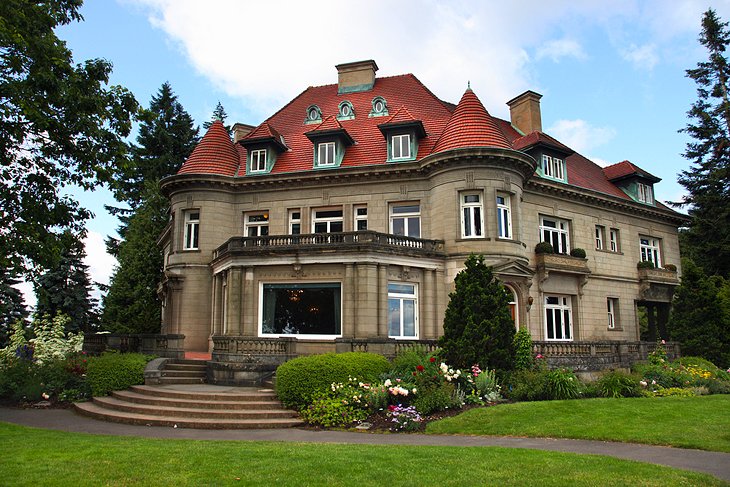 Just west of downtown Portland, this grand home was built in 1914 by Henry Pittock - founder of the Oregonian newspaper. Pittock lived here for only five years until his death in 1919 at the age of 80. The house, set for demolition in the 1960s, brought the community together as they persuaded the City of Portland to purchase the home. Through private fundraising the mansion was restored to its full glory, and it is because of the forward thinking of local residents that visitors have a chance to tour this impressive and eclectic home today.
Especially for its day, the Pittock Mansion had many impressive features including a central vacuum system, intercoms, and indirect lighting. The home is set on 46 acres and at an elevation 1,000 feet above Portland. This allows for exceptional views of the city on clear days. During its heyday, the home was also known for the impressive gardens. That trend continues today, plus the house is mid-way between Washington Park, Hoyt Arboretum, and the many trails of expansive Forest Park.
Hours: Daily 11am-4pm (Feb-June and Sept-Dec), daily 10am-5pm (July and Aug)
Admission: Adults $9.50, seniors $8.50, children (6-18) $6.50, children (under 6) free
Address: 3229 NW Pittock Dr, Portland
4 International Rose Test Garden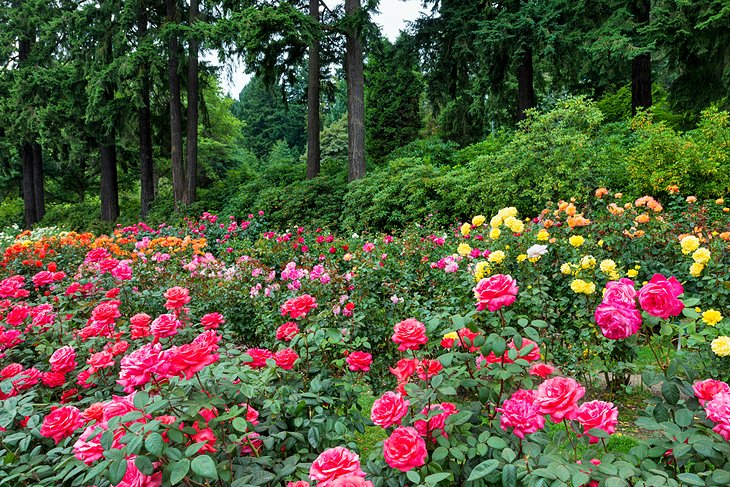 The Rose Test Garden in Portland's Washington Park was founded in 1917 and is the oldest continuously operated public rose test garden in the United States. Developing new rose varieties and even miniatures, the grounds are divided up into several sections with many interesting plants and spaces to explore. Award winners are planted in what is known as the Gold Medal Garden, which also features a lovely gazebo. It's best to visit during the late spring bloom. Another lovely Portland rose garden - Peninsula Park Rose Garden - is set in a sunken landscape on the other side of the river.
Hours: Daily 7:30am-9pm
Admission: Free
Address: 850 SW Rose Garden Way, Portland
5 Waterfront Park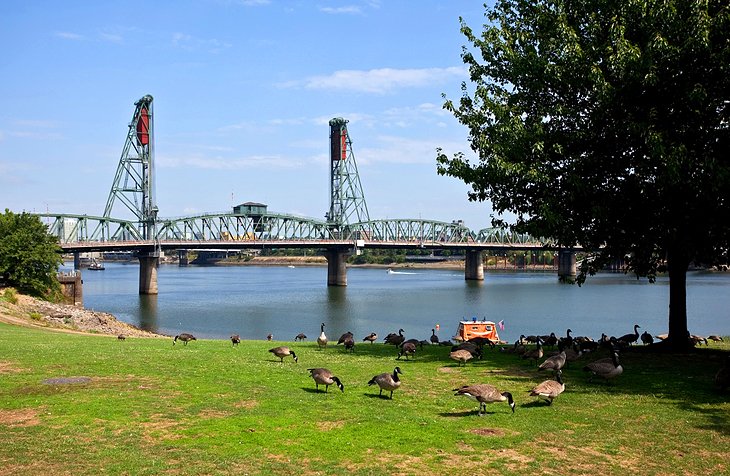 Waterfront Park lines the west bank of the Willamette. The parklands and its riverfront trails start at the Portland Steel Bridge in the north. Continuing south along the river, it passes Skidmore Fountain where a colorful Saturday market is held. Further sightseeing near the park includes the Oregon Maritime Museum, fittingly housed in the sternwheeler Portland, and boats that offer dinner cruises along the waterway.
Hours: 5am-midnight
Location: Naito Parkway between SW Harrison Street and NW Glisan Street
6 Powell's City of Books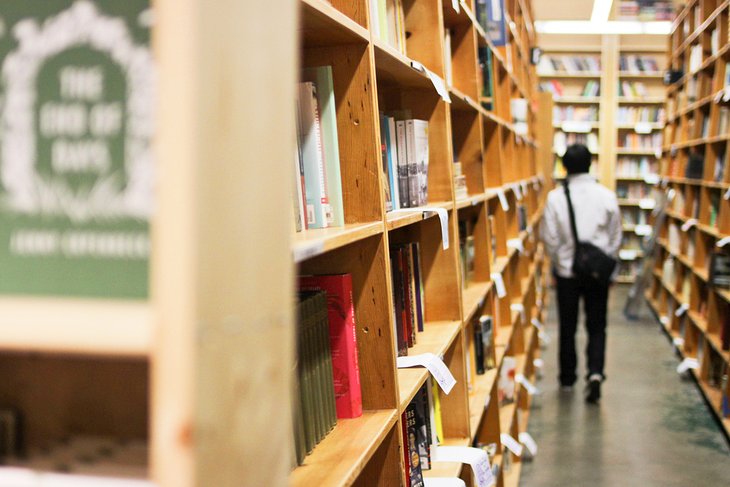 Bibliophiles will love exploring more than a million books at this legendary used bookstore. Shelves mix new titles with used copies for a slightly haphazard but welcoming feel. This shop on Burnside is one of a number of the independent chain's locations in Portland.
Address: 1005 W. Burnside St, Portland
7 Portland Japanese Garden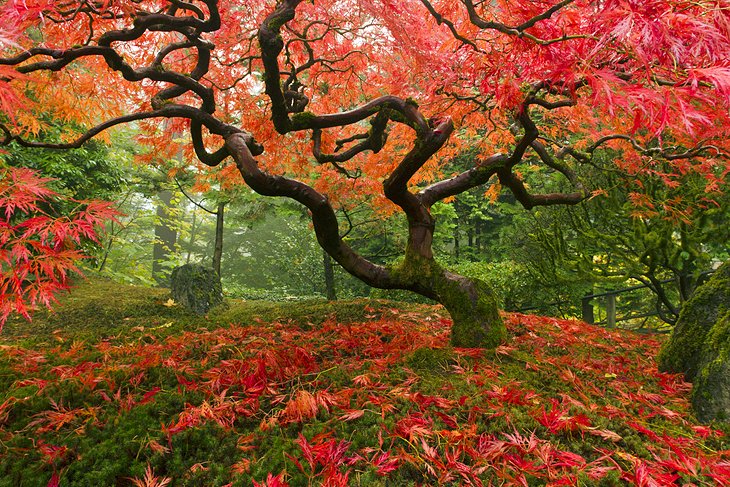 Portland's Japanese Garden is located on the grounds of an old zoo. Though covering an area less than six acres, the gardens are so beautifully laid out in a variety of styles that they offer a uniquely peaceful environment for visitors. Garden spaces include the picture-like Flat Garden, the Strolling Pond Garden, and the zen-focused Sand and Stone Garden, among others. There's also a lovely ceremonial teahouse.
Hours: Mon noon-7pm, Tues-Sun 10am-7pm (April-Sept); Mon noon-4pm, Tues-Sun 10am-4pm (Oct-March)
Admission: Adults $9.50, seniors and students $7.75, children (6-17) $6.75
Address: 611 SW Kingston Ave, Portland
8 Editor's Pick Portland Art Museum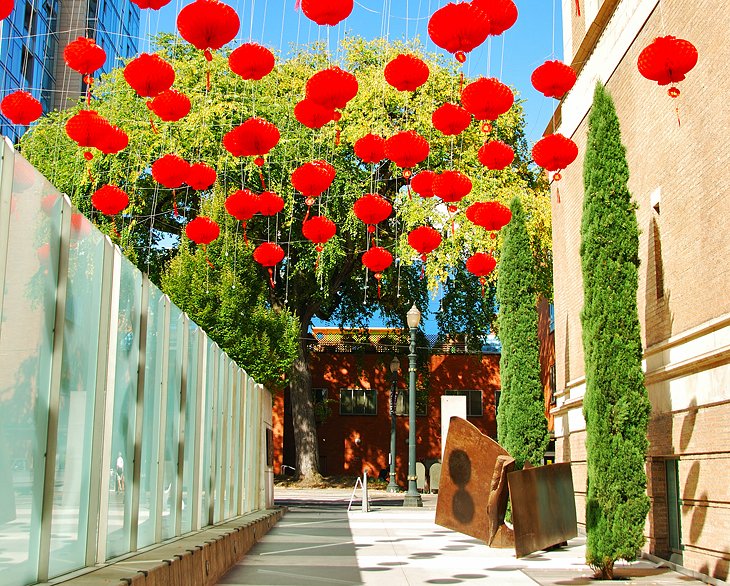 The seventh oldest museum in the United States, the Portland Art Museum was founded in 1892 and has since amassed a substantial and varied collection. The number of items exceeds 42,000 and only a small portion is displayed in more than 112,000 square feet of gallery space. Highlights include Native American artifacts, graphic arts, English silver, Asian art, photography, and Northwest art. One of the Portland Art Museum's most notable pieces is Vincent Van Gogh's Cart with Black Ox. Also part of the museum is the Northwest Film Center School of Art and the visual-arts focused Crumpacker Family Library.
Hours: Tues-Wed and Sat 10am-5pm, Thurs and Fri 10am-8pm, Sun noon-5pm
Admission: Adults $15, seniors $12, children 17 and under free
Address: 1219 SW Park Ave, Portland
9 Lan Su Chinese Garden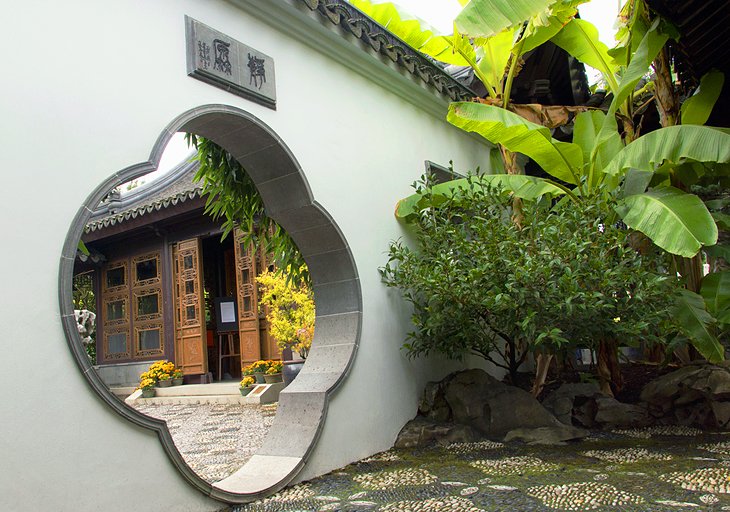 The Lan Su Chinese Garden opened in the year 2000 to shed light on Chinese culture and history after the city developed a relationship with its sister city of Suzhou, China. This tranquil environment blends rocks, plants, trees, gardens, and a lake on about 40,000 square feet, roughly a city block, of land in central Portland. Artisans came from Suzhou to construct traditional buildings and walkways, and native Chinese plants were imported. Completing the garden is a lovely tea house.
Hours: Daily 10am-6pm mid-April to mid-Oct, daily 10am-5pm mid-Oct to mid-April
Admission: General $9.50, seniors $8.50, students $7
Address: 239 NW Everett St, Portland
10 Oregon Museum of Science and Industry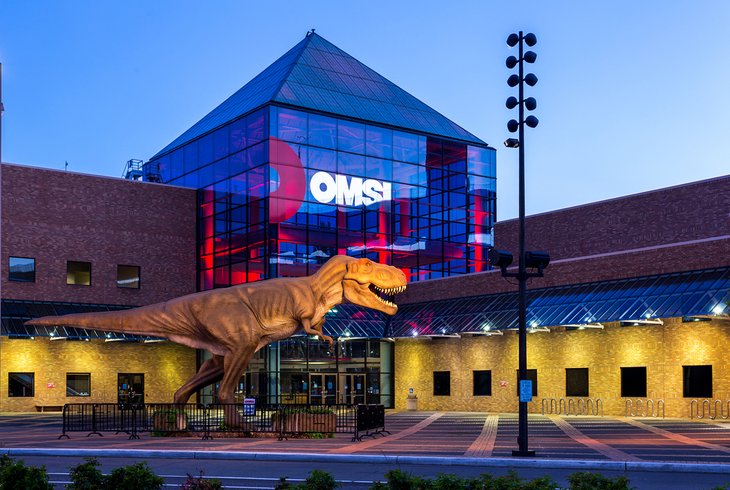 The OMSI complex in Portland includes a theater with four-story screen, a planetarium, a US Navy submarine, and educational hands-on displays. Among the galleries, visitors will find colorful, entertaining, and educational exhibits for young children, as well as hands-on and interactive displays for all ages. Some of the fields covered may include energy, the environment, health, chemistry, engineering, and technology. Docked just outside the Oregon Museum of Science and Industry is the USS Blueback, a non-nuclear submarine which was in use for over 30 years. This submarine was featured in the movie Hunt for Red October. Today visitors can climb aboard for a guided tour.
Address: 1945 SE Water Avenue, Portland
11 Oregon Zoo
Located in Washington Park, Oregon Zoo features hundreds of species including many birds and marine animals like Steller sea lions and sea otters. There are animals from all over the world, from the African savannah to the Amazon and Arctic. One man, Richard Knight, put together a private collection of animals and began the zoo in the late 1800s. Visitors may also want to take the time to learn about the Oregon Zoo's conservation programs and research as one of the primary focuses is on preserving the species of the Pacific Northwest.
Hours: Daily, but varies seasonally
Admission: Adults $11.50, seniors $10, children (3-11) $8.50
Address: 4001 SW Canyon Road, Portland
12 Crystal Springs Rhododendron Garden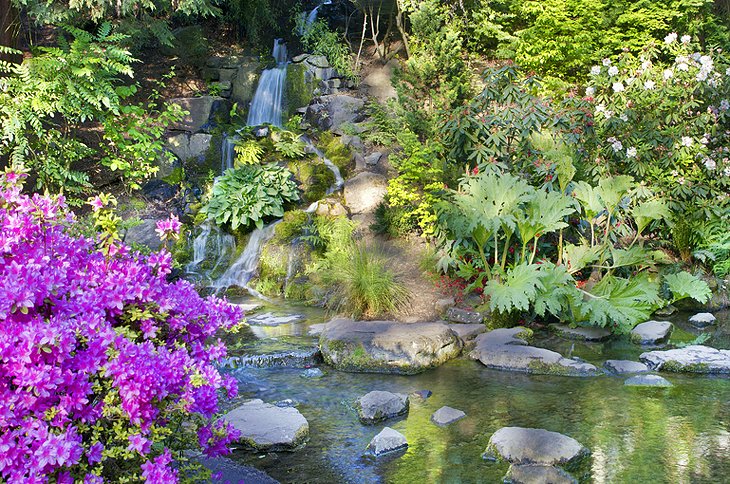 Beyond the Pacific Northwest's rhododendrons, this Portland garden also contains azaleas, Japanese maples, dogwood, and magnolias on almost ten acres of land. While the main attraction is, of course, the spring blooms, when the colors are simply incredible, the spectacle continues into early summer. In winter, admission is free and the garden becomes a more peaceful place to spend some time. The many lovely features include waterfalls and ponds along with many coniferous trees.
Hours: Daily 6am-10pm (April-Sept), daily 6am-6pm (Oct-March)
Address: 6015 SE 28th Ave, Portland
Surroundings
Fort Vancouver National Historic Site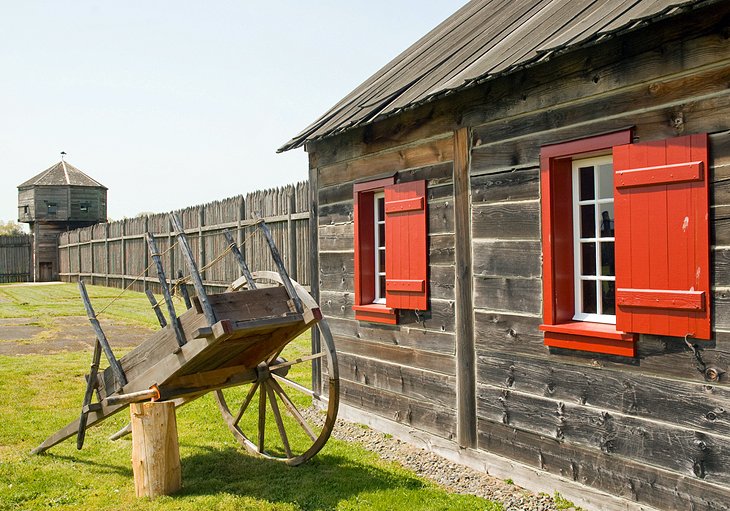 The Hudson's Bay Company established historic Fort Vancouver as a supply depot and fur-trading post. Now a national historic site that's just across the Columbia River and border with Washington State, the reconstructed fort and modern visitor center tell the history of early settlement in the local area. Also part of the park are the historic homes of Officers Row and the Pearson Air Museum.
Hours: Mon-Sat 9am-5pm, Sun 10am-5pm (daily until 4pm Nov-early March)
Admission: $3
Address: 612 East Reserve Street, Vancouver, WA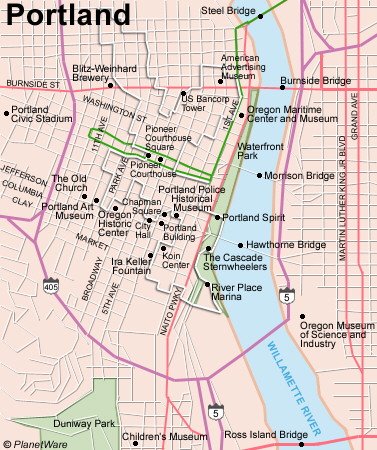 Portland Map - Attractions
Want to use this map on your web site?
Copy and Paste the code below:
More on Oregon
Destinations
popular right now