Rue Bonsecours, Montréal
The delightful Rue Bonsecours, off the Rue Notre-Dame, is one of Vieux-Montréal's oldest streets, with a whole range of the French architectural styles that went to make up the townscape of New France right through from the 17th to the 19th c.This street is in the heart of the tourist district.
Related Attractions
Notre-Dame-de-Bon-Secours Chapel and Marguerite Bourgeoys Museum
Montréal's oldest church, the Chapel of Our Lady de Bonsecours, at the end of the street, was rebuilt in its present form in 1772 after a number of fires. It replaced the original wooden building (1657) put up by the founder of the Congrégation-de-Notre-Dame, Margeurite Bourgeoys, canonized in 1982. The church long contained a miraculous little Madonna made of oak and given by the Baron de Fancamp in 1672. It was much venerated by the Congrégation de Notre Dame, and by seafarers, many of whom left offerings to the Virgin. Although today's Madonna is a copy, the offerings, including some model ships, can still be seen.The adjoining museum to Margeurite Bourgeoys tells of her Christian works.
Marché Bonsecours
The Marché Bonsecours in Montreal was built between 1845 and 1852 as a multi-purpose building in the Neo-Renaissance style by William Fortner. The Parliament of the unified Canada met here for a time in 1849 then it served as the town hall before becoming Montréal's vegetable market from 1878 to 1963 when, following restoration work in 1964, it became the offices of the City Administration.Today the building houses a number of interesting shops and boutiques and is a popular spot with tourists.
Les Filles du Roi
Les Filles du Roi, now a restaurant, has an interesting history, being where the young women lived who were brought to Montréal by the King of France to become wives for the settlers whom he had heard were taking up with prostitutes and Indian women because of a shortage of females.
Sir George-Étienne Cartier National Historic Site
The Maison de George-Etienne Cartier in Montreal is a Gothic revival building, originally two stone dwellings which were the home of the first Canadian Prime Minister from 1841 to 1871. Part of the building has an exhibition of the life and work of Jacques Cartier.Theatrical re-enactments are held each afternoon in July and August at the Cartier home.
Maison Pierre du Calvet
The Maison Pierre du Calvet, dates from 1770, with a rustic façade, asymmetric windows and a pointed roof.Pierre du Calvet, who once lived here, supported the American revolution and met with Benjamin Franklin.Today this former residence is a boutique hotel.
Rue Bonsecours Pictures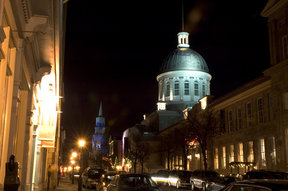 Map of Montreal Attractions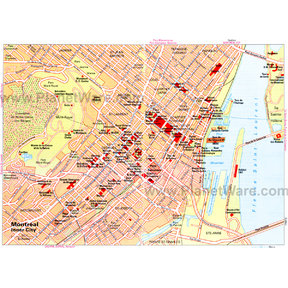 Montreal Map
More Montreal Attractions
Popular Destinations Nearby