Graceland, Memphis
Even though not everyone shares the cult for Elvis Presley, Graceland, the palatial house at 3734 Elvis Presley Boulevard that he acquired in 1957 is a national place of pilgrimage.Here fans of the "King" can walk through his home, lay flowers on his tomb, see his two private jets and his automobiles and stock up in the museum shop with mementos of their idol, who lived here in his days of glory and in the last unhappy years - though there is no reference to these years on the guided tours of the house.
Important Information:
Address:
3734 Elvis Presley Boulevard, Memphis, TN 38186-0508, United States
Opening hours:
Jan 1 to Feb 28:
10am-4pm
Mar 1 to May 31:
9am-5pm; Sun: 10am-4pm
Jun 1 to Aug 31:
9am-5pm; Sun: 9am-4pm
Sep 1 to Oct 31:
9am-5pm; Sun: 10am-4pm
Nov 1 to Dec 31:
10am-4pm
Always closed on:
Thanksgiving - USA (4th Thursday, Nov), Christmas - Christian (Dec 25)
Entrance fee in USD:
Adult $31.00, Child 18 & under $27.90, Students $27.90, Senior over 62 $27.90, Child 12 & under $14.00, Child 6 & under FREE
Facilities:
Gift shop, Restaurant or food service
Related Attractions
Graceland Mansion
Visitors to Memphis and music fans will not want to miss a visit to Graceland. The tour of Elvis' 14-acre estate, Graceland Mansion, consists of the living room, music room, Elvis' parents' bedroom, the dining room, kitchen, TV room, pool room, and "jungle" den in the main house, and, behind the house, Elvis' racquetball building and his original business office. Elvis' trophy building, which houses his collection of gold records and awards, along with an extensive display of career mementos, stage costumes, jewelry, and photographs is part of the tour. The tour ends with a visit to the Meditation Garden, where Elvis and members of his family are buried.
Automobile Museum
Visitors to the Automobile Museum at Graceland can walk along a landscaped, curbed, tree-lined "highway" past exhibits of vehicles owned by Elvis. Highlights include his famous 1955 pink Cadillac, 1956 purple Cadillac convertible, 1973 Stutz Blackhawk, the red MG Elvis drove in the movie Blue Hawaii, his Harley Davidson motorcycles, and three-wheeled supercycles.
Elvis' Jet Aircraft
Visitors to Graceland are taken to a re-creation of an airport terminal with a video on the history of the Presley planes. The tour continues onto the Hound Dog II Lockheed JetStar plane, and then aboard the much larger customized Lisa Marie jet, which Elvis named after his daughter.
Sincerely Elvis Museum
The Sincerely Elvis Museum at Graceland presents the private life of Elvis through candid photographs, off-stage clothing and home movie clips.
Graceland Pictures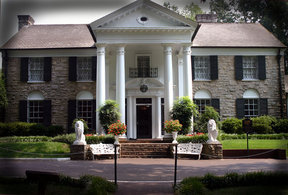 Map of Memphis Attractions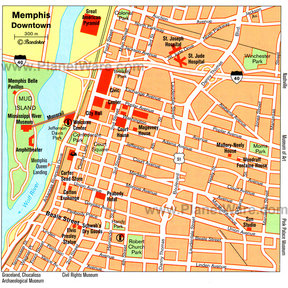 Memphis Map
More Memphis Attractions
Popular Destinations Nearby