12 Top-Rated Tourist Attractions in Memphis
If Nashville is the capital of country music, then Memphis is the home of gospel and rhythm and blues. The clubs in Beale Street were once the focal point of many up-and-coming singers, including Elvis Presley, whose grave on his Graceland estate is now the city's main tourist attraction. At the junction of Wolf River and the Mississippi, Memphis has long been an important center for cotton and hardwood thanks largely to Andrew Jackson, a city founder and later, the seventh US president. The capital of the Confederation in the early days of the Civil War, the city was taken by Union troops in 1862, and within 60 years had become the center of the country's black music scene. Today, numerous attractions have sprung up around this rich musical heritage, making Memphis one of the most visited cities in the United States.
1 Graceland
Graceland, the palatial mansion sitting on a lovely 14-acre property acquired by Elvis Presley in 1957, is a national place of pilgrimage. Here, fans of the "King" can walk through his home, lay flowers on his tomb, gawp at his two private jets, and afterwards stock up on mementos. Tour highlights include most of his living quarters, his music room, dining room, kitchen, TV room, pool room, and Jungle Den. Behind the house is the star's business office, along with a trophy building housing his collection of gold records and awards, costumes, jewelry, and photos. The tour ends with a visit to the Meditation Garden where Elvis and members of his family are buried. A separate building contains a collection of his favorite cars, including his famous 1955 pink Cadillac, a 1956 purple Cadillac convertible, and the red MG he drove in Blue Hawaii. A variety of admission options are available, including a deluxe package with accommodation at the Heartbreak Hotel across the road.
2 Downtown and the Beale Street Entertainment District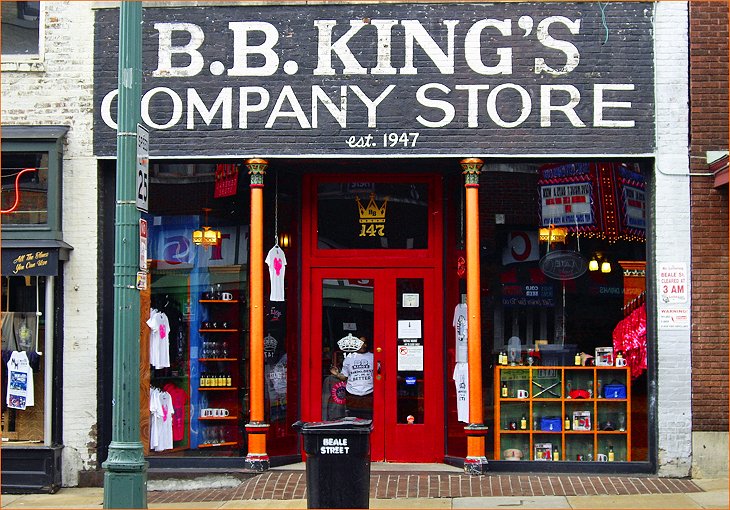 The downtown core of Memphis is home to many excellent historical attractions, some of them music-related, such as the Memphis Music Hall of Fame with its exhibits of local music legends, instruments, memorabilia, and rare recordings. Beale Street is also worth visiting, and is where you'll find WC Handy's House, now a museum where the "Father of the Blues" composed Memphis Blues and St. Louis Blues. It's also home to the famous A. Schwab dry goods store, founded in 1876 with the motto, "If you can't find it at A. Schwab, you don't need it!" The downtown core is also where you can pick up the Memphis Suspension Railway to Mud Island and Mississippi River Park.
Address: Beale Street, Memphis
3 Memphis Rock 'n' Soul Museum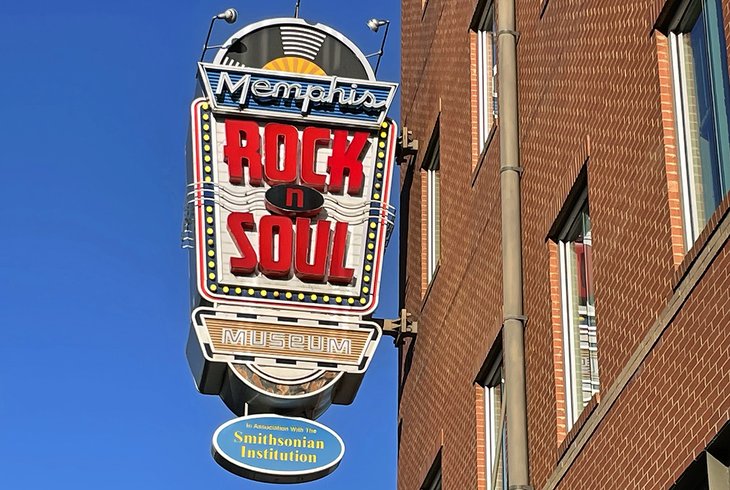 The Memphis Rock 'n' Soul Museum was created by the Smithsonian to highlight musical pioneers from the 1930s through to the 1970s. There are seven fun galleries to explore, each with a digital audio tour including 100 songs. Other exhibits include costumes, more than 30 instruments, and other music-related items. Featured galleries deal with the early years of music in Memphis, Sun Records, soul music, rural music and culture, as well as disco. Another Memphis music attraction is the famous Gibson Guitar Factory, which offers a fascinating look at the making of these fine instruments.
Address: 191 Beale Street, Memphis
4 National Civil Rights Museum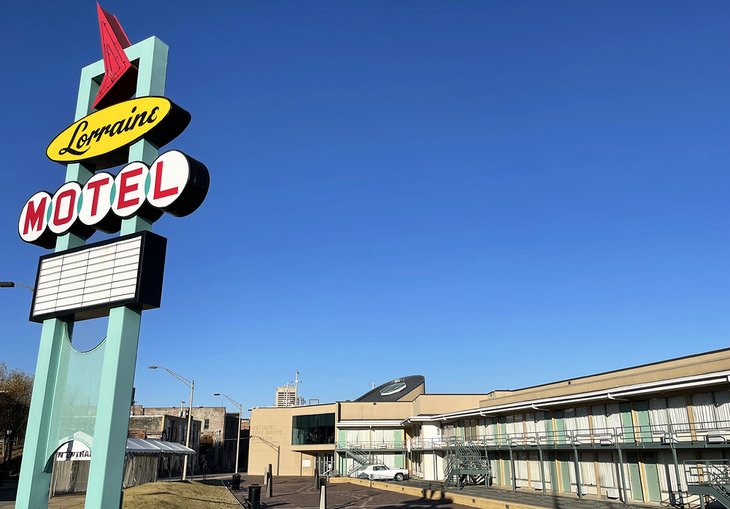 A short distance south of Beale Street, at 406 Mulberry Street, is the infamous Lorraine Motel where Martin Luther King Jr. was shot in 1968. The building is now occupied by the National Civil Rights Museum, which traces the history of civil rights movements in the US. Its centerpiece is the hotel room and balcony on which King was killed, now marked by a white wreath. This thought-provoking museum includes a number of excellent interactive displays, as well as artifacts from the Brown vs Board of Education of Topeka case and the Montgomery Bus Boycott.
Address: 450 Mulberry Street, Memphis
5 Mississippi River Park and Museum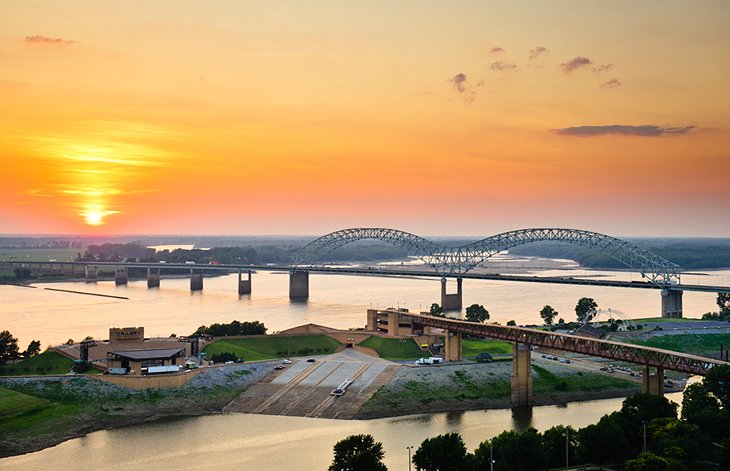 On Mud Island - also known as Festival Island - is a three-quarter-mile-long model showing the course of the Mississippi all the way from Cairo, Illinois to the Gulf of Mexico. The model is part of the Mississippi River Museum, the central attraction of this family park with its excellent galleries and a reproduction of an 1870 steamboat. Other highlights include the Hall of River Music and a collection of native artifacts. The island is also home to Mississippi River Park with its many walking and bike trails, pedal boat rentals, plus a 5,000-seat amphitheater with numerous summer concerts. The best way to get to Mud Island is via the city's suspended monorails.
Address: 125 North Front Street, Memphis
6 Memphis Zoo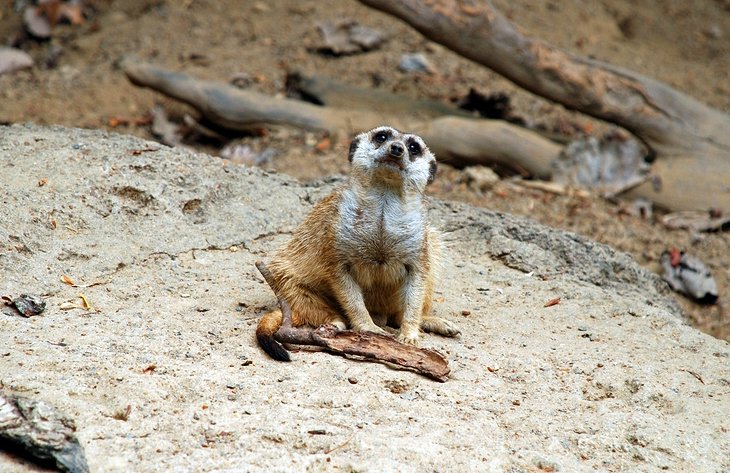 The Memphis Zoo, home to more than 3,500 animals representing 500 species, is one of only four zoos in the country with giant pandas on exhibit. Other highlights include Northwest Passage with its polar bears, sea lions, black bears, bald eagles, and ravens in a naturalistic environment, while Cat Country is home to both predators and prey, including lions, tigers, cheetahs, and antelopes. A must-see is Butterflies: In Living Color, open seasonally from Memorial Day through October. Concessions, rides, gift shops, and a discovery center are also available.
Address: 2000 Prentiss Place, Memphis
7 STAX Museum of American Soul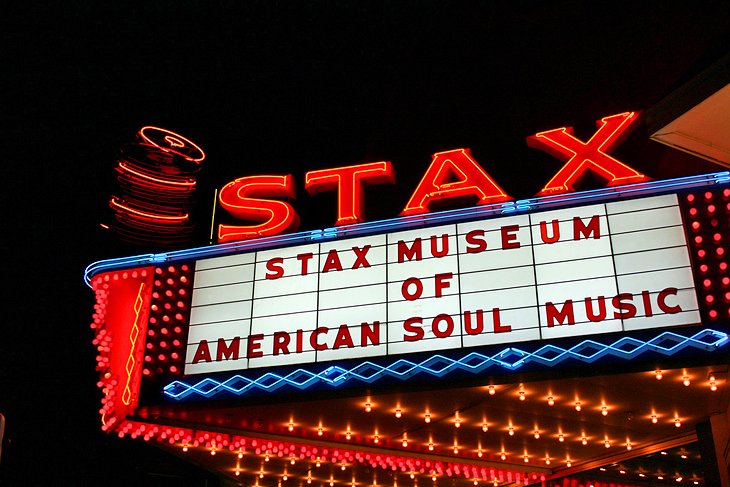 The STAX Museum of American Soul - one of only a handful of museums worldwide dedicated to the genre - is an exact replica of the original Stax Records studio. The museum features everything soul, including detailed exhibits relating to the stars, the music, and its history, as well as artifacts such as instruments and costumes. Other highlights are a century-old Mississippi Delta church used to display soul's roots in gospel music, and the Soul Train TV show dance floor.
Address: 926 E. McLemore Ave, Memphis
8 Children's Museum of Memphis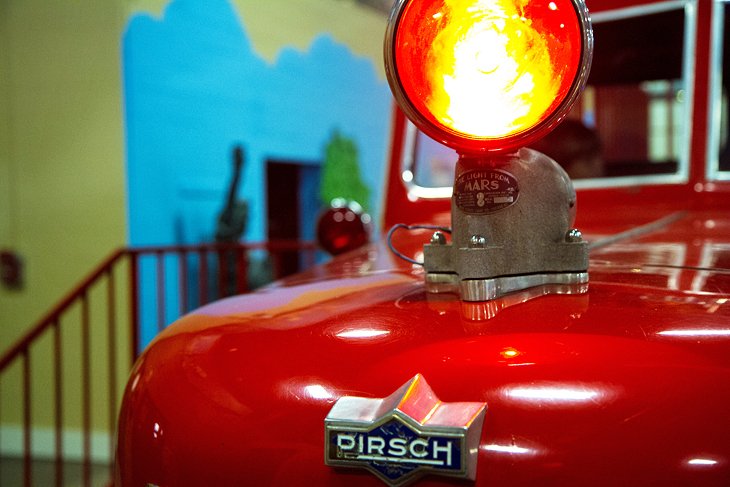 The Children's Museum of Memphis (CMOM) is a godsend for traveling parents and features numerous hands-on displays to keep young ones entertained. Highlights include a fun cityscape with a dental exhibit, grocery store, a car mechanic's, and a bank. Kids can also sit in a flight simulator and a real airplane cockpit, explore the Mississippi River, climb through the arteries of a giant heart, and ride a bicycle on Mars. Other highlights include painting and sculpting in the art studio, a real fire engine, as well as fun workshops.
Address: 2525 Central Ave, Memphis
9 Brooks Museum of Art and Overton Park
The Brooks Museum of Art includes Italian Renaissance and Baroque paintings, along with sculptures from the late 13th to the 18th centuries. The permanent collection of more than 8,000 works also features 19th- and 20th-century works by American sculptors; French bronzes; and African pieces including masks, headdresses, and carved figures. The decorative arts collection includes furniture, glass, ceramics, metalwork, and textiles. Afterwards, visit the nearby 342-acre Overton Park where you'll find Veterans Plaza with its war memorials, as well as the Old Forest Arboretum with one of the state's last remaining old growth forests.
Address: 1934 Poplar Ave, Memphis
10 Dixon Gallery and Gardens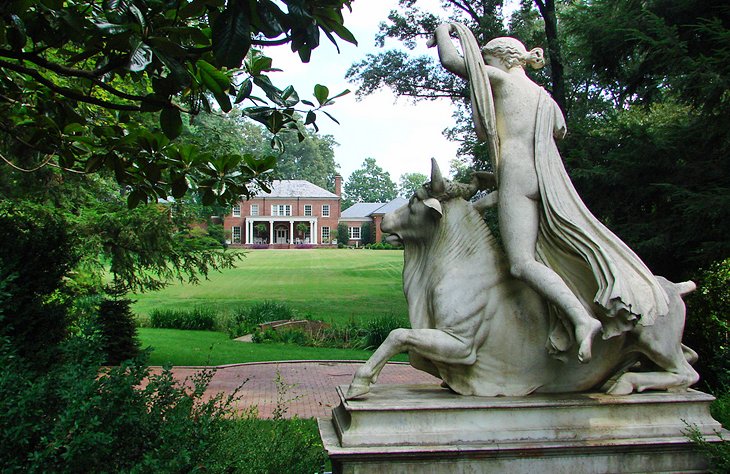 Margaret and Hugo Dixon bequeathed their beautiful Memphis home and French Impressionist paintings as an art gallery and gardens open to all. Set amid 17 acres of woodlands, the property is famous for its English, French, and Italian landscape influences. Artworks include pieces by Monet, Renoir, Degas, and Matisse, as well as some 600 pieces of German porcelain. Another notable outdoor attraction is the Memphis Botanic Garden with its roses, wildflowers, magnolias, and lakeside Japanese garden. Nature lovers should check out the Lichterman Nature Center, a 65-acre wildlife sanctuary with nature trails, a greenhouse, and lake.
Address: 4339 Park Ave, Memphis
11 Sun Studio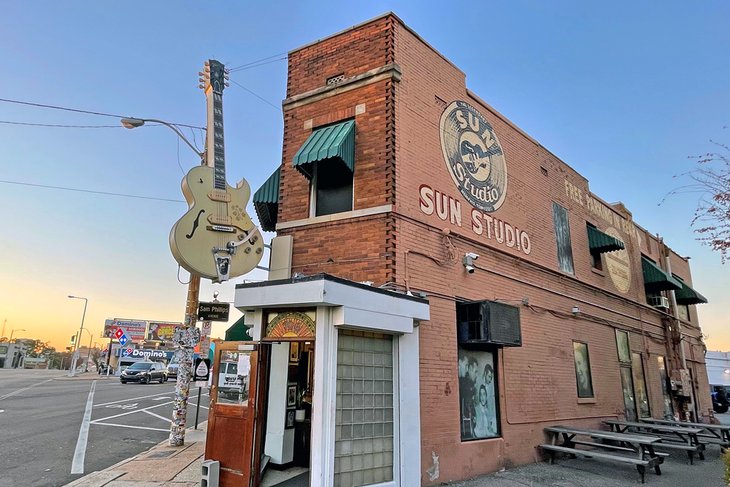 Sun Studio in Memphis is famous as the recording facility where Elvis Presley, Johnny Cash, Jerry Lee Lewis, BB King, and Roy Orbison began their careers. The studio itself is still used by recording artists, with recent recordings being made by John Mellencamp and Chris Isaak. It's a fascinating look into the recording process, and a free shuttle service is available from Graceland and the Rock 'n' Soul Museum.
Address: 706 Union Ave, Memphis
12 Center for Southern Folklore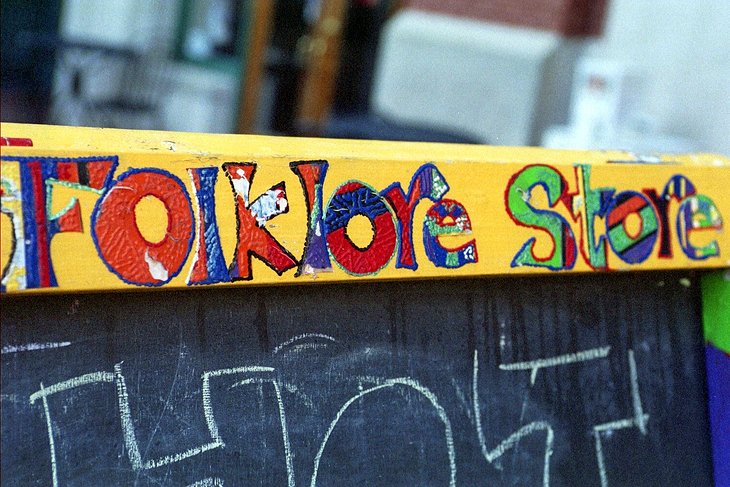 The excellent Center for Southern Folklore in Memphis features films, exhibits, books, folk art, and photography and provides a taste of regional music. Performances include blues, jazz, soul, country, folk, and gospel music, and the onsite store offers great gifts and artwork plus southern-style refreshments. Customized tours are also available.
Address: 119 S. Main Street, Memphis
Sponsored Links

Memphis Deals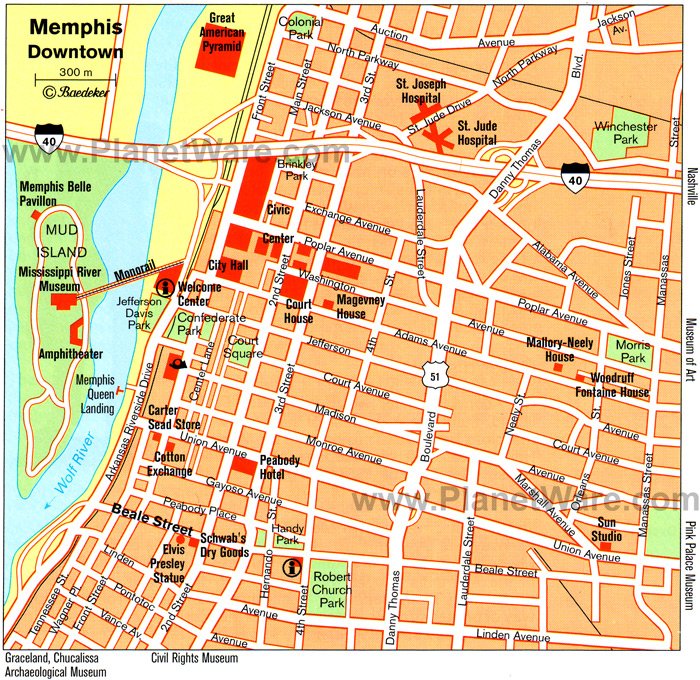 Memphis Map - Attractions
Want to use this map on your web site?
Copy and Paste the code below:
More on Tennessee