Everglades National Park
The Everglades National Park is the second largest in the country after Yellowstone and the largest subtropical wilderness in the continental U.S. It is a 1.5 million-acre tract of marshy land and swamp and an important and fragile ecosystem.The first inhabitants of this region were Calusa Indians who lived mainly along the estuaries, fishing and collecting shellfish.
Address:
40001 State Route 9336, Homestead, FL 33034, United States
Entrance fee in USD:
$5.00, Vehicle plus all occupants $10.00
Useful tips:
To avoid the numerous mosquitoes, it is best to go in the dry season from November to May.
Disability Access:
Partial facilities for persons with disabilities.
Guides:
Interpretive sessions sometimes available. Guided tour available as optional extra.
Related Attractions
Fort Lauderdale - Sawgrass Recreation Park
The main attraction at Sawgrass Recreation Park is a guided air-boat tour of the Everglades with an emphasis on flora and fauna interpretation as well as chances to see alligators in their natural habitat. This is a great way to see the everglades up close.In addition there is an Exotic Wildlife exhibit at the park with some native species like the endangered panther, as well as leopards, wolves, and others. There are also reptiles and feeding demonstrations, or even a chance to hold a baby alligator.
Flamingo Visitor Center
The Flamingo Visitor Center is located at the southern end of Everglades National Park. Within the center are natural history exhibits and information. Boat tours are available at the nearby marina that opens onto Florida Bay. Several hiking and canoeing trails begin at Flamingo as well.
Miami - Miccosukee Indian Village & Airboat Rides
Located 25 miles west of Miami, the Miccosukee Indian replica village allows visitors to glimpse the past and present culture and lifestyles. Craft demonstrations include sewing, basket weaving, beadwork and woodcarving. A cultural museum, airboat rides to a hammock village and alligator exhibits are other highlights.
Gulf Coast Visitor Center
The Gulf Coast Visitor Center is located in the northwest corner of the park and features natural history exhibits, park information, and issues regarding permits and park passes.
Long Pine Key
Long Pine Key has camping and picnicking facilities, and nature and hiking trails. The Long Pine Key Nature Trail runs 7 miles west from the campground to Pine Glades Lake and is also open to bicycles.
Mangrove Trail
Mangrove Trail is an elevated boardwalk the leads through an area that was badly damaged by a hurricane in 1960. This area shows the damage that can be sustained by such a storm.
Shark Valley Visitor Center
The Shark Valley Visitor Center is open daily with self-guiding trails that begin at the center. An observation tower provides a spectacular view into the sawgrass marsh.
Chekika
Hardwood hammocks, wetlands and over 100 species of birds can be found throughout this 640 acre area.
Ernest F. Coe Visitor Center
Interactive exhibits and films about Everglades National Park are available in Ernest F. Coe Visitor Center.
Mahogany Hammock
Mahogany Hammock features mahogany trees and other sub-tropical plants that are labelled as well as an elevated boardwalk through the forest.
Pa-hay-Okee Overlook
Pa-hay-Okee Overlook is a 12 foot tower at Shark River Basin which offers a view of the vast wilderness.
Pinelands Trail
From the park entrance, Pinelands Trail leads through southern pines, scrub palmetto and other related plants.
Royal Palm Visitor Center
The Royal Palm Visitor Center features park information and nature led walks and talks during the winter.
Anhinga Trail
The Anhinga Trail begins at the Royal Palm visitor center and follows an elevated boardwalk. Alligators, snowy egrets, water turkeys and garfish can be seen during the winter months.
Gumbo Limbo Trail
The Gumbo Limbo Trail begins at the Royal Palm visitor center and travels through Paradise Key hammock on a paved trail. A variety of native plants can be found here such as gumbo limbo trees, royal palms, and ferns.
Tram Tour
The Tram Tour of Everglades National Park departs from Shark Valley to explore the sawgrass marsh, experience diverse wildlife and visit the observation tower.
More Everglades National Park Pictures
Map - Everglades National Park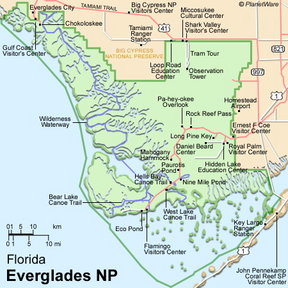 Map - Everglades National Park
Popular Destinations Nearby