Fort Lauderdale Tourist Attractions
Located on the Atlantic Coast, 23 miles north of Miami, Fort Lauderdale is a predominantly residential resort city with a Venice-like series of canals and waterways.
Fort Lauderdale Beach is the city's main beach. This wide stretch of sand draws tourists and locals, and gained a reputation among college students as a destination for March Break.
Everglades Holiday Park
Everglades Holiday Park is noted for the opportunity to glide over the river on an airboat and watch educational 'gator' shows. Visitors will enjoy camping and boating activities while visiting Everglades Holiday Park.
Fort Lauderdale Antique Car Museum
The Antique Car Museum in Fort Lauderdale focuses on the history of the Packard Motor Company. The collection, which is laid out in a replicated Packard show room, includes 22 pre-war Packard automobiles. There are also other memorabilia such as a gallery dedicated to the late President Franklin D. Roosevelt. Individual car pieces, such as hood ornaments and gear shifters, provide a unique look at trends, changes, and advancements.The museum's founder, Arthur Stone, the one time CEO of Buning the Florist, Inc, along with his wife Shirley, had a passion for these vehicles. They began collection pieces for the museum in the 1940s.
Jungle Queen Riverboat Cruise
The Jungle Queen riverboat cruise is a sightseeing tour along the New River, passing extravagant homes, yacht storage, and downtown Fort Lauderdale. The cruise finally stops at the Jungle Queen Indian Village.The company offers various cruises including a dinner cruise. There captain provides commentary along the way and some cruises offer on board comedy entertainment and variety shows.
African-American Research Library and Cultural Center
The African-American Research Library and Cultural Center is, as the name suggests, a library with a research facility and an attached auditorium which features cultural performances.The main feature is of course the library, with collections by African-American authors and books from Africa and the Caribbean.
Art Institute of Fort Lauderdale
The Art Institute of Fort Lauderdale, since 1968, has been training and educating people in the applied arts. On the campus is the Mark K. Wheeler Gallery, showcasing the creative work of the students. There is no admission charge.
Coral Ridge Concert Series (No longer Running)
The concert series at Coral Ridge Presbyterian Church offers a variety of vocal and instrumental soloists and groups.
Ft Lauderdale International Film Festival
The annual Fort Lauderdale International Film Festival takes place over 37 days between October and November each year.
More Fort Lauderdale Pictures






Map of Fort Lauderdale Attractions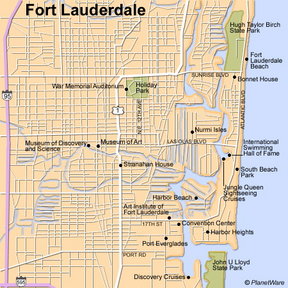 Map - Fort Lauderdale